Christmas Eve day on Annabel Island was the coldest day in recent memory, yet still warm enough that the trees stayed green and leafy and the flowers did not wilt. As the families on the island gathered to celebrate the holiday, they discussed the possibility of frost, or worse yet, snow, which would mean disaster for the farmers, unless they could somehow turn their crops into coal and firewood. But talk of the weather soon gave way to excited speculation over what Charles Dunnavant, the "King of the Island", was building by Sandero Bay — some said it looked like an Arabian palace; others said they had peeked over the walls and seen the columns of what might be a Greek temple.
It was of this very thing that Morgan and Madeline De Groff were speaking on Christmas Eve afternoon while they waited for their father. At the same time, they played their own made-up game, "Witches and Bandits", with Madeline as the Good Witch of the Mountain, and Morgan as the evil bandit Thirsty O'Fallon.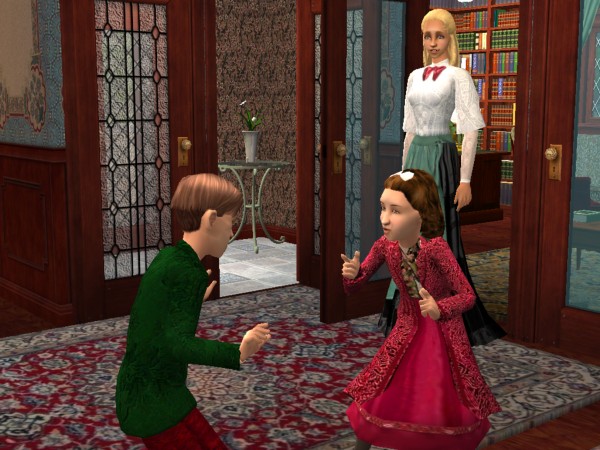 "Mr. Dunnavant is building a playhouse for his children, of course," said Madeline as she and Morgan squared off in the hallway to do battle. "And when it's finished, I'm going to be invited over every day, while you stay home and do lessons!" She waved her magical pointer finger at the evil bandit, who wished fervently for a weapon.
"It's not fair!" cried Morgan. "I don't have anything that fights magic."
Madeline rolled her eyes. "Use your imagination, silly. Pull a rope and have a trap door open beneath my feet…or…or…whistle for your horse!"
"But…I…" Morgan looked beseechingly at their nanny, who was watching them from the doorway. "Nellie…I need your help!"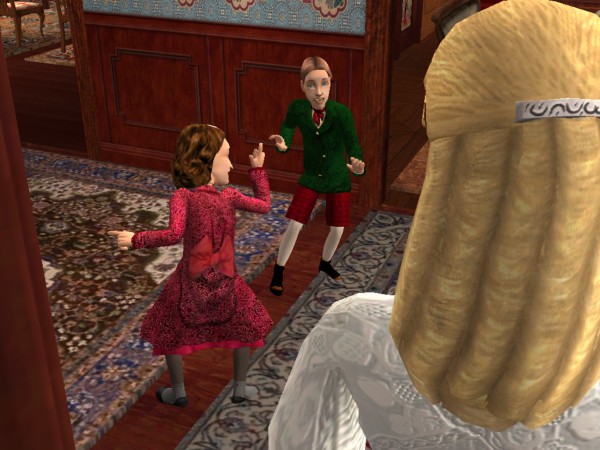 Nellie laughed. "Am I a horse now, Morgy?"
Wide-eyed, Morgan shook his head, and Nellie continued. "As much as I'd like to save you from your doom, I don't want to encourage this behavior when your father's due home at any moment. You don't want to be dirty and disheveled when you go see your grandparents, do you?"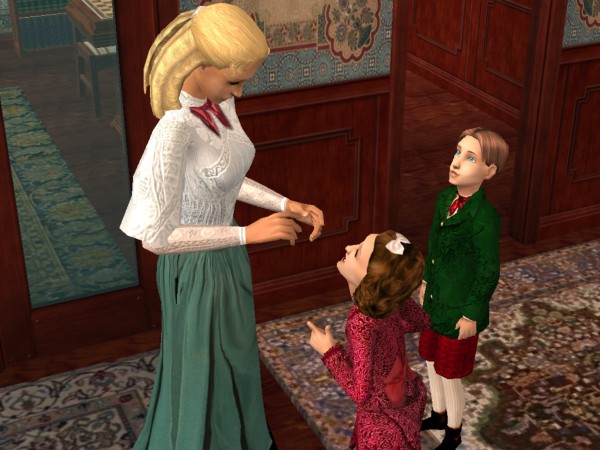 At the mention of her grandparents, Madeline's eyes lit up. "They won't mind if we're…disheveled," she said, proudly trying out the new word Nellie had just taught her. The ribbon in her hair flopped as she bobbed up and down. "I can't wait to see Grandpa! When is Mama coming down? Do you think Poppy will bring the wagon?"
"One question at a time," said Nellie gently. "Your mama is still getting ready, and I very much doubt your father will bring the wagon in this weather. If he does, we'll have to find your caps and mittens."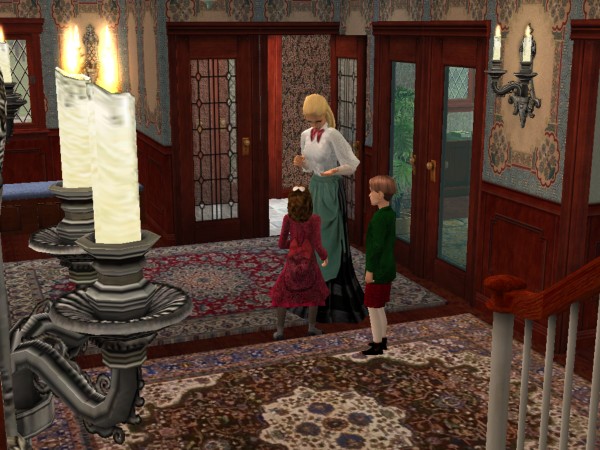 Madeline made a face. "We don't need those. It's not even snowing."
"I wish it were," said Morgan. "I like snow for Christmas."
"So do I, Morgy." Nellie smiled. "By the way…Merry Christmas, children."
The children hollered "Merry Christmas!" back, and Morgan threw his arms up in the air for a hug. Nellie leaned over and obliged him, while Madeline looked on, faintly annoyed, though she wasn't sure why.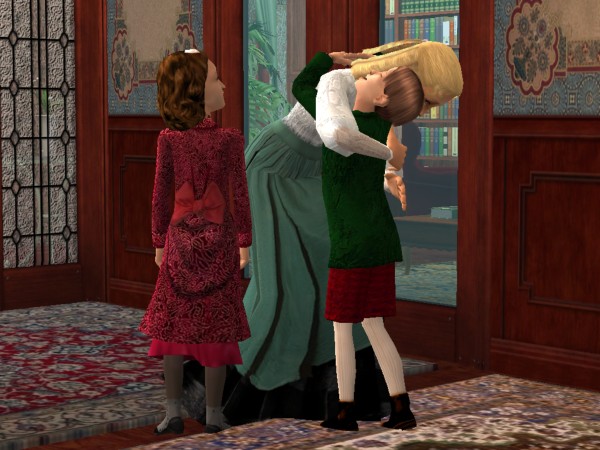 Nellie released Morgan from her embrace, smoothing his hair as though he were her son, then made a sudden face of horror. "Morgy! Is that…strawberry jam on your forehead? How on earth did it end up there? Oh, never mind. Off to the sink with you!"
With great expertise, Nellie spun Morgan around and pushed him lightly down the hallway towards the kitchen. "Sit tight, Madeline," she called over her shoulder.
Restless and bereft of her playmate, Madeline wandered into the parlor and poked at the ashen logs in the fireplace for awhile, but stopped when she saw how it was smudging her hands. Frowning and hoping Nellie wouldn't notice, she climbed up onto a settee and waited for the sound of horse hooves on the road.
She hadn't been waiting long when the stable boy, Tom, appeared in the doorway.
"Are you cold, Miss De Groff?" he asked, walking towards the fireplace and striking a match. "We'll get a good blaze going."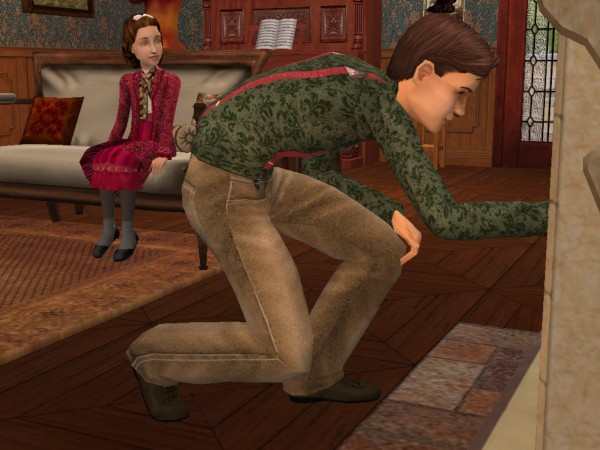 Madeline liked it when Tom called her "Miss De Groff". It made her feel older. "It doesn't matter if it's a good blaze or not," she said, appreciating his effort but not wanting him to over-exert himself. "We're leaving as soon as Poppy gets here."
The fire came back to life, making the walls of the parlor dance. "Oh?" asked Tom, rising and taking a seat next to Madeline. "And where are the winds of fate taking you tonight, young miss?"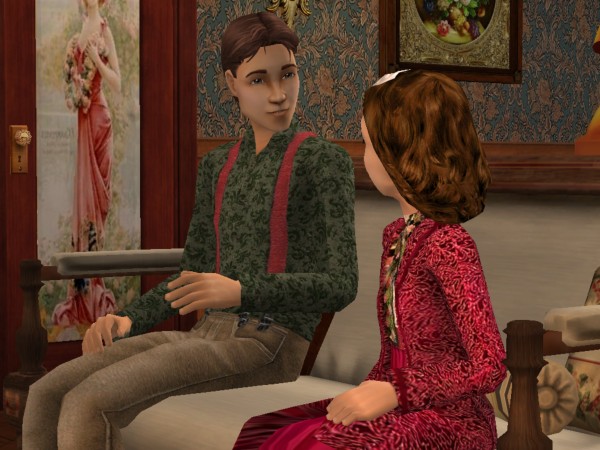 She didn't like "young miss" as much — it didn't make her feel older at all. In fact, it made her feel exactly her age. "To my grandparents' house for Christmas," she said flatly, as if the conversation had already grown tiresome.
"Ah!" said Tom. "And what about me? When are we going to have our Christmas?"
"What do you mean? You and Flora and Nellie? How on earth would I know?"
"No, no," he said, laughing. "Our Christmas. You and me."
He was teasing her, and she didn't like it.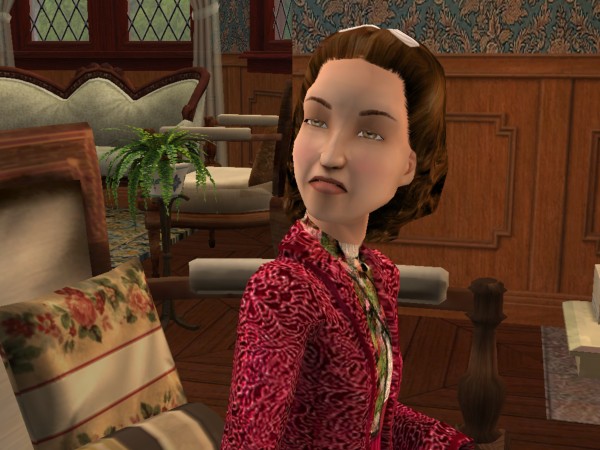 "You're a foolish boy," was all she could think of to say. She hoped calling him a "boy" would be a sufficient insult, but it didn't faze him in the least.
"You mean you didn't get me anything?" said Tom, smiling. "But I thought I saw you making me a Christmas card. It was done up real nice, with buttons and ribbons…"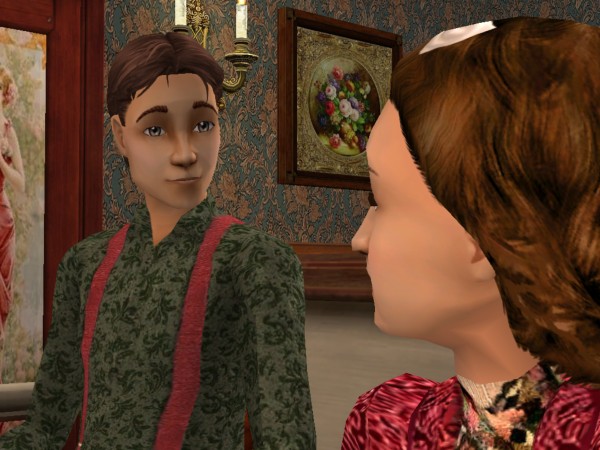 Madeline made an impatient noise. "Those are for Grandpa and Grandma. I didn't make one for you."
A cry escaped Tom, and he clutched at his heart. "Oh, you have hurt me, Miss De Groff…really truly hurt me!"
At that moment Morgan strolled in, his forehead scrubbed clean. "What did you do to him, Maddie?"
"Nothing!" she cried, wanting them both to disappear.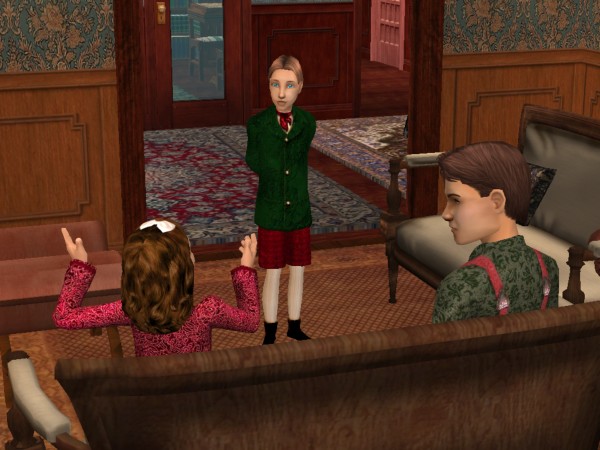 Maddie got part of her wish, for just then Flora yelled "TOM!" from the vicinity of the kitchen, and he ducked quickly out the front door without another word.
(continued on Page 2)