Good evening, dear readers! Maude Berthiaume here to regale you with a story about my favorite family in Mt. Geneva: the Kilmans. I must warn you that parts of this tale might make you gasp, weep — or worse! — and that only the stoutest of hearts should continue onward. Does that sound familiar? I know I said something of the sort before, when poor Sid Kilman was killed by that awful Noodlesoother; please rest assured that no one dies in this little episode. But you can have tragedy without death, and here is tragedy aplenty, my friends…tragedy enough to coax ghostly tears from your humble narrator!
As you may recall, Bailey and Joey Kilman had a daughter named Shea. Bailey hadn't been the most enthusiastic of pregnant women (unless it came to cleaning the house), but once Shea was born, she threw herself wholeheartedly into the rigors of motherhood. Joey was relieved by Bailey's devotion to Shea, for he was working long hours at Moneywell Computers trying to climb his way out of the mailroom and couldn't spend as much time with his little daughter as he would have liked.
When Shea's birthday rolled around, her aunt Tiffy baked her a cake, and the Kilmans gathered on the deck for a little celebration.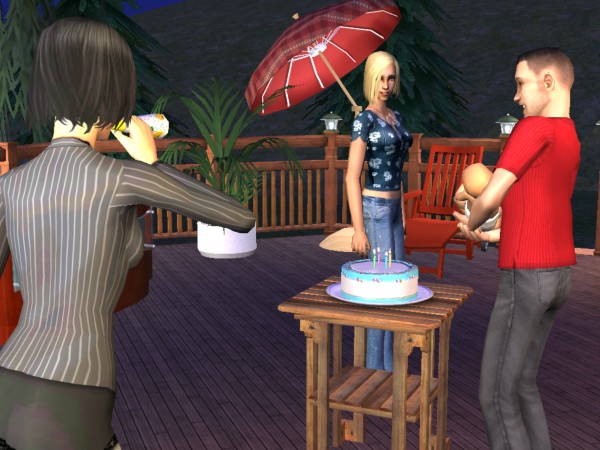 Surprisingly, Bailey detached herself from Shea long enough to let Joey hold her, and there was much whooping and hollering as the bright-eyed babe grew into a twinkling toddler. At least, I thought she was twinkly and cute. In fact, she reminded me of her father when he was younger. But Bailey seemed to frown as she took Shea in her arms — clearly she wasn't pleased with what she saw.
I have to admit, Shea looked a little odd, but it's just those altitudinous Kilman cheekbones. I knew she'd grow into them eventually! And why did it matter, when she was still the same lovely little girl that Bailey had cooed at and coddled for months and months?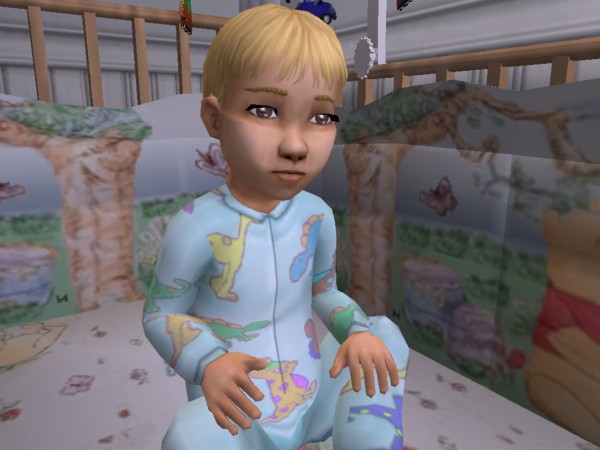 But something changed in Bailey after that night. The rigors of motherhood were no longer a joy to her, but a burden. Now that Shea was a toddler, she was more demanding, crying in the middle of the night for her bottle or a diaper change, whining when she couldn't see her mother or father, getting into things she shouldn't — in short, doing what all toddlers do. It was starting to wear Bailey out.
Over time, Bailey gradually gave care of Shea over to Tiffy and Joey and spent more time visiting her friends and meandering through Mt. Geneva's little collection of shops — anything that would get her out of the house. Poor Shea! The mother who had once doted on her was drifting slowly away. Thankfully Tiffy was around to fill some of the void. Tiffy didn't mind babysitting so much — it was refreshing to play with Shea after a long day at the hospital, and by the time Shea was old enough to go to school, they had become rather close. They even enjoyed watching the same kinds of movies — horror movies, preferably about ghosts.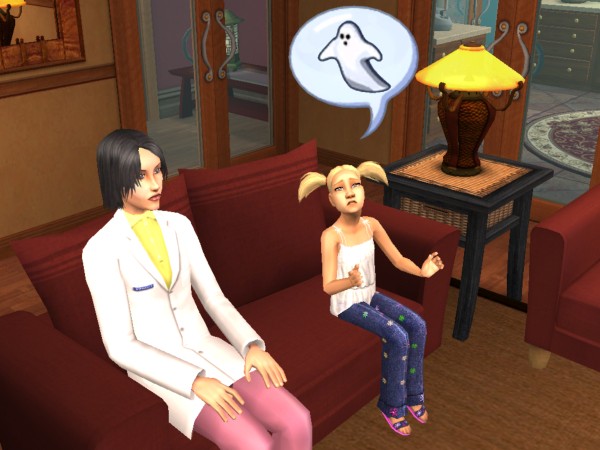 In the meantime, the rift between Joey and Bailey had grown wider and wider, until they barely said two words a day to each other. Bailey seemed as sick of Joey as she was of Shea, and Joey knew that no matter how hard he tried to please her, she'd never be happy with him. But of course our Joey kept on trying in small ways, buying her jewelry and flowers, and letting her do whatever she wanted.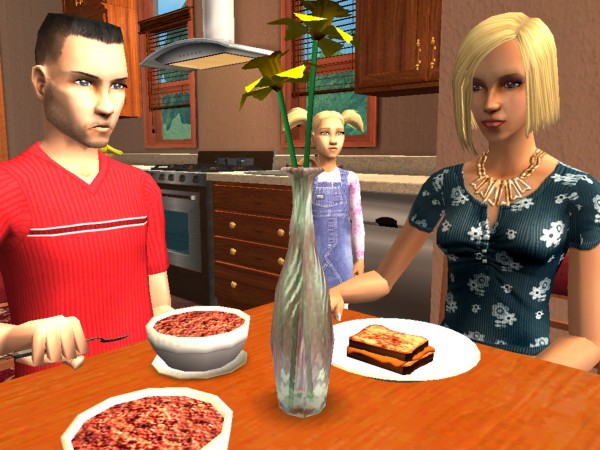 Alas, Joey's efforts were in vain. The jewelry and flowers only pleased Bailey to a point — what she really craved was adventure…romantic adventure. She wanted to feel young and carefree again, to be on the "hunt" like she was when she was single, and Joey couldn't give her that.
She became so obsessed with returning to her heyday that she started flirting with everything that moved. She scared the poor gardener away one day by suggesting he come in for a glass of cool raspberry ice tea and a warm soak in the bathtub…with her.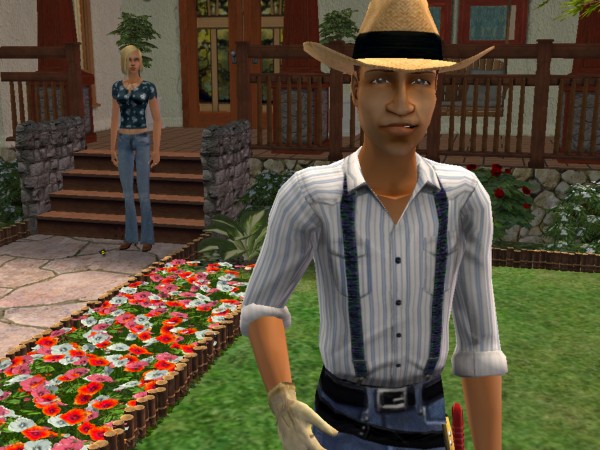 He walked away disgusted and didn't show up the next week, leaving Bailey to tend to the garden on her own. In her lingerie, of course. Such desperation!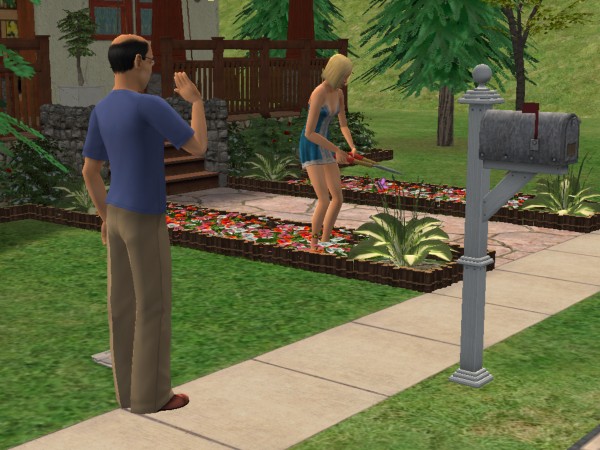 Bailey soon grew tired of trying to entice the neighbors (whom she didn't find all that appealing anyway) and decided it was time to find a richer hunting ground. While everyone was at work and school one day, she got all gussied up and climbed into Joey's new Ferrari. (Luckily for her, Joey had taken the carpool with Tiffy that morning.)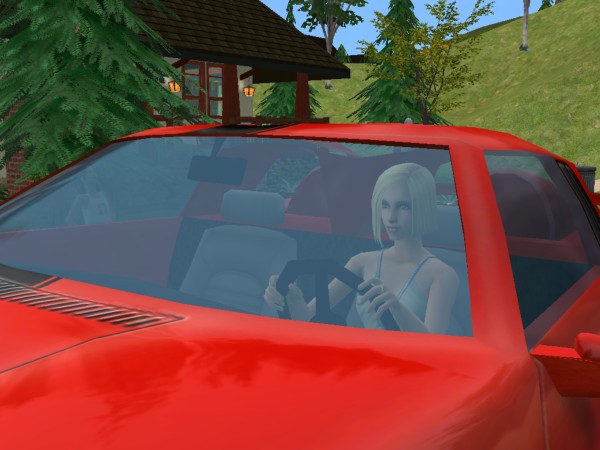 Now, I had to shake my head at this, dear readers, because when Joey got his promotion bonus and bought the flashy new car he had always wanted, Bailey said nothing. No congratulations, no pat on the back, no "hey, sweet ride!" You would think he had brought home a flaming bag of poo instead of the fanciest car in Mt. Geneva! But her indifference was all an act, calculated to show how little she cared about Joey and his accomplishments. She was actually thrilled about the Ferrari itself — you could tell by the way she stroked it lovingly before climbing in, and the luxurious sigh that emanated from her as she sank into the leather seat. And of course she barrelled down the road at rather unsafe speeds, going even faster than Joey does when he's late for work.
The Ferrari, you see, had finally given her a means of escape.
(continued on Page 2)