Hello again, dears! Maude here, taking up where I left off with the Kilman family. I'll waste no time this morning and get right back into the thick of it!
After Bailey suffered her sudden attack of nausea and ran off to the bathroom, Joey sat at the table waiting for her, a pensive expression on his face. I could tell he wanted to check on her, but she had lit a spark of anger in him for the first time, and it glued him to his chair. When at last he heard her exit the bathroom and go upstairs, he rose solemnly and busied himself with the after-dinner chores.
Later that night, Bailey came down to watch television with him, but she said very little and answered most of his questions with shrugs of indifference. I recognized this behavior immediately, and I'm sure you would have, too!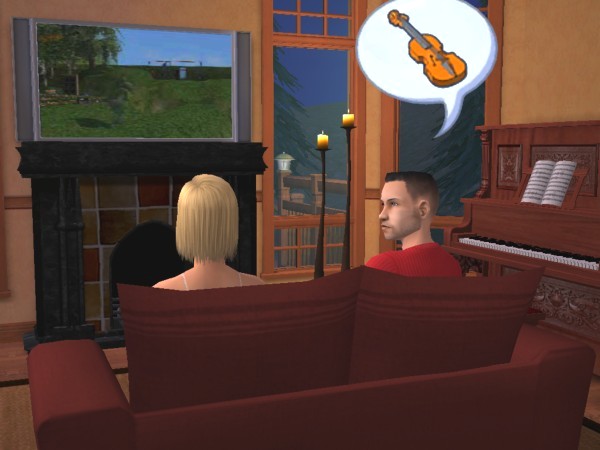 That's right, it's a classic example of the cold shoulder routine. Bailey hadn't gotten her way, and she wanted to punish Joey for making her suffer. (I know it all too well, dear readers, because my stubborn old sisters excelled at it!)
I felt sorry for Joey. He seemed to have forgotten his anger and merely wanted to have a nice conversation with his wife, but she was more interested in those irritating television commercials than anything he had to say.
Bailey even snubbed Tiffy that night. Tiffy was just studying in the living room when Bailey sat down at the dining room table with a late night meal. Hearing her come in, Tiffy looked up and greeted her – quite kindly, I thought – but Bailey completely ignored her. With a shrug, Tiffy turned back to her reading, while Bailey glared at her across the room.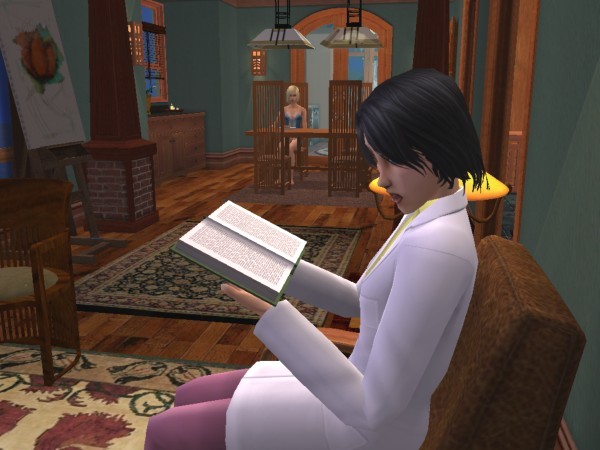 Bailey kept up this cold shoulder routine throughout the next few weeks. Whenever she and Joey did manage to have a conversation, it would end with Joey raising his voice and Bailey running to the bathroom. It seemed like whenever she couldn't get her way, she would feign an onrush of nausea and disappear. Sometimes she'd actually leave the house, but Joey didn't bother to ask where she was going.
Joey was growing increasingly annoyed with her. For a time he wouldn't even sleep upstairs in the bedroom they shared – he found the porch swing preferable (and I can't say I blame him!).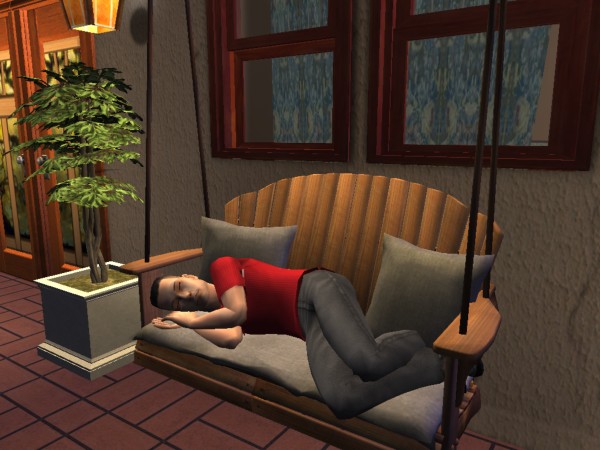 Things came to a head one day when Bailey's best friend Rilla cornered Joey in the kitchen. She had come over to take Bailey shopping for maternity clothes and was waiting for Bailey to come downstairs.
"So what's going on with you and Bailey?" Rilla asked in a most accusatory tone. "She's always crying these days, and saying you don't love her anymore. Don't you realize the woman is pregnant? Can't you be a little more considerate?"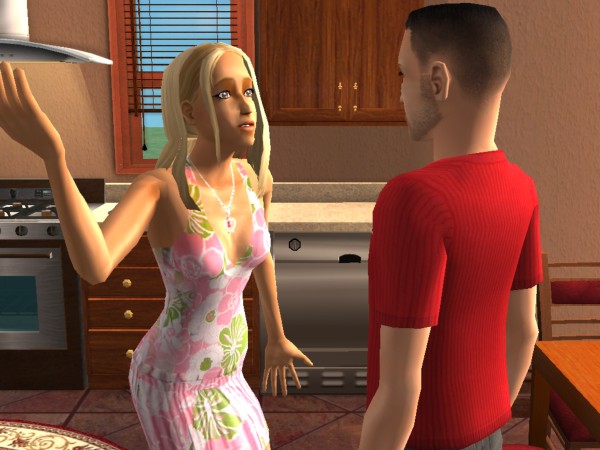 Well, Joey was rather taken aback by this line of questioning. At first he simply stared and sputtered out a few noncomittal syllables, but then his anger seemed to take hold, and he spat out, "Maybe that's why she's crying – BECAUSE she's pregnant!"
Rilla shook her head at Joey, her gaze becoming one of utter contempt. "I've always thought you were spineless, Joey – but I never knew you were heartless, too."
She stalked out of the room, and as I followed her into the foyer, I saw her take Bailey's hand, pat it comfortingly, and lead her outside.
As there was (and still is) a distinct lack of variety among the maternity clothes available for purchase in Mt. Geneva, Bailey returned with only one outfit, which she immediately changed into since her old clothes had become rather uncomfortable. She then joined her husband in front of the television and said the two words I never thought I'd hear Bailey Singleton say:
"I'm sorry."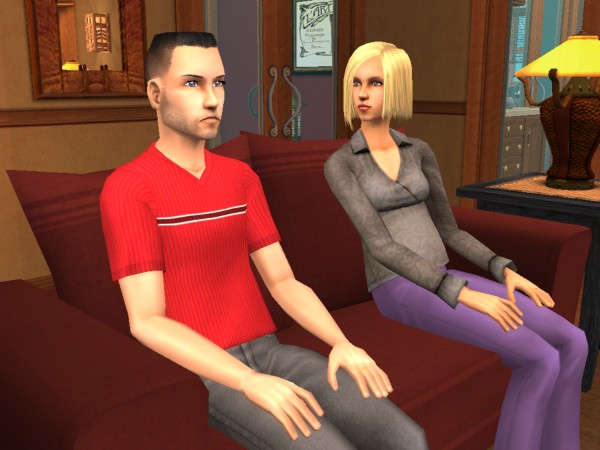 At first Joey kept his eyes fixed on the television screen, but when she said it again with more feeling, and reached over to rest her hand on his, he finally turned and looked at her. That was all it took.
They made up, at least for the time being, and for awhile Bailey seemed like a completely different person. She spoke in much kinder tones to both Joey and Tiffy and became more active in helping out with household chores. In fact, she almost became obsessive about them – there were few moments when she wasn't found cleaning.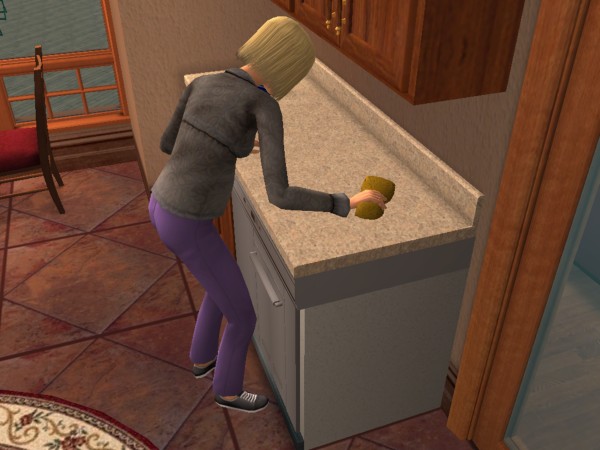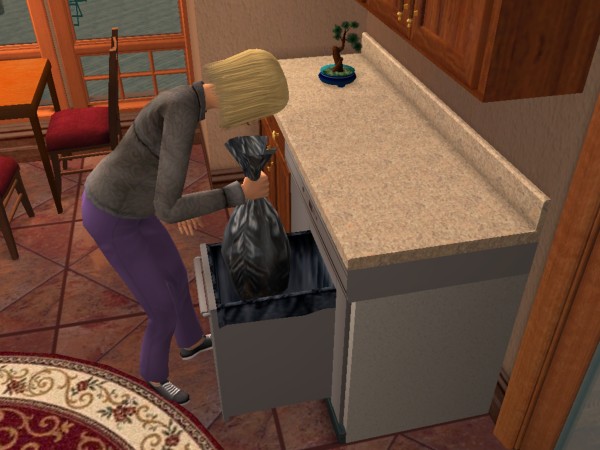 No longer did she run off to the bathroom to be sick, and she almost never left the house. It seemed she had accepted her fate as the wife of a mailroom technician who lived with his sister. This acceptance was so unexpected, however, that I was deeply suspicious of it.
(continued on Page 2)