Cecily wanted all of the details, but she had to wait until later that evening after Mayhew had gone back to the Granville. She was sitting not-so-patiently in her room when Carol came in, as she usually did every night, to talk to her about the events of the day. Usually Cecily perched on the chair in front of her dressing table while Carol hovered nearby (the lady could never really sit still), but this time Cecily raced towards Carol rather ungracefully and flung her arms about her in another congratulatory hug.
"Come and tell me all about it!" Cecily cried, grabbing Carol's hands and pulling her farther into the room. She plopped down on the edge of her bed and patted the space next to her.
Retaining her characteristic calm, Carol sat on the bed and smiled. "Well, there's not too much to tell," she said with a simple shrug. Cecily nearly burst.
"Oh, don't be silly! It's only the most important moment of your life! Where did it happen? What did he say?" She leaned forward, her eyes immense.
Carol hesitated, then launched into it. "All right, if you must know…I was in the guest room, tidying up — well, actually, I was just staring out the window –" here she blushed, " — and I heard someone enter the room. Just as I turned around, Arianna started playing that ridiculous song – "
"I adore that song!" Cecily interrupted.
"Yes, but it's so high-flown, I almost started laughing! But Mayhew had a very serious look in his eyes, and I knew I had better not. I'm not usually so nervous around him, but it'd been so long, and I didn't know how to be. You can imagine how stupefied I was when he got down on one knee – this was before he even said a word, mind you – and told me he wanted to spend the rest of his life with me."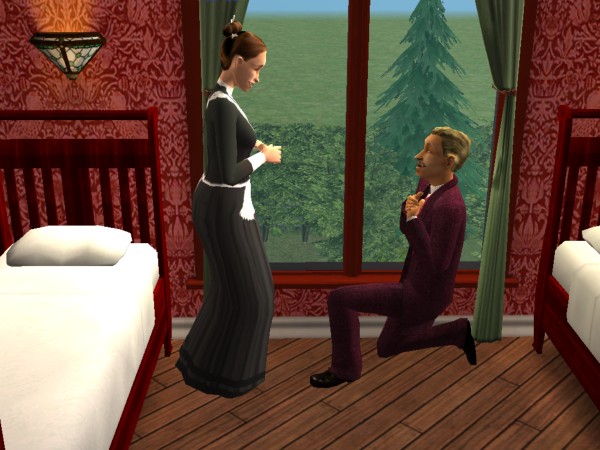 "Oh, Carol, that's so romantic!"
"And then –" Carol continued, clearly enjoying this now, "from the inside of his coat he brought out the most enormous box, and he said, 'I found this in Castello, and it made me think of you'. And inside was the ring, of course."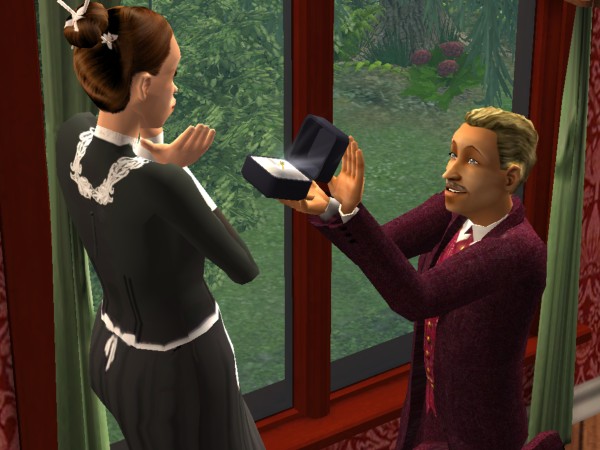 Carol held up her hand slightly and admired the clean-cut lines of the glittering gem upon her finger.
Cecily had seen it already but not this closely. With a wistful coo she clasped Carol's hand and brought it up to her eyes so she could get a better look. The diamond caught the lamplight and cast it dazzlingly about the room.
"Oh, he did everything perfectly," Cecily breathed, impressed that Mayhew, whom she had always thought to be somewhat dull, could have pulled off such a lovely proposal.
Carol twinkled with pride. "Oh! And this is the best part! We're not quite sure yet, but we hope to be married this Saturday at the chapel downtown. Just a small ceremony, nothing grand – but then we're moving into a house! Mayhew's inquiring after a few of them tomorrow. 'I can't give you a honeymoon just yet,' he said, since he can't very well run off again now that he's working on the new hotel, 'but I can give you a house.'"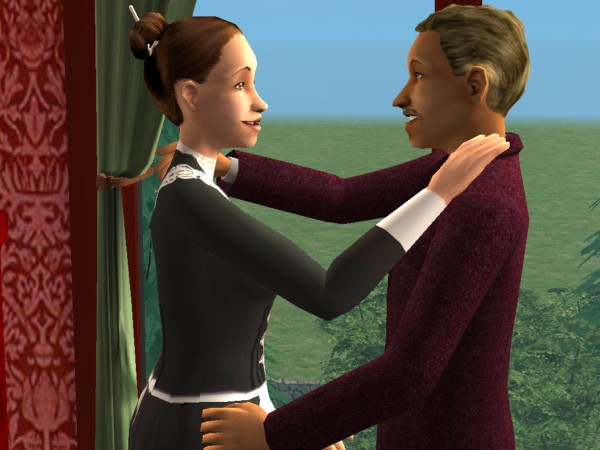 "Isn't that wonderful?" Carol sighed.
Cecily hugged her again, exclaiming that it was. "I always knew that's how it would go! I can't wait to see you in a house of your own."
"Well, we owe it all to Mr. De Groff," Carol said thoughtfully. "Without the bonus he gave Mayhew, it would be another 6 months at least before we could have afforded it. I'll have to give him a seat of honor at the wedding."
Cecily smiled awkwardly.
(continued on Page 3)