The next morning she awoke later than usual, took a long hot bath, called Carol in to do her hair, and set out for Haddaway Hall again. She was certain she had seen Mr. Haddaway's motorcar pull into their driveway down the road this morning, which meant that he and Samuel had returned from their business in Rivenberg.
This time the butler, Mr. Leverton, answered the door and fixed his dispassionate gaze upon her. Not wishing to delay any further, Cecily cut right to the chase.
"I'm looking for Samuel," she said firmly. "Is he at home?"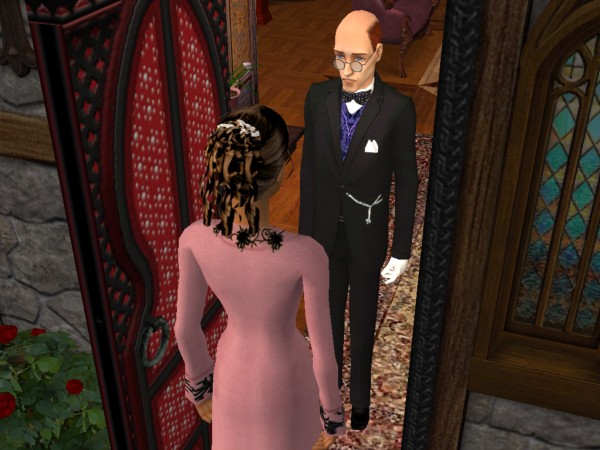 Mr. Leverton's face barely twitched – though it did twitch – as he announced in his mildly grandiose tone, "Master Samuel is not at home." He didn't offer to give Samuel a message, nor did he invite Cecily into the house, but simply stood there with the same expression of slight boredom, until Cecily finally thanked him and headed back towards Brayton Hill.
Cecily was dismayed, but she figured she had been mistaken in thinking the motorcar had been Mr. Haddaway's. She knew James sometimes drove their second motorcar around town, so it could have been him. But then another possibility slithered into her head – perhaps Samuel was at home, but didn't want to see her? It was certainly possible, especially if Dorothy had said anything about Cecily's visit the day before.
As she mulled all of this over, she looked up and saw Samuel walking towards her on the pathway in front of Brayton Hill. He seemed to be lost in his own world, his step jaunty, his hands in the pockets of his trousers, and when Cecily called his name, he seemed surprised – and not unhappy – to see her.
"Why, Cecily!" he exclaimed. "Fancy meeting you here outside of your own home. Isn't it a marvelous day? Good day for a drive, I should think!"
Cecily wasn't sure how to react to all of this. She had never seen Samuel in such a mood of rampant joy, nor had he said this much to her since the time he bitterly insulted her father's house. It caught her completely off guard.
"Yes, excellent driving weather," she said, trying her best to stay calm and friendly. "Do you plan on going for a drive?"
"I thought I might take Josephine out for a picnic this afternoon," he said. "What do you think?"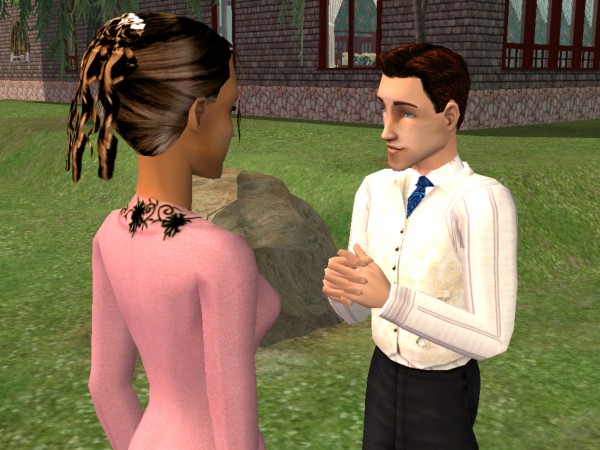 "I'm sure she would love it." Cecily faltered a moment, then trudged onward. "And how is Josephine? Did you just come from Brynmor?"
"I did," Samuel grinned. "And it was the best morning of my life. She said 'yes', if you can believe that! Though I think it was the ring that did it – Dad took me to the best jeweler in Rivenberg, and he said, 'Son, if she doesn't say yes to that, she's the craziest girl in the county'." He laughed, a genuinely happy laugh, and rattled on, "I would hope she marries me for me, and not the ring, you know, but of course she went wild over it, and her mother, too. I've never seen two women act so giddy."
With each word that Samuel spoke, Cecily felt her hopes grow dimmer and dimmer, until they became a light that had been snuffed out, leaving only wisps of smoke. She tried to maintain a smile, not wanting to cast any shadow on his happiness, but after a moment she realized she had tears in her eyes, and he noticed it, too.
"Cecily…what's the matter?" he asked, his exuberance draining away.
"Oh, Samuel!" Cecily wailed, as the poor young man tried to console her by patting her shoulder. "I'm so sorry, Samuel. I'm happy for you, I truly am."
"You don't look happy," Samuel smiled, his face full of concern. "If I had a hankerchief I'd offer it to you. Will my sleeve do?"
A noisy motorcar stirred up the dust on the road as it passed by them. Someone shouted from the car, and Samuel waved to them. Cecily paid no attention, but dabbed at her eyes with her hand.
"I'm fine. I just…"
"Just what?"
"I just want to ask you…" She patted the edges of her eyes with her sleeve before continuing. "I wanted to ask you if you've ever loved me."
Samuel's eyes widened, then glazed over slightly, as if he were treading down some distant path in his mind. Running a hand through his hair, he let out a long sigh, and seemed to come to his destination.
"I did once. I think you know when that was."
Cecily felt her chest heave with another sob, but she held it in check. "Was that it?" she asked. "Did you never feel anything for me again?"
Samuel stared at Cecily a long time, his face a mixture of compassion and confusion. "Cecily, we were great friends once, and I loved you then, but when you said you loved my brother…it cut me. I hated you for awhile after that, and then I just…moved on. And now I love Josephine. And I would like very much for you and I to be friends again. You know," he said with a gentle smile, "We're going to be cousins."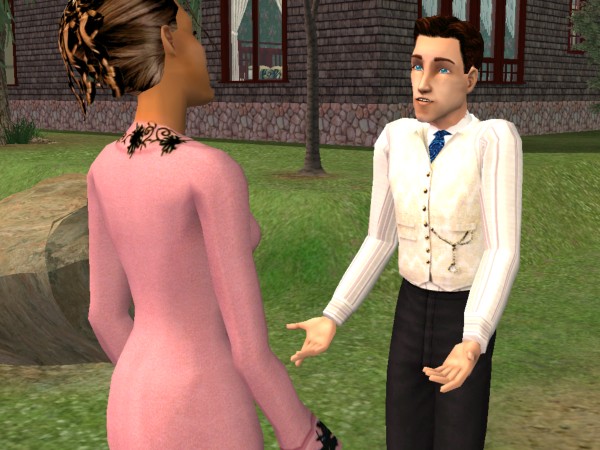 Cecily's chest tightened, and the tears threatened to flow again, but she refused to become hysterical. Not right now, standing in the street, with people driving by. She had to get away from Samuel. She had to be alone.
"I don't know what came over me," she said, forcing a smile, though her face was stinging. "I guess I have some regrets about that day in the woods. But you're right – it's time to move on. Congratulations, Samuel." She felt like embracing him, but didn't dare in the middle of the street like that. Instead, she shook his hand, and gave it an affectionate squeeze.
"Will you be all right?" he asked.
She assured him that she would, and though he didn't seem entirely convinced, he gave her shoulder another pat and continued his walk down the road to Haddaway Hall.
Cecily watched him until he was halfway home, then turned away from the street and walked briskly to the woods behind Brayton Hill. After several steps she broke into a run, not caring where she ended up, just relishing the feel of the air rushing past her, and the soft, grassy ground beneath her feet.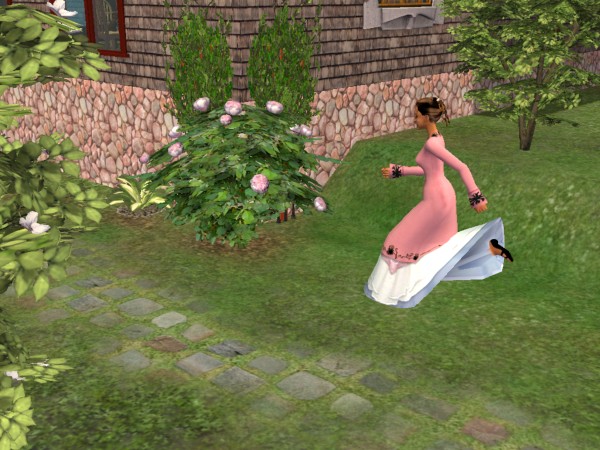 It wasn't long before she reached the edge of her father's property, where a loose line of shrubs marked the boundaries before the land became cornfields. There she lay upon the grass among the drooping wildflowers and gazed up at the clouds wafting overhead.
She wanted to be alone so she could cry and think, but her tears seemed to have dried up, and her thoughts were too rambling to form any understandable shape. But after a time one rumpled dream seemed to float up from the murky depths, and it all started to make sense.
Samuel was no longer more real than James – they were both fantasies: she had loved them both when they didn't love her, and they had loved her when she didn't love them. It all seemed like some wicked joke life had played on her, and if that were the case, she would have the last laugh.
"Yes, that's it," she said, smiling to herself. "It's just as I always thought: I'm going to marry James Haddaway."