An awkwardness passed between Cecily and Josephine, and the latter glanced around the room, already bored with the conversation. Suddenly her eyes lit up, and Cecily turned to see James approaching them, a devilish twinkle in his eye.
"Only the dregs were left of the punch," he said to Josephine. Then leaning slightly towards Cecily, as if he had been talking easily with her all their lives, he chuckled, "I dare say old Leverton's not doing his job – nor Miss Carwell neither. Perhaps they've gotten busy in the kitchen?"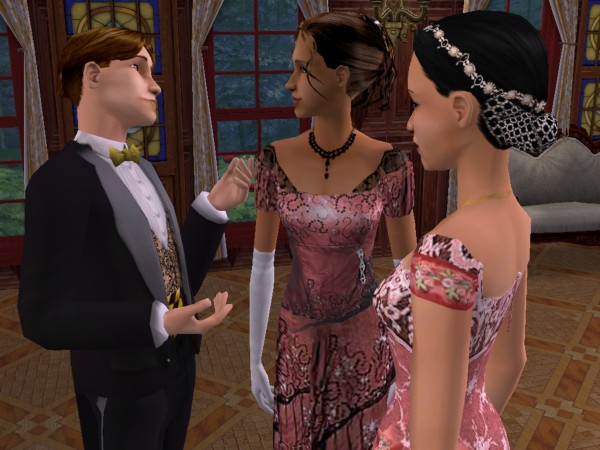 The tone of James's voice, coupled with the glint in his eye, gave the remark a different meaning than the mere words suggested. Realizing his implication, Cecily stared at him wide-eyed, while Josephine said "James!" in a tone of mild shock.
James simply laughed, waving his hand. "Oh, dear ladies, I only meant that a party of this nature keeps Leverton and Carwell on their toes. Samuel's gone to tell them about the punch. See? There's old Leverton now."
Indeed, the Haddaways' butler had entered the room, a large pitcher in either hand. Samuel followed soon after, also carrying pitchers. Together they worked on filling the punch bowl as Josephine watched them admiringly.
"How kind of your brother to pitch in," she said. "Isn't it, Cecily?"
Cecily was so dazed by the presence of James at her side, his hand mere inches from hers, his face so near and even more alluring up close, that she took a moment to respond.
"Oh, yes," she said, fixing her eyes upon the distant figure of Samuel, hefting the heavy pitchers of punch. "But Samuel has always been kind," she murmured, almost unaware of what she was saying.
At this, James turned and looked at her, his lips twitching in amusement. Cecily caught the look and felt a blush spread across her face.
"Well then," he said, brushing his hands upon his finery, "I know when to take a hint. I'll go and help them." And he was off across the room, though they had almost finished pouring all of the punch.
This left Cecily and Josephine in uncomfortable silence again, and Cecily looked around the room for someone else she might talk to.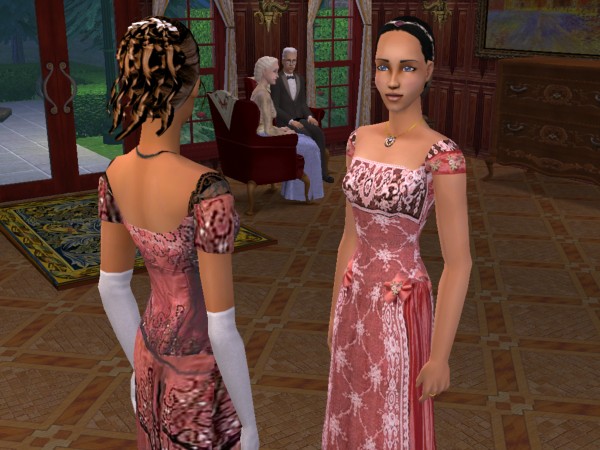 "Oh," Josephine said suddenly. "I just remembered – I forgot to tell Samuel that I prefer my punch with ice. Excuse me." With a graceful nod of her head, Josephine turned and strode in the direction of the punchbowl.
Cecily sighed. She was tempted to follow Josephine, if only to be near James again, but she didn't want to be a nuisance, so she crossed the room and settled into an inviting chair.
While Cecily sat, the room filled with more and more guests, though most of them seemed to hover near the musicians or the food. Others spilled back into the hallway or the foyer, so that Cecily's corner of the ballroom became one of the few quiet spaces. As she watched the lamplight glimmer on the ladies' dresses, she became aware of eyes watching her, and before she knew it, James was sitting next to her.
"Are you hiding from me?" he said, gazing at her in mock seriousness.
"I…uh…of course not," Cecily stammered, though she felt her cheeks flush.
James laughed then, settling more comfortably into his seat. "I thought I might bring you a glass of punch, but then I was waylaid by the Nystroms, and by the time I extricated myself from them, you were gone."
"I've been sitting here the whole time," Cecily said in her calmest voice, but her continued blushing gave her away.
"Sitting out of the way," James said with a knowing smile. "I can't say I blame you. These kinds of parties wear me out." He glanced wearily back into the throng of mingling guests, then rested his eyes upon Cecily once more. She tried to remain steady under the intensity of his gaze.
"Do you know, I thought about you while I was away," he said, and when she looked surprised, he shrugged. "Oh, Samuel wrote about you, and I would ask, 'How is that dear girl Cecily that you're so fond of?', and he would spend two or three pages telling me. And I must admit, I found his descriptions of you very intriguing."
Cecily stared at him incredulously, and then as if on cue, a smudge of black and rose caught her eye, and she turned to look across the room at Samuel and Josephine, who were conversing animatedly.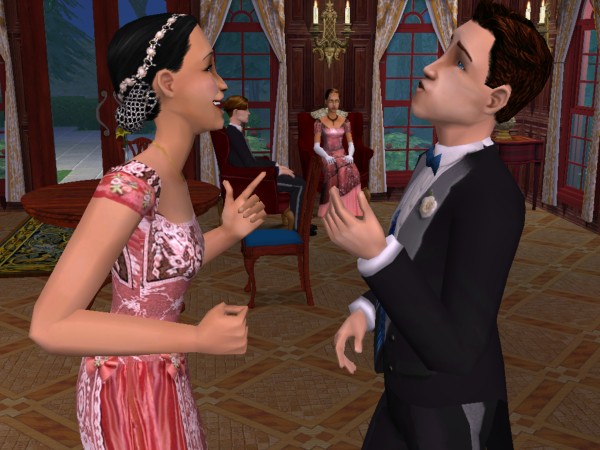 "Samuel and I don't talk much anymore," Cecily said, avoiding James's eyes. He followed the line of her gaze and let out a half-sigh.
"Ah yes," he said. "I heard about that. When he stopped talking of you altogether, I found it curious. And then my sister filled me in."
Cecily wanted to sink into the cushion of her chair and disappear. She wasn't really surprised that James knew of her blunder with Samuel, but it still embarrassed her immensely.
"Oh, I was so foolish that day," Cecily said, looking at her lap, where she fidgeted with her gloves. "It was a silly thing, really." She glanced up and smiled carelessly as if to show it no longer mattered. But James still had a spark in his eye, and he leaned closer to her.
"I need some fresh air," he said in a low voice. "Shall we walk out by the fountain? I promise I won't mention Samuel again."
(continued on Page 3)