You saw Pearlie's Market in the last post — now meet Pearlie's family (and tour her house)! First up is Pearlie's youngest daughter, Tasha Wade: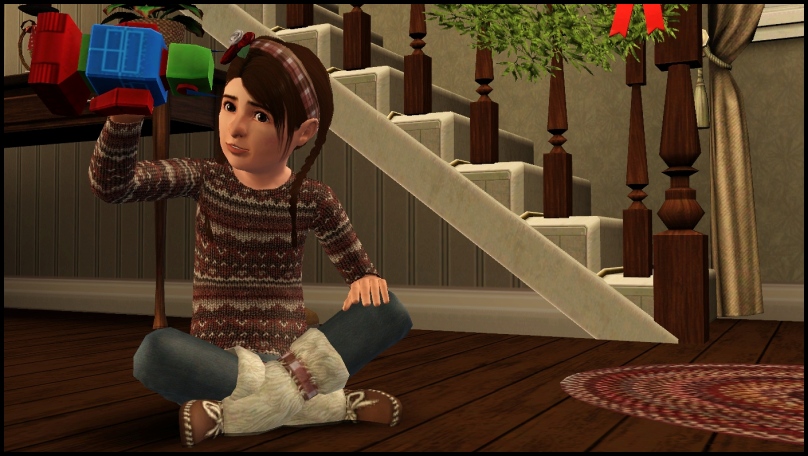 She's a Sim-child version of Tedhi, a member of The Sims Daily forum, who, much like her Sim-self, likes to play with robots (well, Sim-robots at least!) and eat cookies.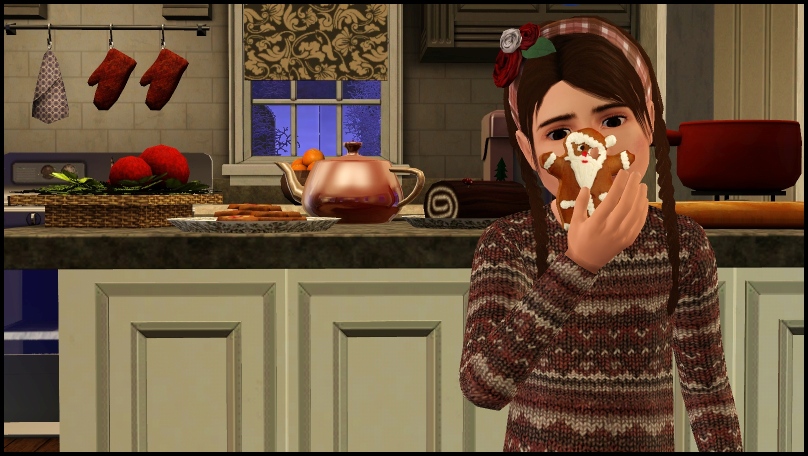 Tasha has even mastered the art of walking down invisible stairs, like so many of the Sims in Tedhi's worlds: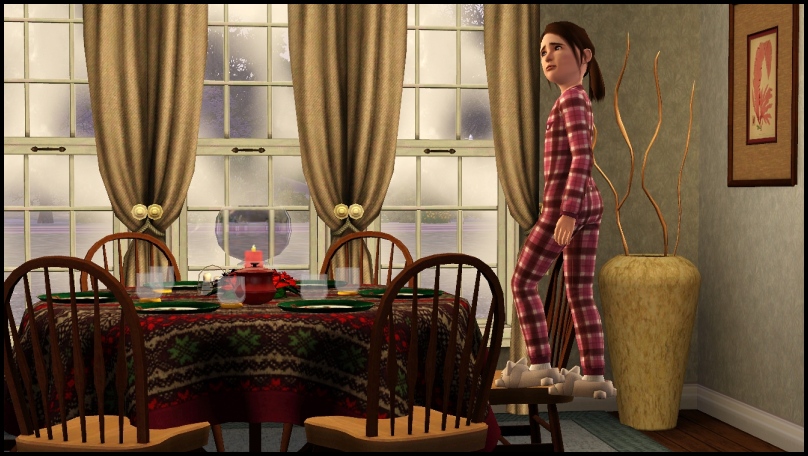 I found out later it was from using "moveobjects on" and moving Tasha! *facepalm* Apparently doing a "Reset Sim" fixes the problem.
Tasha is terrible at pillow fights…here she is getting the tar beaten out of her by her big sister, Karis…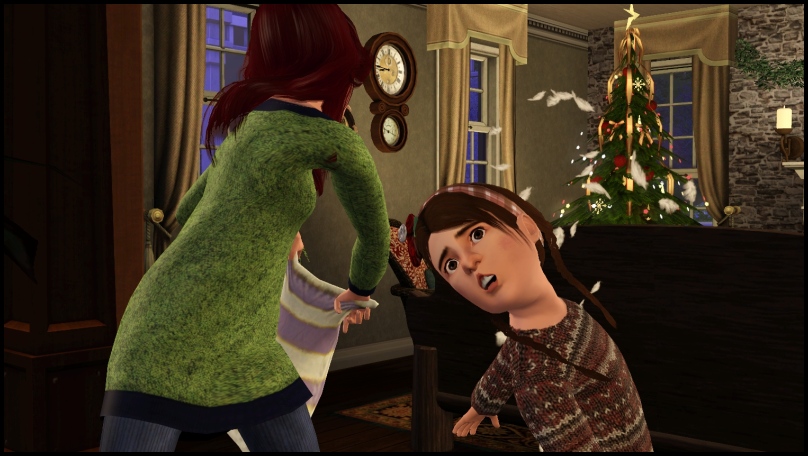 Karis is based on another member of TSD — Karinilla! (That's what those TSDers get for sharing their Simselves…heehee.)
Karis has been attending the elementary school because I haven't built a high school yet…(she's my first and only teen in town)…but I've built a shell for it, so that should change soon! I used Twallan's Story Progression to disable the rabbithole rug in the elementary school for teenagers, and disabled the high school rug for kids, so…I hope that works? We'll see.
At any rate, Karis likes to keep her outerwear on indoors a lot — I guess she's cold all the time. ;-P Here she is doing homework in the school's art room: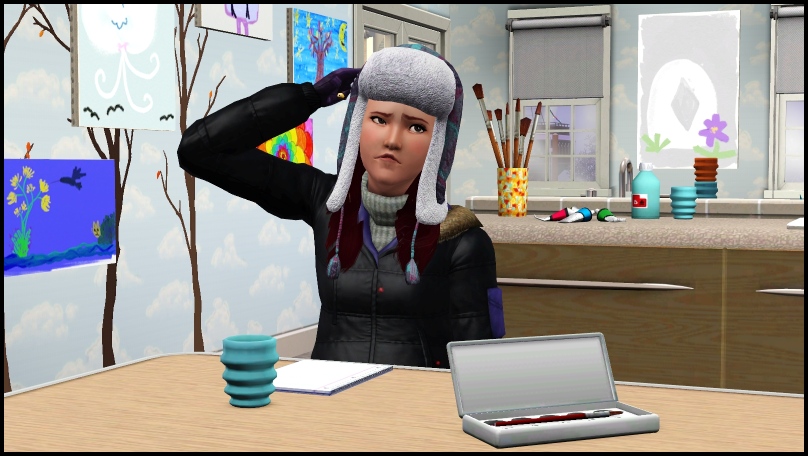 She also likes to freak out on occasion: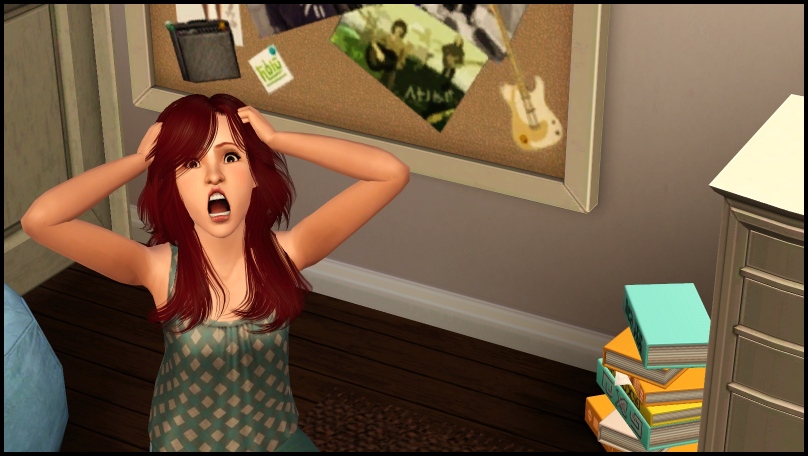 And ride her father's Victorian bicycle…d'oh! (I forgot to give her her own bike so she wouldn't steal his!)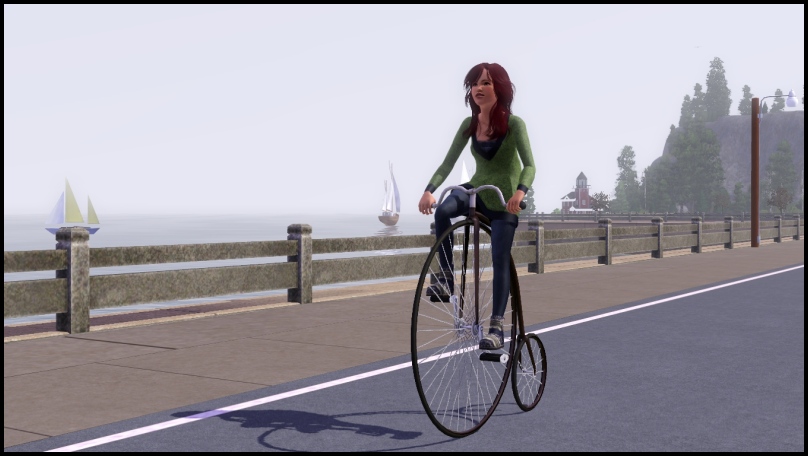 As for their father, his name is Addison, and he's the town handyman, as well as a budding inventor. He looks a bit bemused at times: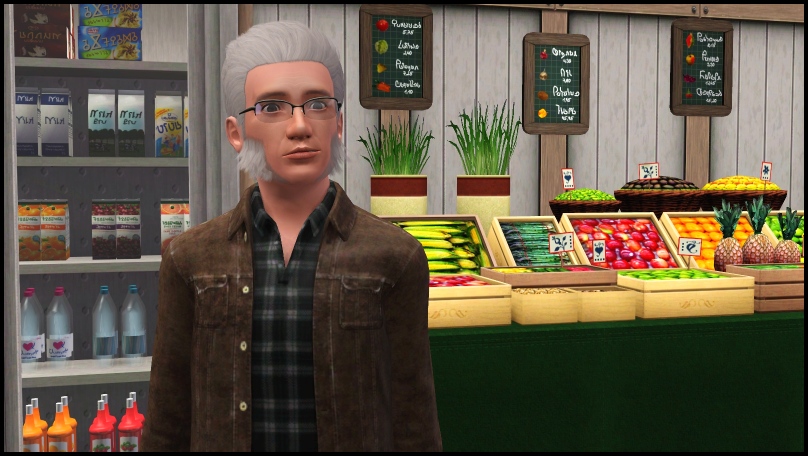 He's an adult, but went prematurely gray as a young adult, and decided he might as well go with the "old man" vibe and grow in some old-fashioned sideburns as well. They suit him, since he's a bit of an eccentric. Besides, he's now the perfect choice to play the role of town founder, Captain Wesley Whimsett, whenever the community theatre holds history plays.
Like daughter, like father: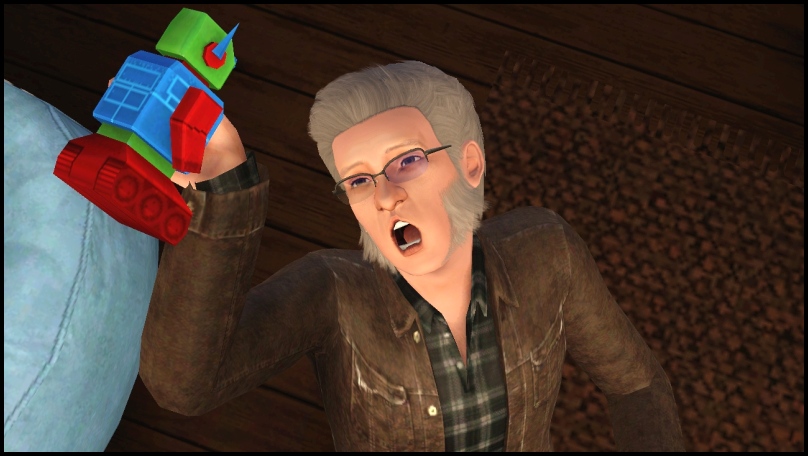 Continued on page 2…