Just a little map of what Whimsett Cove looked like in February, which I thought I'd better post before March is over! ;-p Lots #2 and 9 are finished but haven't been posted here on the blog yet. If I did this map today, I'd also have a lot near the town green marked for the bank/real estate agency/newspaper office and another lot off in the far upper right corner for a work-in-progress residence.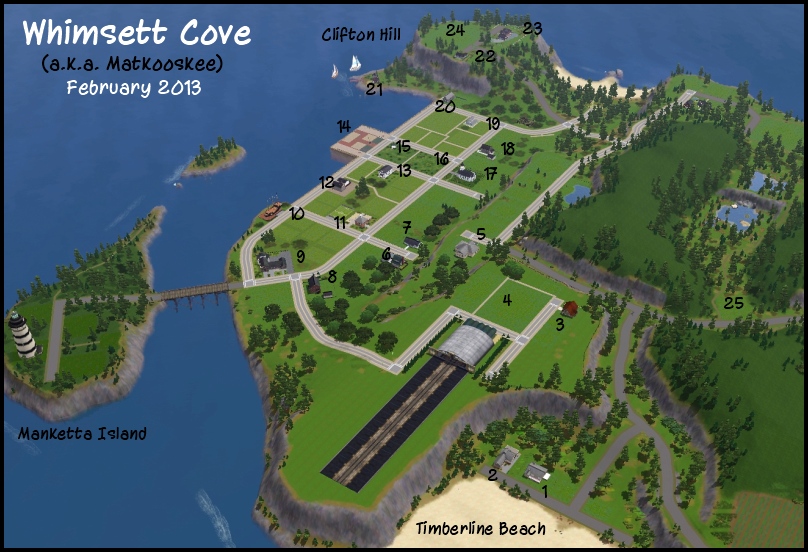 1. Mortinez Residence (Elvis & Lucas)
2. Stearns/Gil/Milbrandt Residence (Jeromy, Paolo, & Shannon)
3. Lum Residence (NPCs)
4. Future home of the university campus (as well as surrounding lots)
5. High School (unfinished)
6. Desmond/Jefferson Residence (Coralyn & Lexie)
7. Zinella/Hughey Residence (Mark & Blaine)
8. Unfinished brick colonial (not sure who's living here yet)
9. Edgecombe Theatre/Backdrop Coffee Shop/Art Happens
10. Emmeline's Galley – seafood restaurant (diner rabbithole)
11. Elementary School & Soccer Field
12. Pizzeria & Bookstore
13. City Hall
14. Barnes Pier (festival lot)
15. Village Green Part 1
16. Village Green Part 2
17. Church/Wedding Chapel
18. Wade Residence (Addison, Pearlie, Tasha, Karys)
19. The Chowder House
20. Pearlie's Market (grocery store rabbithole)
21. Village Point Lighthouse & Vivarium
22. Stearns Cottage (rental)
23. Litton/Cain Residence (Delaney, Andy, Joanne, and Nanny Lisa)
24. Stearns Manor (yet to be built)
25. Probably a small campground
Residences: 10
Community Lots: 15
Empty Lots that I don't know what to do with yet: too many to count!
Plans:
Manketta Island – My tentative plan is to make this a swanky area for moneyed tourists and residents — if there's space, it'll have an upscale inn/B&B, a fancy French/traditional restaurant, and a country club/park. Although I might end up putting some or all of that in another area, depending on space.
University Campus – The new University Life Expansion Pack is full of cool build/buy items, but we can't replicate the full gameplay in our homeworlds, so I plan on building my own university and "faking it", probably with custom careers and Margaret Pendragon's University Life rabbithole rugs. I did delete the airport/landing strip and place the UL rabbitholes themselves to see how they would look, but they are framming HUGE! and dwarf everything else on the island. So I look forward to creating my own little campus buildings! I'm going to aim for a Tudor Revival/Gothic feel in that area.
I have about six half-finished lots right now, so my goal is to finish those and then try to focus on the "downtown" part of the island. It still looks so empty! And I'd like to get around to PLAYING one of these days! ;)