I've probably mentioned this already, but I've been alternating building residential and community lots in Whimsett Cove to avoid burning out on one or the other, and sometimes I build them simultaneously. I'm also throwing in a little gameplay because it breaks up the building/decorating and allows me to get to know my Sims a little better. :-) No one is aging yet, and even when they do, I don't plan on using TS3 aging, but doing what Sandy does in her world, which is play whatever Sim-month I want to for however long I want to, and age my Sims up manually if their birthday falls in that month.
Anyway, that's all for later on! ;) For now, I have more picspam for you, this time of a house and a community lot that have a bit of a connection.
This is the home of the Desmond/Jefferson family: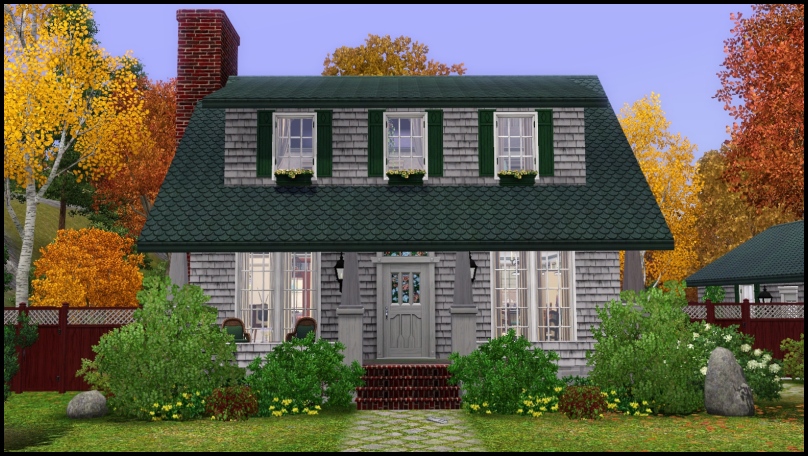 I started building the house shortly after Seasons came out, so Whimsett Cove was transitioning to autumn. Gotta love the fall colors!
The inhabitants of the house are single mother Coralyn Desmond, the town's elementary school teacher…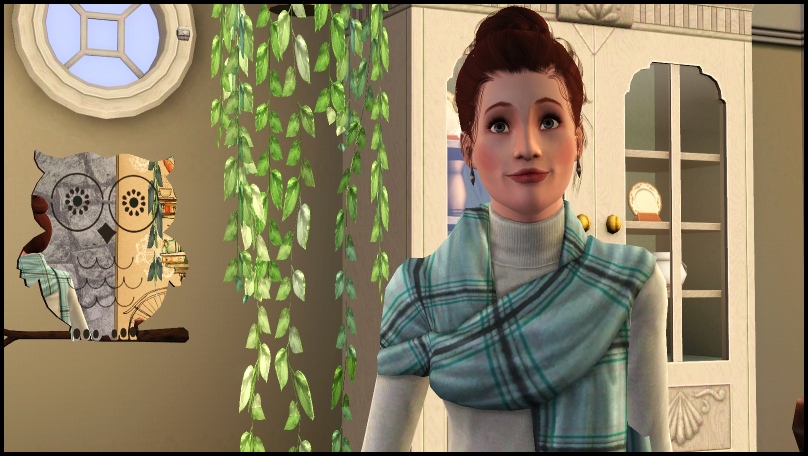 …and her daughter, Lexie Jefferson, who has a love of small fuzzy creatures, like her chinchilla, Shadow:
Coralyn is a tweaked version of WebbyMom's self-Sim, and Lexie is a tweaked (and young-ified) version of Lemonjelly.
The house is based on a vintage Radford plan called The Dixon, which is cool because WebbyMom's self-Sim was originally named "Cora Dixon". :-)
When I played them for a bit, Lexie enjoyed scattering all of the leaves that her mom raked up (and her mom didn't seem to mind):
Lexie's love of furry creatures extends to raccoons, so she wanted to pet the one that wandered into their yard…but it bit her!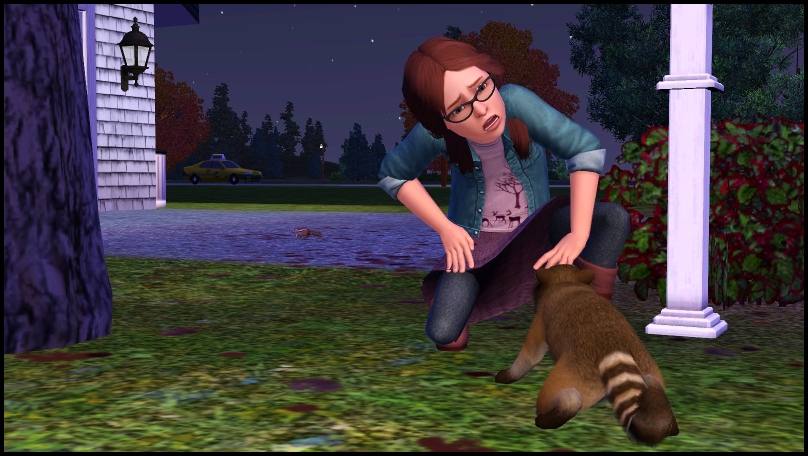 (And Lexie seems to be a magnet for critters — check out the chipmunk running around in the background!)
Then it had the audacity to knock over the garbage can while Lexie looked on. What a jerk. :-P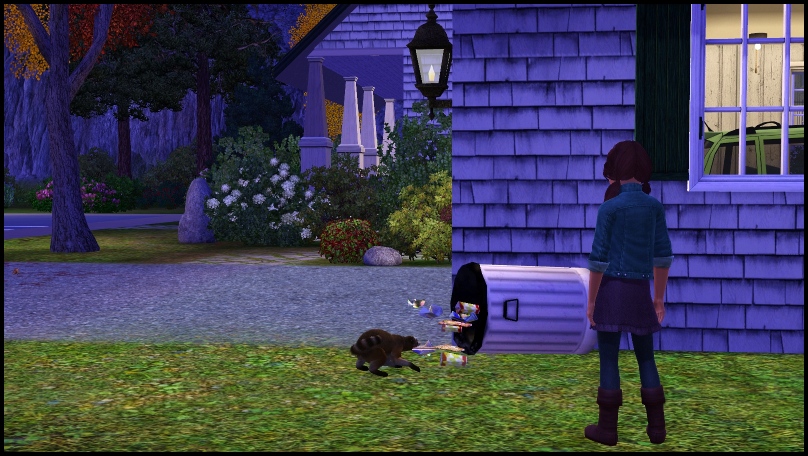 That night there was a huge thunderstorm, with lightning illuminating the view of the sea. I wish I could have gotten a picture of that, but lightning doesn't pause…it just keeps going!
The rain cleared up the next morning, and Coralyn and Lexie had a lovely breakfast of grapes pancakes.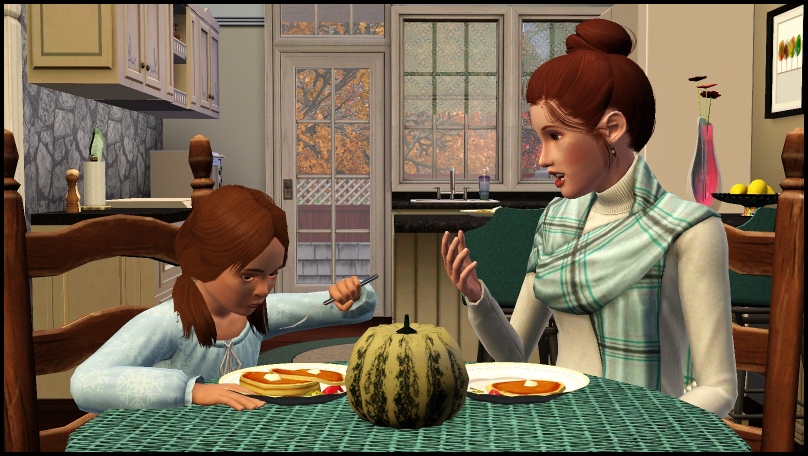 Coralyn: Hey, you still have your jammies on…aren't you supposed to be dressed for school?
Lexie: There's no such thing as school. That lady forgot to put the rabbithole rug in the new schoolhouse.
Woops.
Lexie was a good girl and washed the dishes, at least.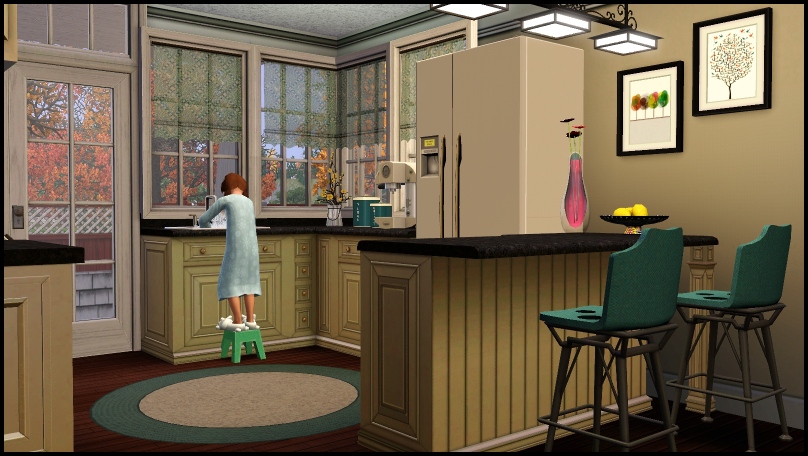 It rained some more in the afternoon, but Coralyn needed to pay the bills, so she whipped out her trusty umbrella and made her way to the mailbox. Unfortunately she couldn't hold the umbrella while messing with her mail, so she got soaked anyway! D'oh.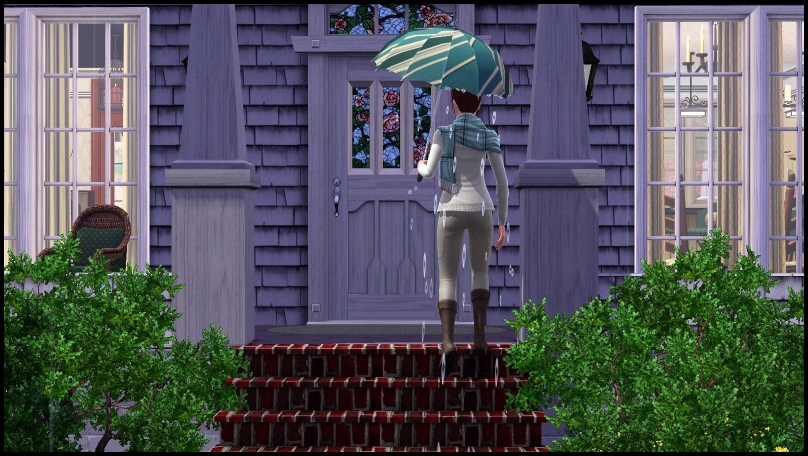 Here's Lexie reading in the living room at home: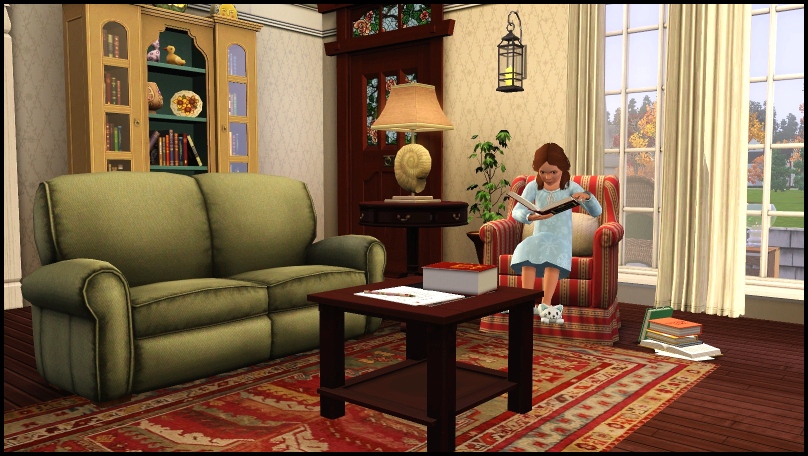 She's quite the bookworm…even though she doesn't have the Bookworm trait yet! Seriously, that girl is always reading. She's definitely getting that trait when she becomes a teen!
Here she is (reading, of course) in her bedroom: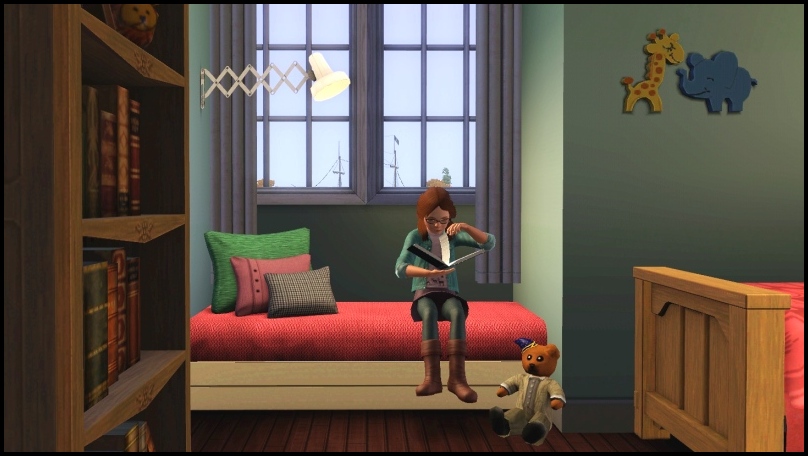 Lemonjelly's "Watermelon Falls" painting inspired me to make Lexie a fan of watermelon, so that's how I decorated her room.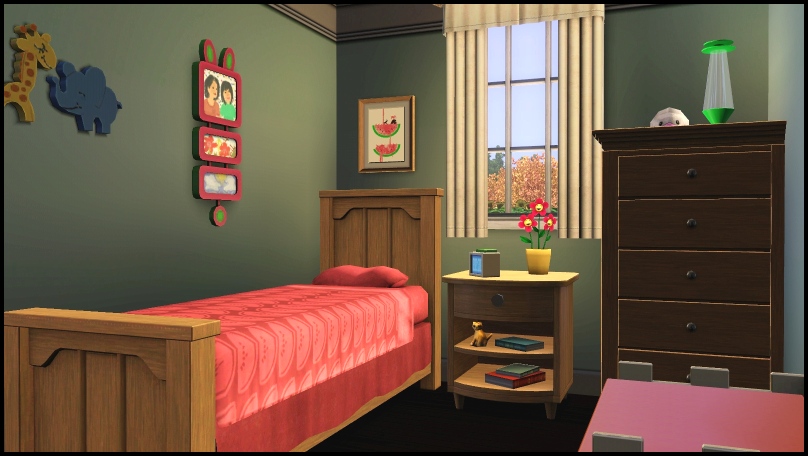 Coralyn's bedroom: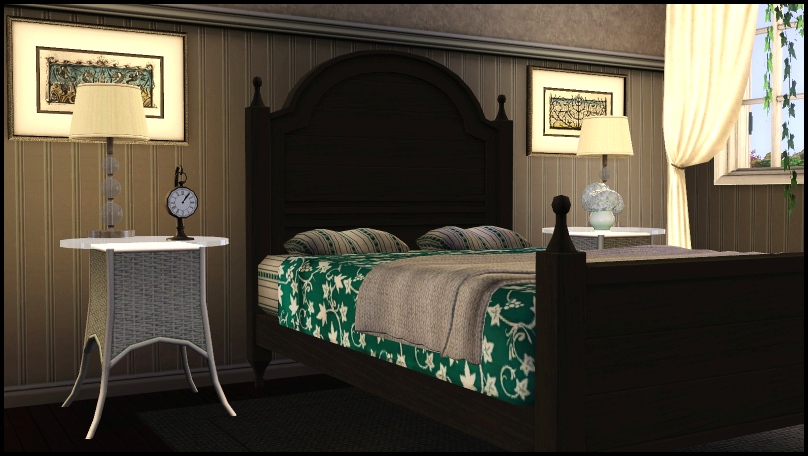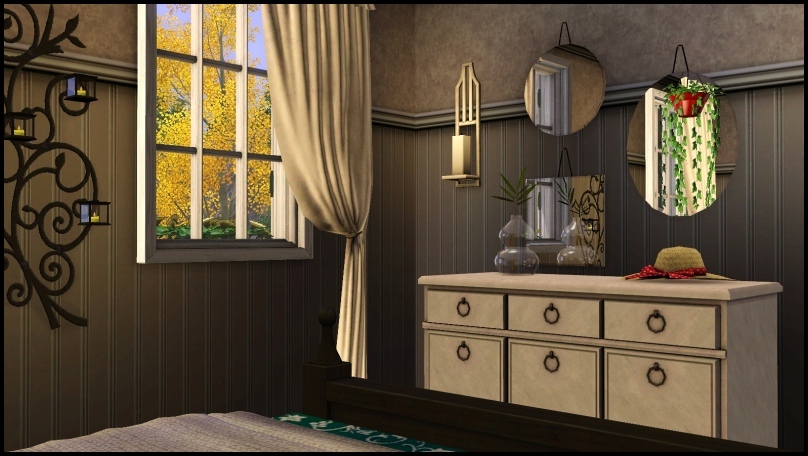 Next up, the school! :D
Continued on page 2…