So…I mentioned Fran's cousin in my last post (he was the kid watching the ant farm in the lighthouse)…here's his family and their house!
Fran's cousin is this little guy, Lucas Mortinez, seen here fishing with his dad. His dad is Fran's Uncle Elvis, who has been around since the TS2 days. :)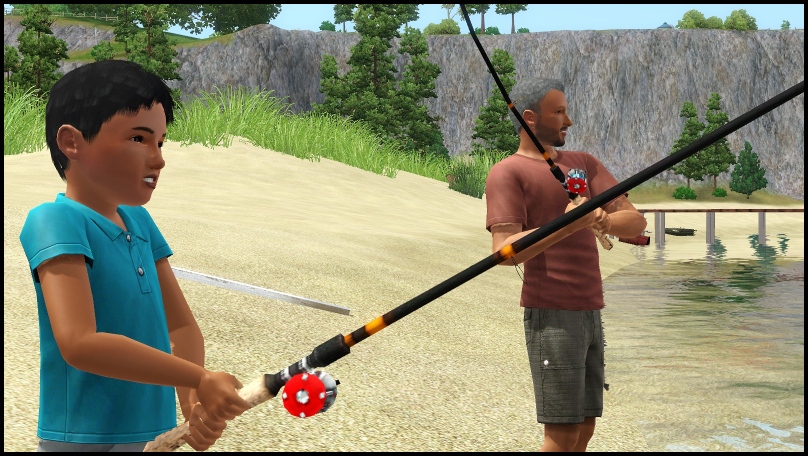 Elvis is a little older and grayer now, but he's still a whiz at everything — cooking, cleaning, fishing, gardening, you name it. Unfortunately he has a bit of an unlucky streak, especially in the love department. The only success he had in that realm was with Lucas's mom, who is gone now — she was struck by lightning while in the garden one afternoon. *sniff*
But that was long ago, when Lucas was just a baby, and the two guys have worked it out since then. Elvis has become a professional angler, and is indeed one of the premier fishermen in Whimsett Cove, an island known for its abundant and tasty seafood.
Elvis is teaching Lucas how to fish, too, and the boy seems to enjoy it. While they fish, their golden retriever Betsy has fun digging in the sand. (Betsy was created by LittleV on the Sims 3 Exchange.)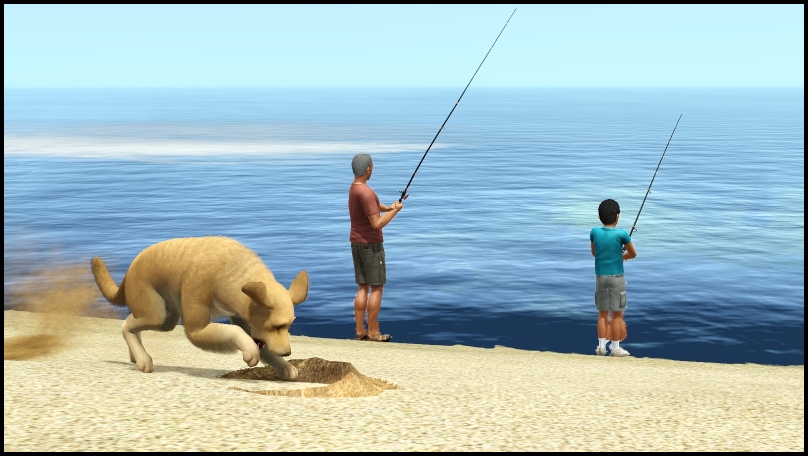 When the Mortinezes moved to Whimsett Cove, they rented out a beach house from a family on the mainland who couldn't afford to visit it anymore in the summer. Rather than sell it and have it leave the family, they decided to keep it and rent it out, on the off chance that someday they could return to it. In the meantime, Elvis is reaping the benefit of having a lovely little house right by the sea — he can practically fish right out his front door (well, he would if he could cast a line across a road, through some trees, and over some sand dunes :D ).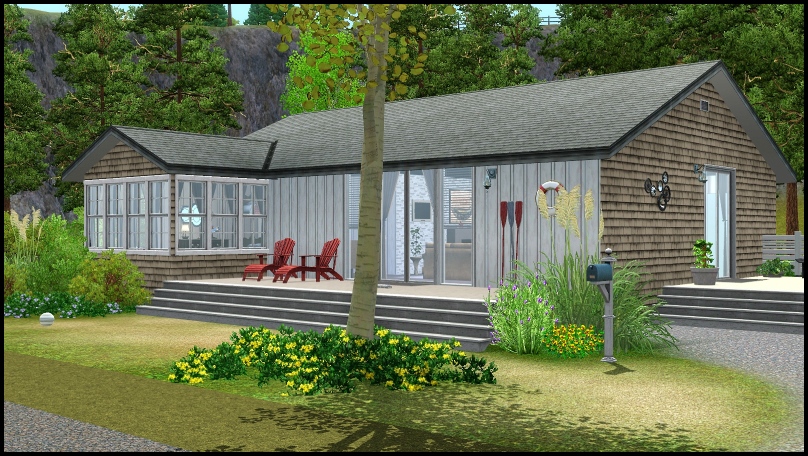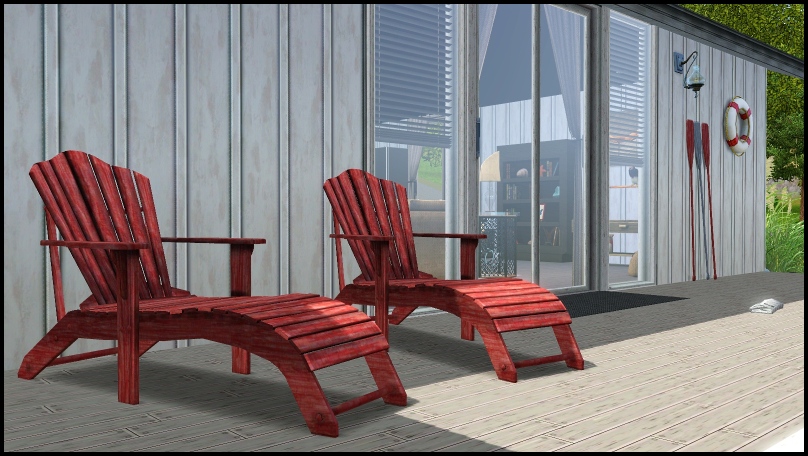 A rainy day shot, and a view of Elvis's slightly beat-up truck: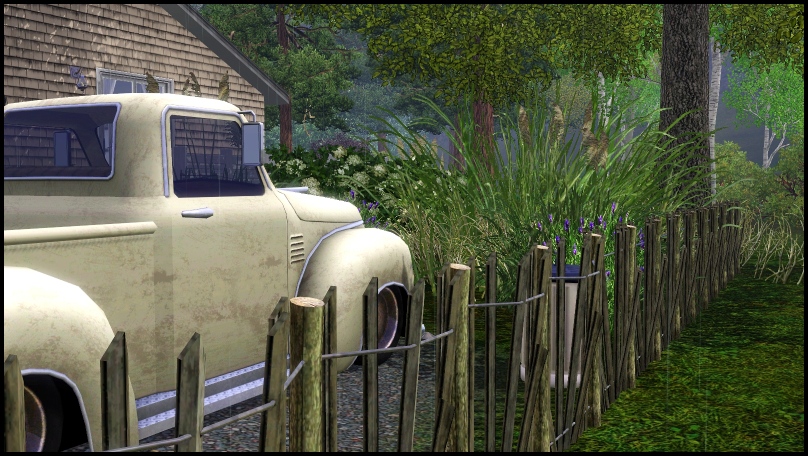 Guess what Elvis found right in his backyard that day? SPOTTED SIXAM! *woot*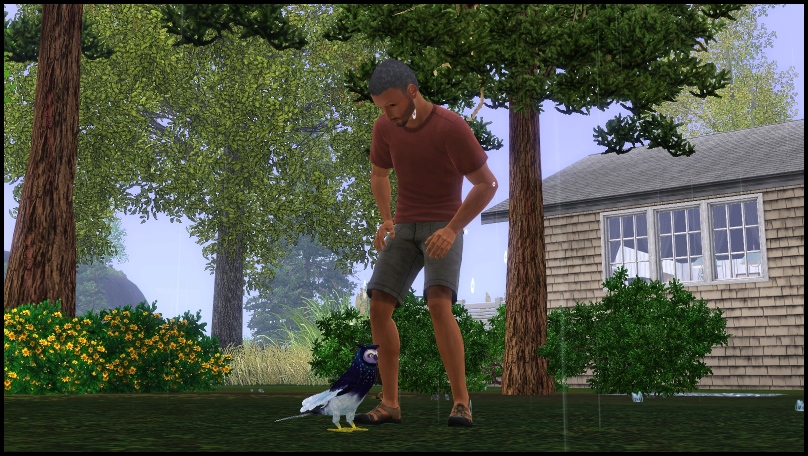 And even though he was having an "unlucky" day, he managed to befriend it (while getting absolutely soaked in the process, heh)!
He named it Larissa and tried to teach it how to say, "I love you"…but the bird wasn't having any of that. She's kind of a sassypants (as indicated by her bratty thought bubble).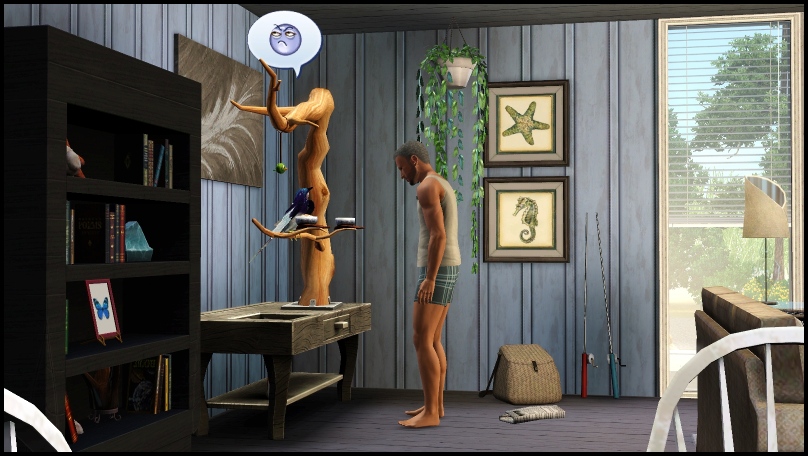 Larissa: SQUAWK SQUAWK SQUAAAAWK! (Translation: Why would I want to say THAT? I hardly know you!)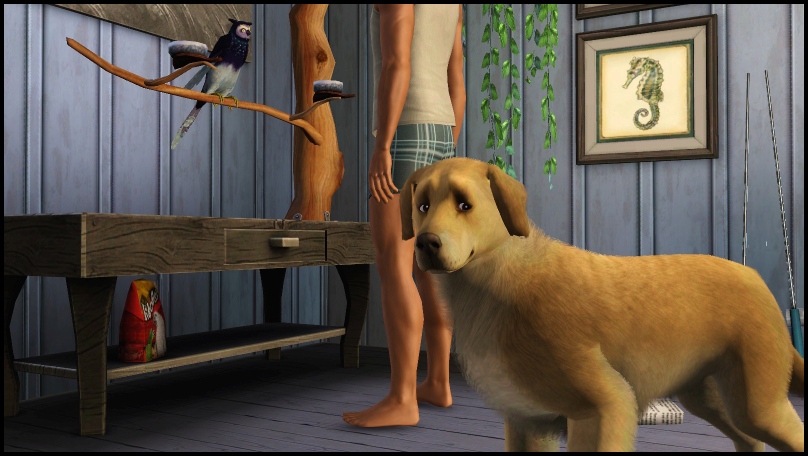 Betsy: Boy, he's got his hands full with that one…
Continued on page 2…