So…I built a mini-mall in Moonlight Falls, for a few different reasons:
I wanted a place for my teens to hang out that wasn't a "supernatural hangout"
Lenore got a point of Sculpting from attending Art Club and wanted to gain more skill, but there was no room in the house for a sculpting station
I've been wanting to do something with Sandy's awesome gypsy set since she posted it
Plus I love having a bookstore that isn't a rabbithole, and Moonlight Falls was just screaming for a comic book shop. (OK, maybe not screaming…I just wanted to make one. :-D ). I guess that's more than a few reasons.
Anyway, I kind of cheated with this lot — I saved the Sam's Market Diner rabbithole lot to the bin and then placed it across from the school. I deleted the rabbithole and built the mini-mall with the same basic footprint. That way I didn't have to re-do the parking lot, the lot would stay relatively small (thank goodness), and it would kind of "match" with what is already in MF. Although the style ended up being a little more modern than I intended…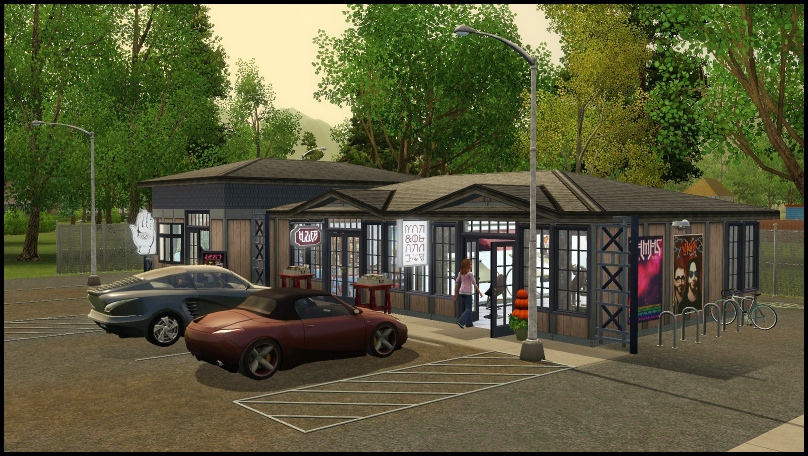 The mini-mall has three shops: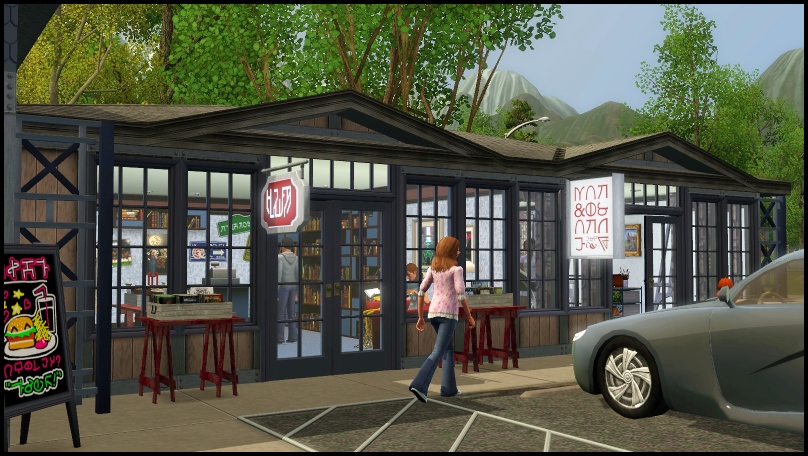 Casteneda's Comics (and Used Books) and Dar & Co Art Studio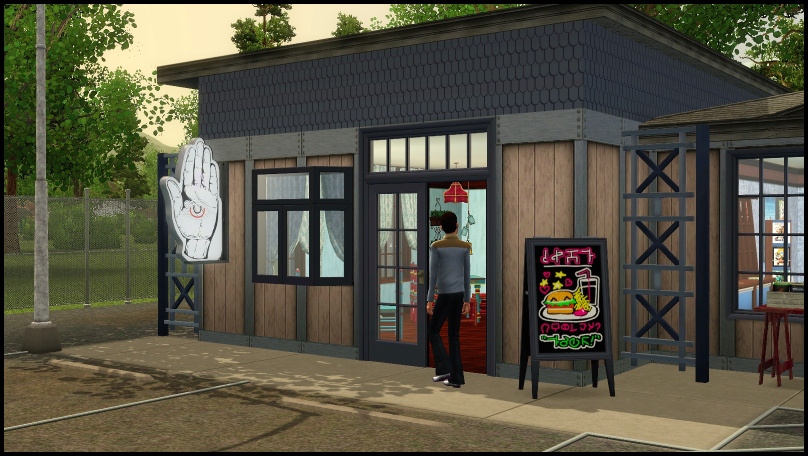 Café Destiny
Since it's near the school, it's easy for the kids to go there afterwards for some food, studying, reading, or art therapy. That way they can meet people and stay away from their horrible step-dad who never speaks to them anyway.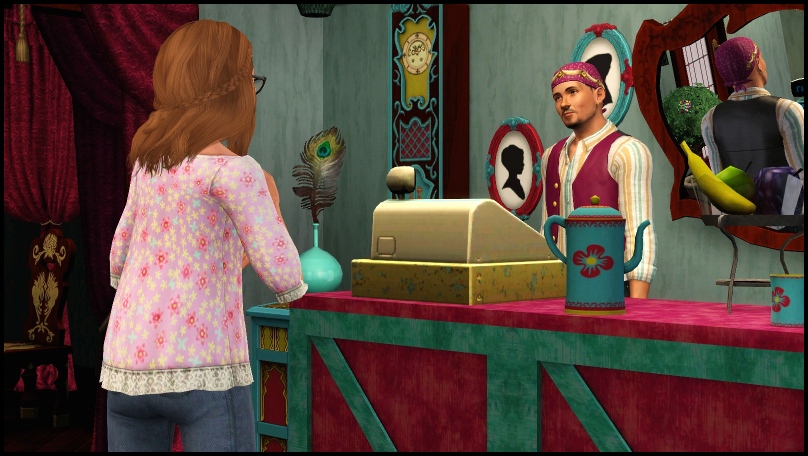 Lenore orders some dinner…woot.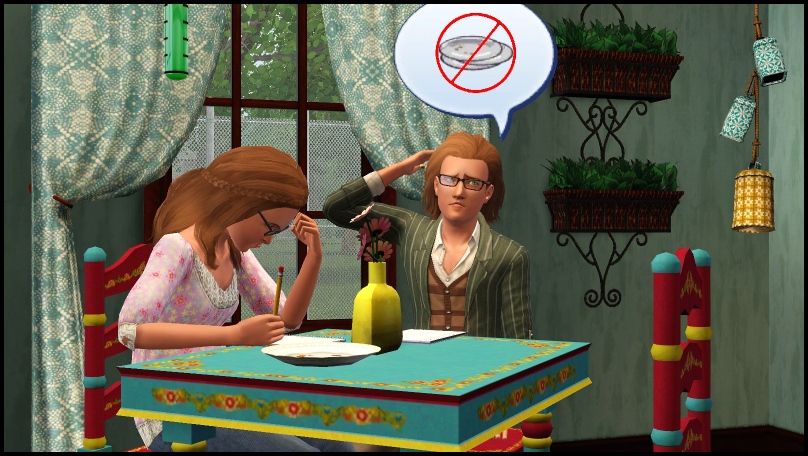 Apparently Drake has a hard time concentrating on homework when there are dirty dishes around.
There's a room in the back of the café where people can try to tell their own fortune or the fortunes of others.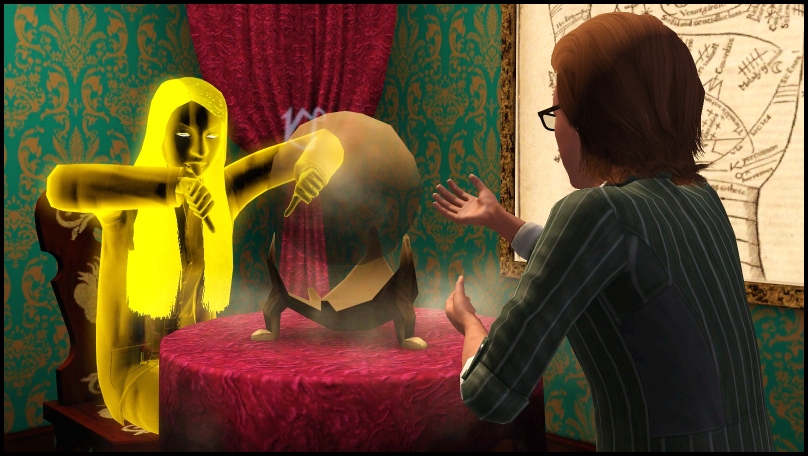 Violet: Bleh, worst fortune EVER!
Drake: Well, what do you expect? You're dead!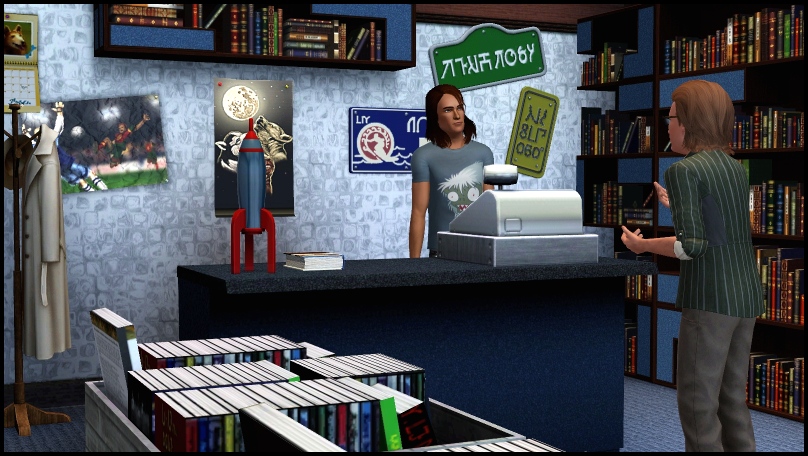 Drake wants a promotion at his science geek job, so he buys a book on gardening. (And yeah, I need more comic book art in this place! Time to download more CC…my low-CC saves never stay that way for long *facepalm*)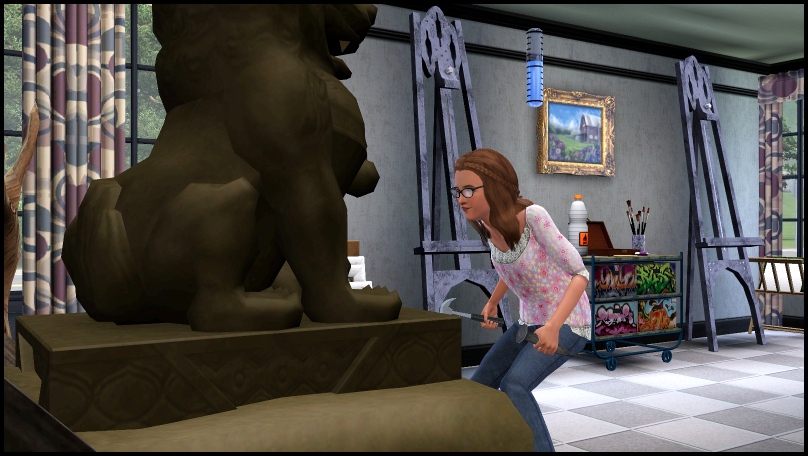 Meanwhile Lenore gets to work on her sculpting. She loves it!
The mini-mall seems to be a pretty popular place, and even though it's not a "supernatural" hangout, the weirdos seem to flock there anyway. When I saw these two Sims, at first I was freaked out…I mean, she's drinking the guy's blood right in the middle of the bookstore!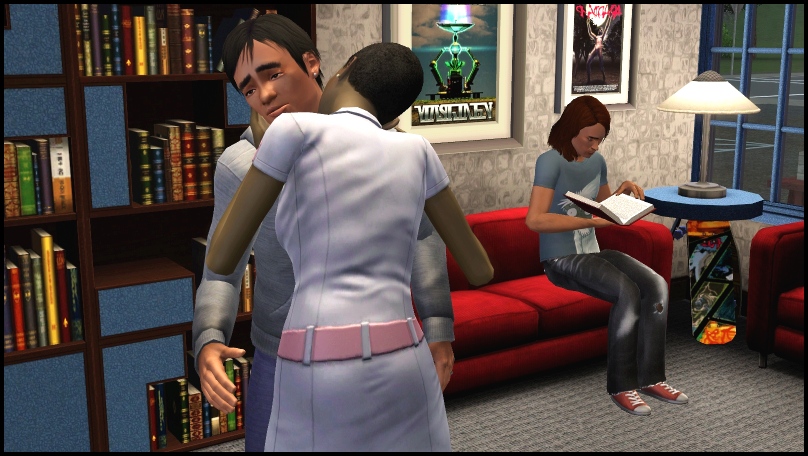 But it turns out it was a love bite…they're married.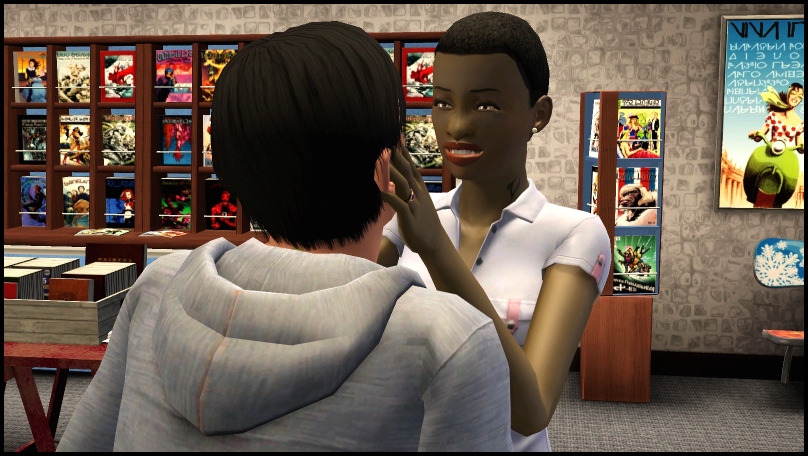 Ugh, get a room. *chuckle*
Continued on page 2…