I have my computer back now! *cheers* Unfortunately I can't Sim for the next two nights, as I have stuff going on (real life stuff! Oh no! *gasp*), but I have some screenshots to share from Monday night's gameplay. So if you'd like to hear more about the Dunningtons in Moonlight Falls, read on!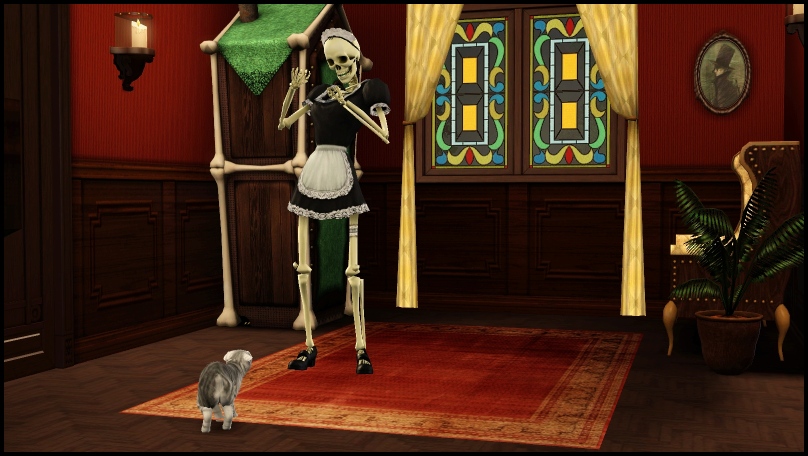 I thought wicked step-father/evil wizard Hayden needed a creepy maid, so I placed Bonehilda's coffin on the premises. She seems cheerful and tidy enough, but the cat hates her.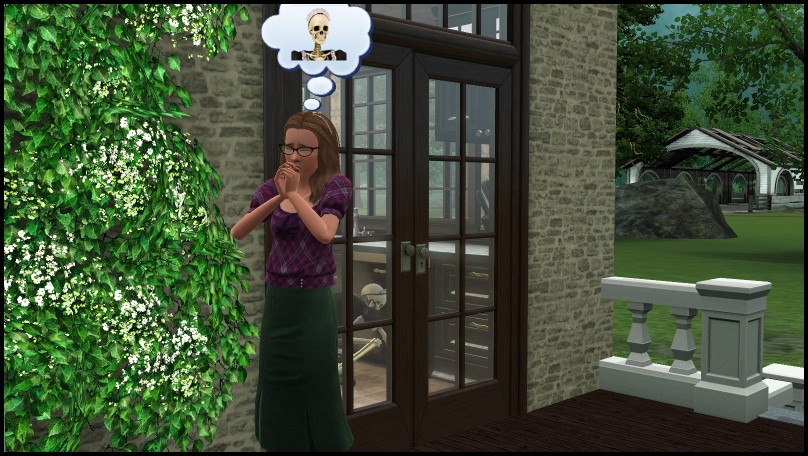 And she scares poor Cowardly Lenore to bits, giving her a hefty negative moodlet for three hours afterwards. It's hard to keep that poor girl happy with all of the fright she's experiencing!
Aww, don't worry, Bonehilda…you look fabulous.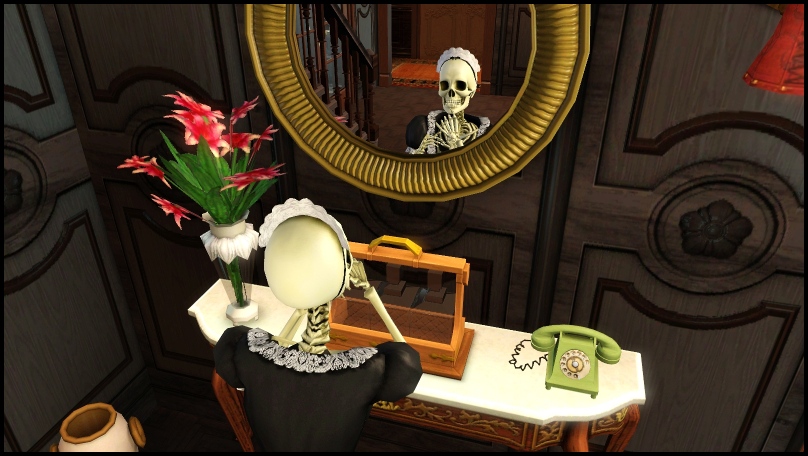 I thought it was cute that Mystic the cat thinks about witches whenever he's hanging around his wizardly master.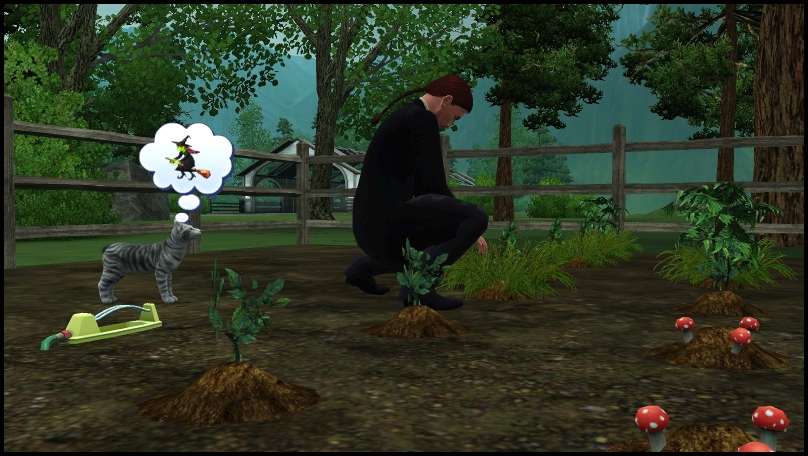 And Hayden's garden is developing nicely…it'll be nice when he can grow some more ingredients for elixirs; his career as a self-employed alchemist is going nowhere at the moment.
At least he can harvest honey for free behind the elixir shop!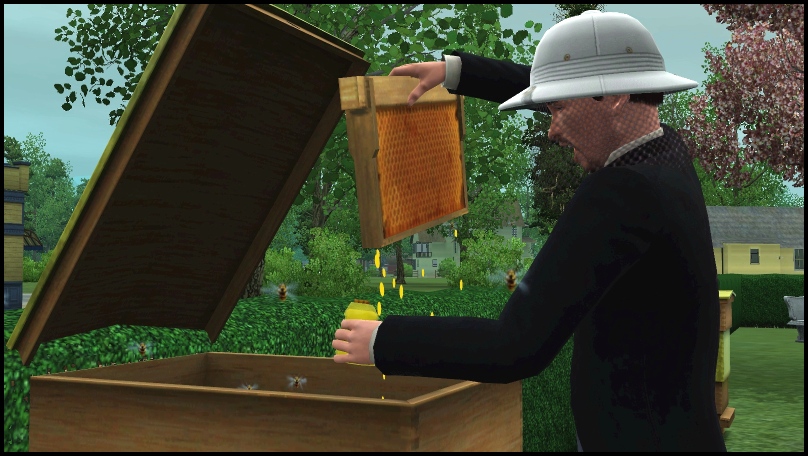 OK, it's a terrible idea to have Coward Sims living in Moonlight Falls…they can't even visit the community pool without fainting.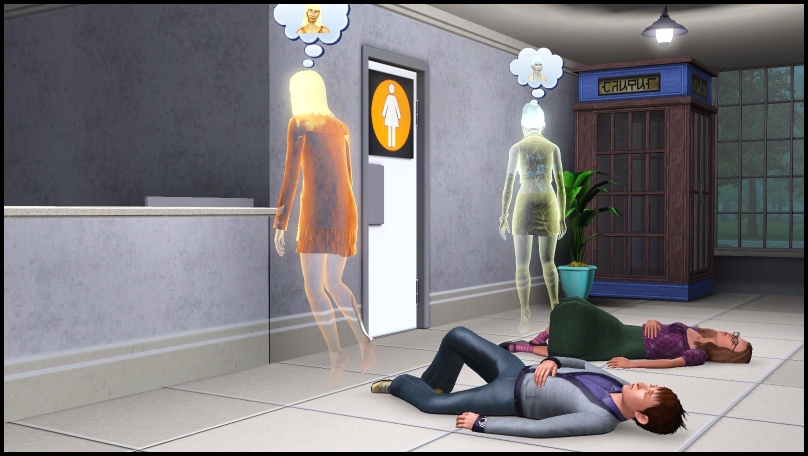 Poor Lenore always looks anxious…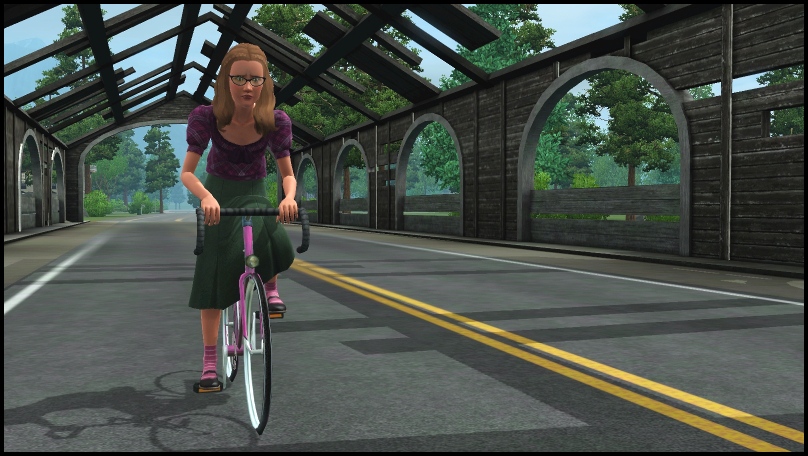 I thought maybe getting her fortune told might cheer her up, so I sent her off to the gypsy wagon…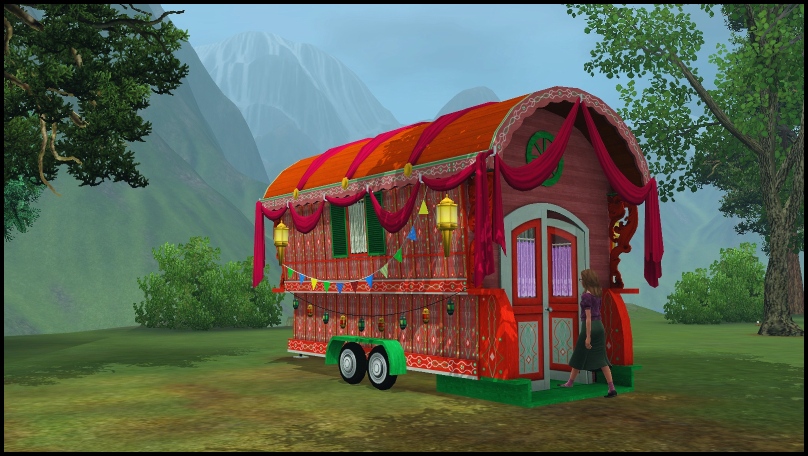 …but she decided it was all bunk and left before she received a fortune! D'oh.
Meanwhile, Hayden had just learned a few dastardly spells and wanted to try them out, so he ventured to Varg's Tavern. He tried to cast Ice Blast on another Sim, but it backfired!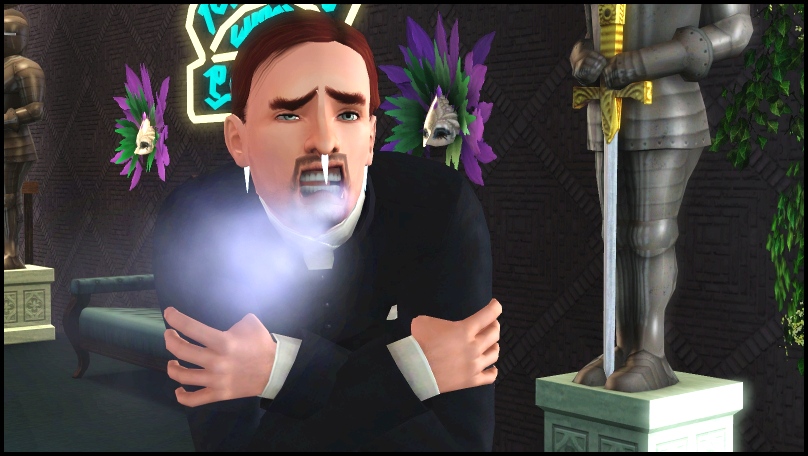 He had more success on his second attempt: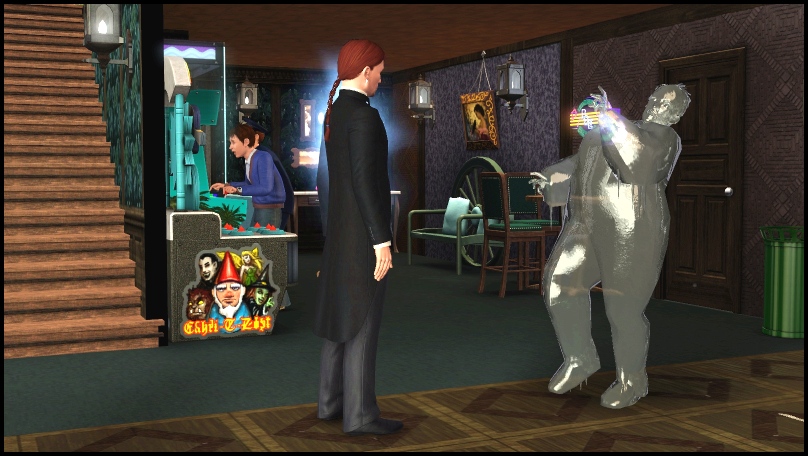 Hayden: Huh. It worked. What now?
One of my Sims got a Ghost of the Darned gnome as a prize in the Claw machine. As with other gnomes I've experienced, they like to hang around the garden. Although this one hangs around in midair…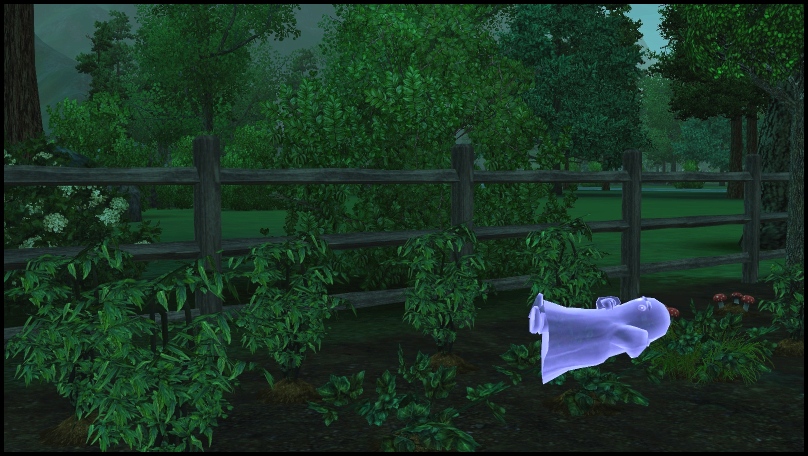 And I'm learning more about the pre-mades around town…
I thought it was interesting that Joe and Jules MacDuff appear to be twins, but one is a spellcaster…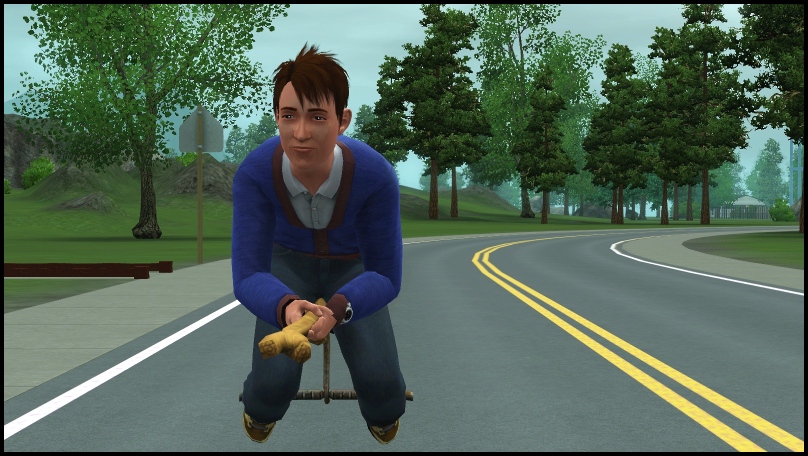 …and the other one isn't.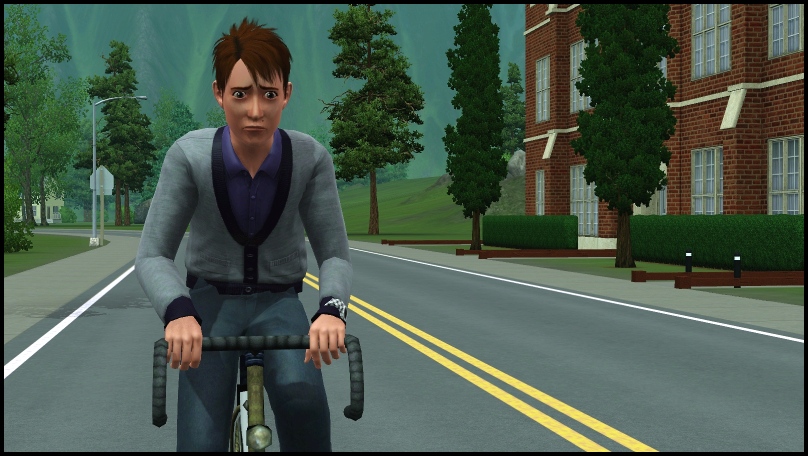 And this guy is part of a household known as the "Trustifarians"; they're all total hippies but they're living off of an inheritance, so they're actually quite rich. Anyway, the dad of the family completely cracked me up when he showed up in Varg's Tavern one night, dressed like this: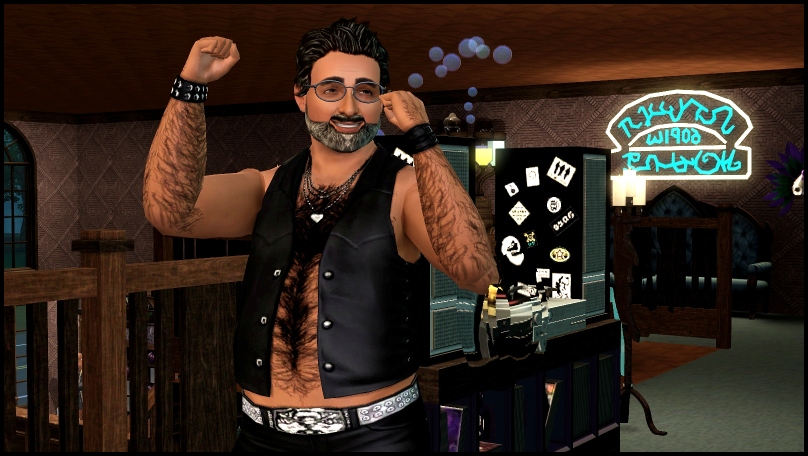 And his name? Rainflower Ivy.
Heehee.
Lastly, here are a couple of random landscape shots…I call this first one "Butterflies, Turtle, and Mountain":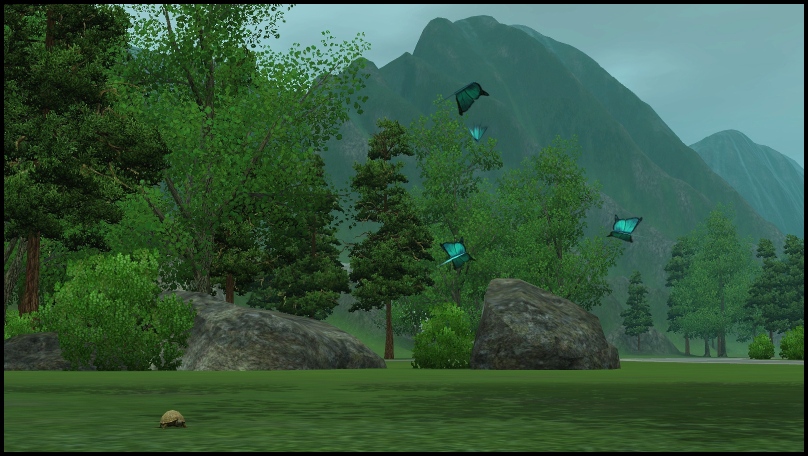 Very apt, no? :D
And this one is actually from my regular computer, before it crapped out on me: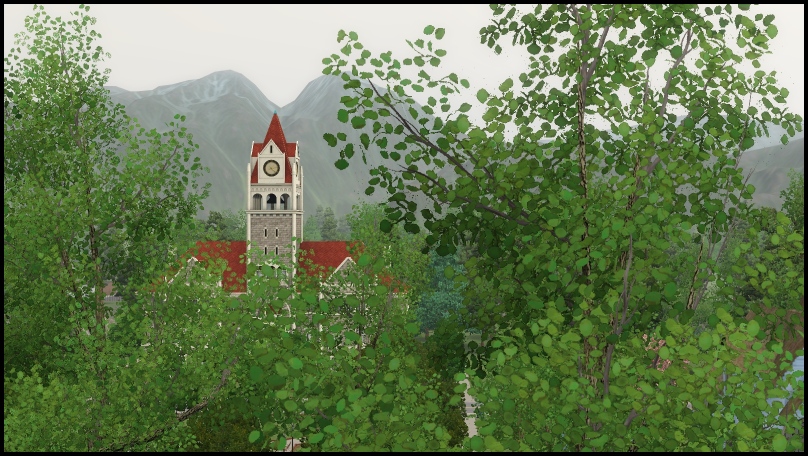 That's it for now…thanks for reading, and Happy Simming!