Hey all! I've been trying to think of a name for my Sunset Valley re-do (where my "Friends" project is taking place), and I thought, well, hey…why not Mt. Geneva? Sunset Valley has a mountain, after all. A pretty majestic one. And I've been "greeting" people from Mt. Geneva for years, even though none of my Sims have lived there since the early Sims 2 days. Why not resurrect it?
So…welcome to Mt. Geneva, folks! Now for some pics of random stuffs…
While I was putting the finishing touches on Vanora's house, a fire broke out in her living room. Fortunately she was able to extinguish the flames before they reached her painting supplies…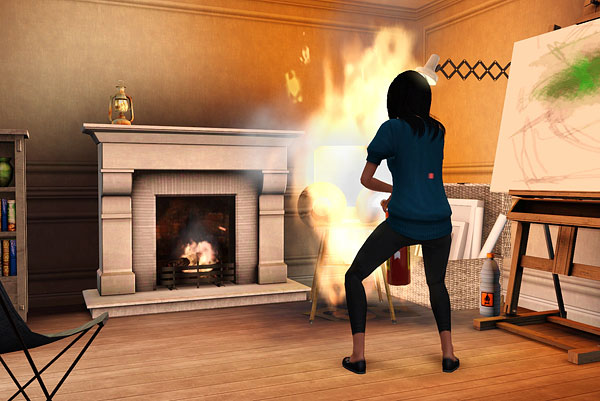 …but they completely roasted her beloved suitcase Victrola.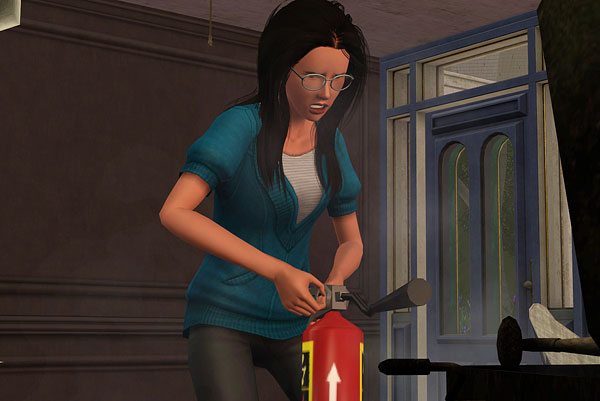 The whole incident upset Vanora, understandably. And I was sad because she didn't have enough money to replace it just yet. It sucks to be penniless. Or in this case, Simoleonless.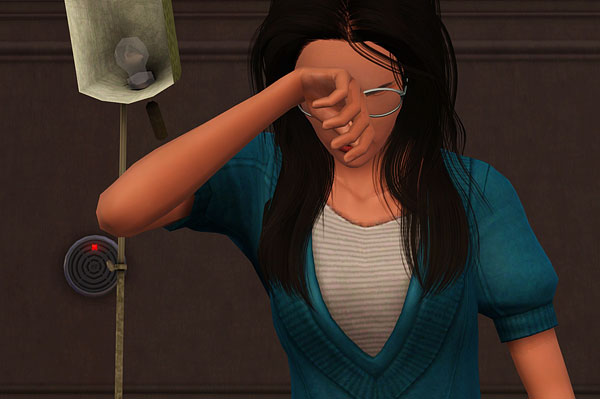 Vanora put out the fire after that, frowning grumpily at it the whole time. She liked it for the warmth and ambience, but it wasn't worth burning the whole house down.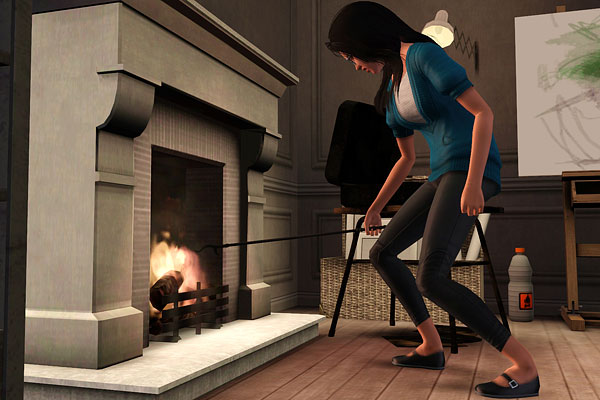 She had a lot of fire dreams that night. (Also something involving clowns. Not sure how they fit in.)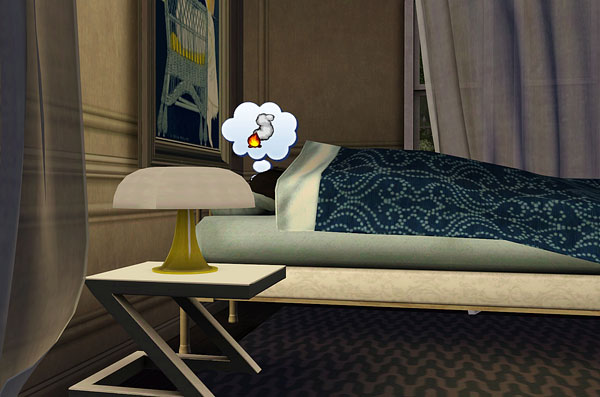 While Vanora got her first night's sleep in Mt. Geneva, I switched over to another new Sim, her neighbor Drew Marston.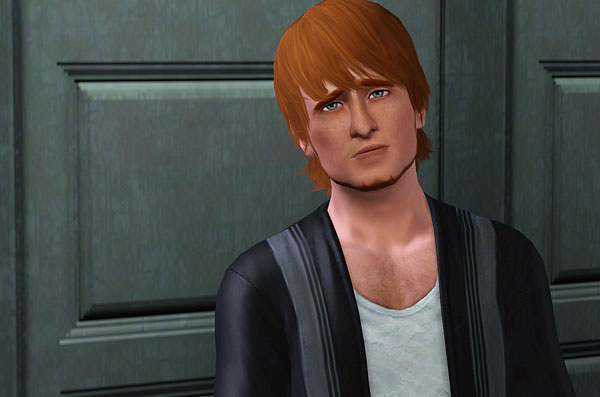 (Drew's face sculpt is by Arisuka at MTS. I usually don't download Sims, just because I enjoy making them myself, but I loved his unique look.)
Drew has mixed feelings about starting afresh in Mt. Geneva. His parents kicked him out of their basement, and Pigeondale wasn't exactly the most inspiring setting for his songwriting anyway, so he decided to try something new, and Mt. Geneva seemed like as good a place as any. But the town has no music scene whatsoever…so Drew will just have to create one.
Step 1: Work on those piano skills. Shirtless, apparently.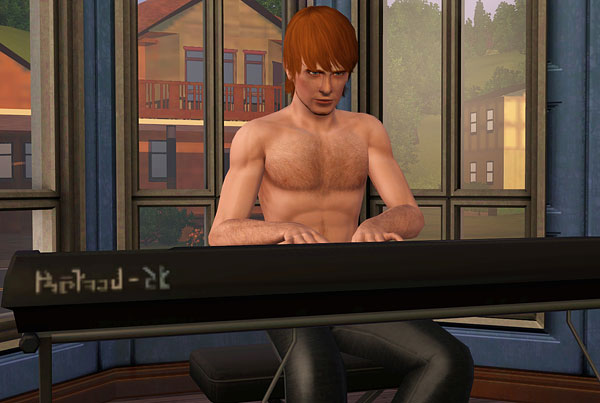 Step 2: Drink juice for every meal. If you stop to cook, it might interrupt the creative flow.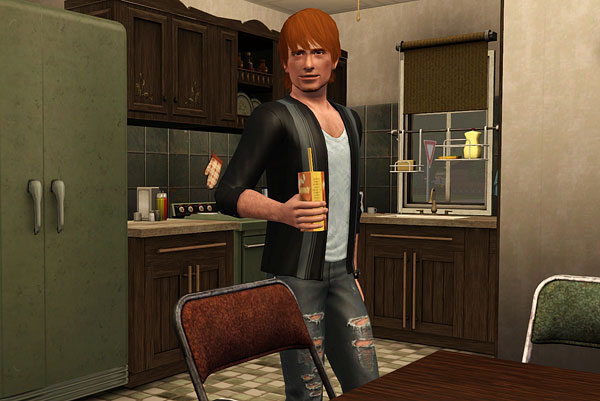 Step 3: Watch crappy sci fi shows on your crappy TV so you can insert witty pop culture references into your songs.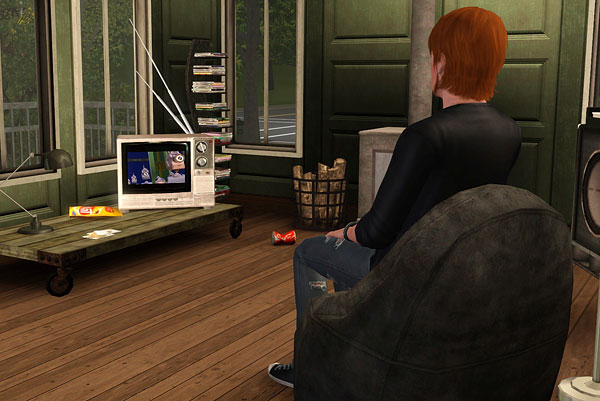 OK, so Drew isn't going to take Mt. Geneva's non-existent music scene by storm anytime soon…but he'll get there someday. Maybe.
Drew took a break from piano and TV to chat with Skippy the paperboy, who maybe has a little crush on Drew (or just has romance on the brain, who knows — kind of odd for a child).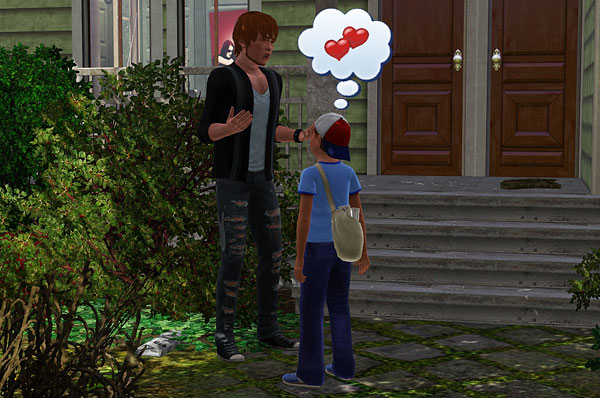 He does seem to be looking at him admiringly. Heh. Maybe in 15 years, kid.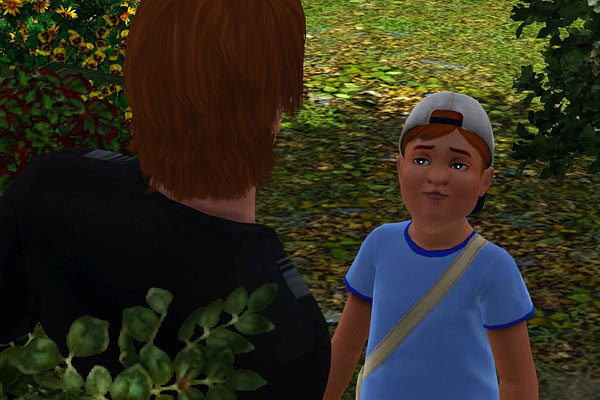 Skippy didn't stick around to chat for long, though, so Drew was forced to recycle a newspaper (I made him do it — he's a Slob so he probably wouldn't on his own) and lament his utter aloneness in the world.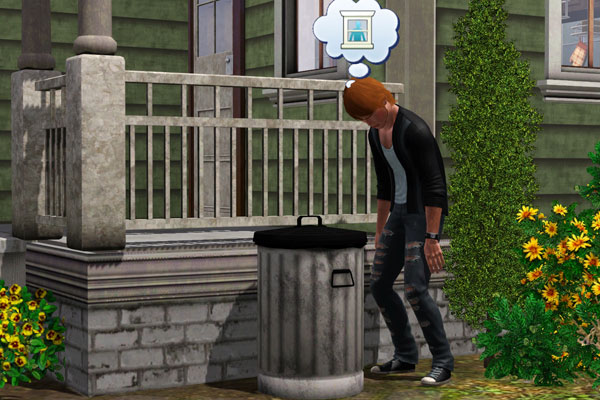 (continued on Page 2)