Ever since Fiona had her last child, I've been eager to get started on generation 6 in my Legacy Challenge family. Patrick, my 5th gen heir, just needed to marry someone, and I had just the right person lined up — Marie Mazza, the pizza girl. At least, I thought she was the right person. After moving her into the house, I discovered she was a Romance Sim. I haven't had a Romance Sim yet in my Legacy family (though I've played them in other families), so I was a bit dismayed. I know I could have looked it up beforehand and saved myself the trouble, but I thought it would be more fun to be surprised. Silly me.
Before I moved her in, I wanted to have her and Patrick fall in love. They were already friends, so it was just a matter of inviting her over and sending them off to flirt and kiss somewhere. First she had dinner with Patrick's parents, Fiona and Robi.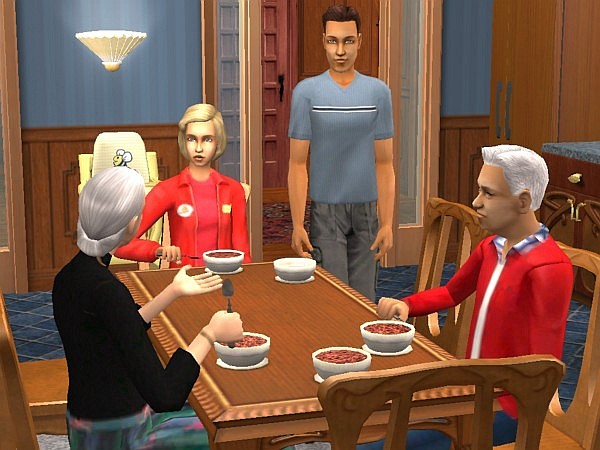 "So how many kids do you want to have? Seven? Eight? It's really not too bad once you get past all the throwing up."
Fiona and Robi seemed to approve of Patrick's choice (not that he had a choice, really), so it was off to the TV room for some serious kissing.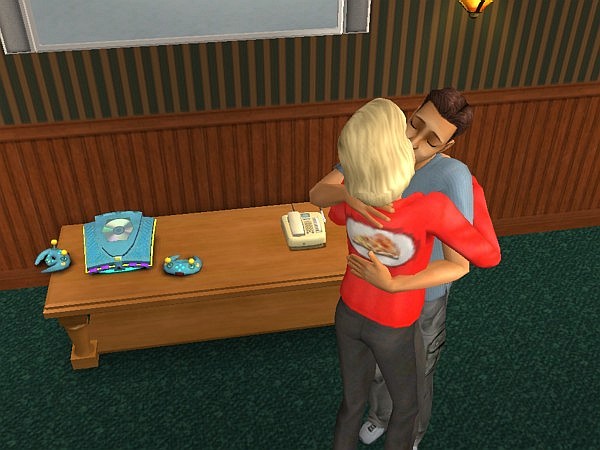 "Mmm, you smell like pepperoni…"
After that, Patrick asked her to move in. I usually like to move the NPCs in before engagement and marriage so I can have them around and get engaged/married when it is most convenient. This is when I found out she was a Romance Sim, of course. I figured she might enjoy some woohoo (and I wanted to build up their relationship score), so I sent them upstairs to Patrick's bedroom. After a little cuddling, they appeared to be in love.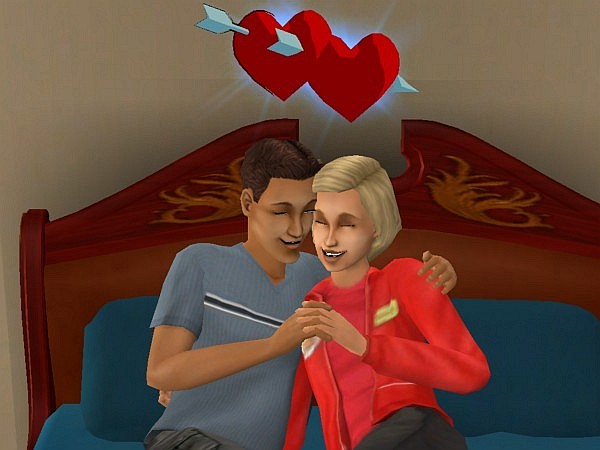 "Ahhh, this is nice…except that my left arm is falling asleep."
It was time for Patrick to make his move. He leaned over and whispered something suggestive into Marie's ear. And you know what? She rejected him! I was surprised. What kind of Romance Sim turns down an opportunity for woohoo? I'm guessing her relationship score with Patrick just wasn't high enough yet — I had neglected to check it beforehand. Oh well. No lovin' for Patrick that night!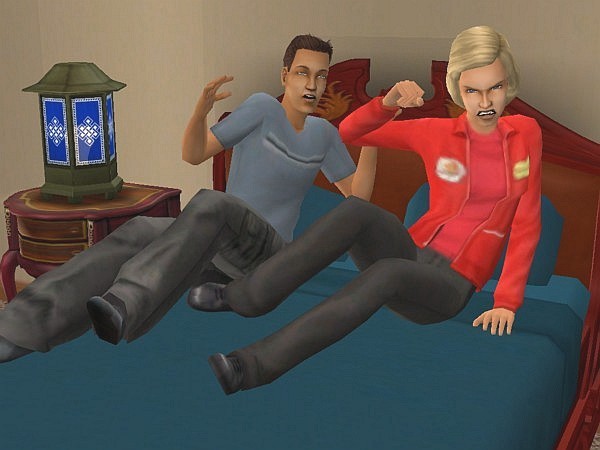 "Hey, I'm not THAT kind of Romance Sim!"
She didn't have any problem cuddling with him some more after that (and rejecting him for woohoo a second time, which made me laugh). They were tired, so I let them go to sleep. My next mission was to get them engaged. This would prove tricky, because she had a fear of it, and it was a doozy. She was in green, so I knew if I got them engaged, she might require a visit from the shrink. I didn't want that, so I had to work on getting her aspiration meter into gold or better. Fortunately she wanted to flirt and gain skill points, so we worked on that.
Then I gave her a makeover. It's funny because I personally don't wear makeup and know very little about it, but it's fun to play with all of the make-up on my Sims. It's another way to make them unique and add some color to their faces. Anyway, here's Marie post-makeover: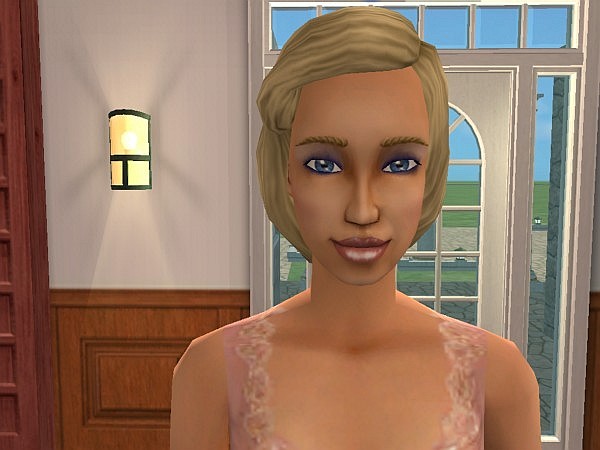 "Watch out, boys."
After that, she was all ready for Patrick's proposal. He popped her the question near the pinball machine. You know, for that extra romantic touch. (I just wanted to get it over with before her aspiration level dropped too far.)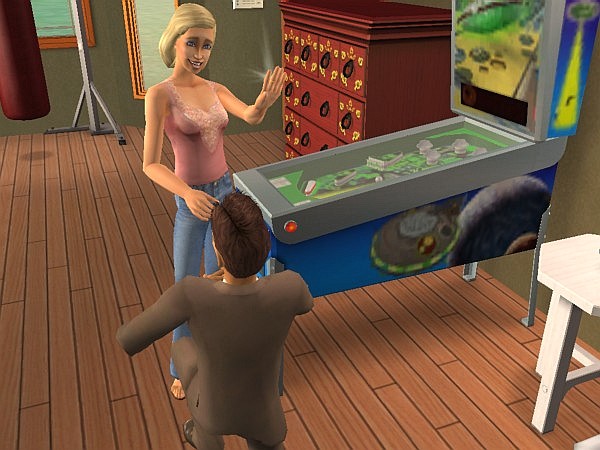 After the proposal, her aspiration level dropped almost to red. I knew I would have to build it back up to platinum before holding a wedding, since she now had a fear of marrying Patrick. Darned Romance Sims! Why couldn't I have gotten one later on, when I wasn't itching to get started on that 6th generation? Oh well, I would just have to be patient.
Since Marie wanted to meet people and have two loves and such, I sent her downtown to hopefully meet some guys. Unfortunately she didn't meet any, but she did become acquainted with Patrick's cousin Eleanor and her friend Abby.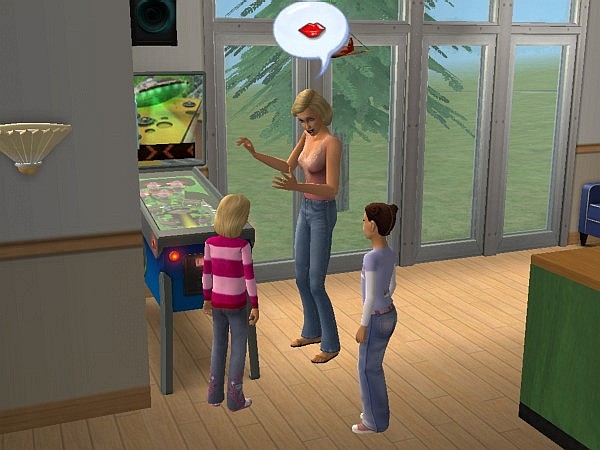 "Say, do you girls know where I can find Amanda Kissenhug?"