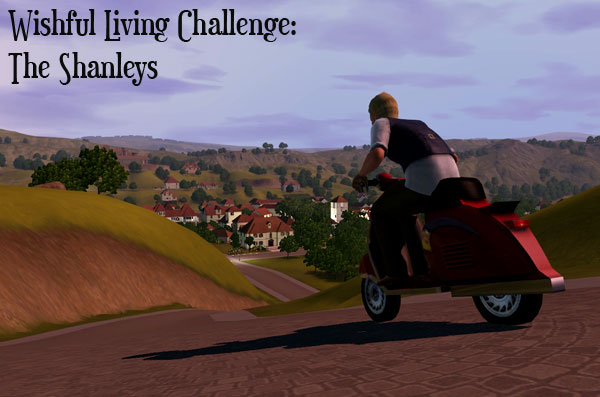 Things are moving right along with the Shanleys, my Wishful Living Challenge family. In the last update, generation four torch-holder Gibson had just moved out of the family's home in Twinbrook. Even though he had §97,440 in cash and was allowed to purchase a home with a value of up to §49,999, I had him buy one of those shacks in the swamp because it seemed like the appropriate setting for him to work on his Lifetime Wish – to make three monsters.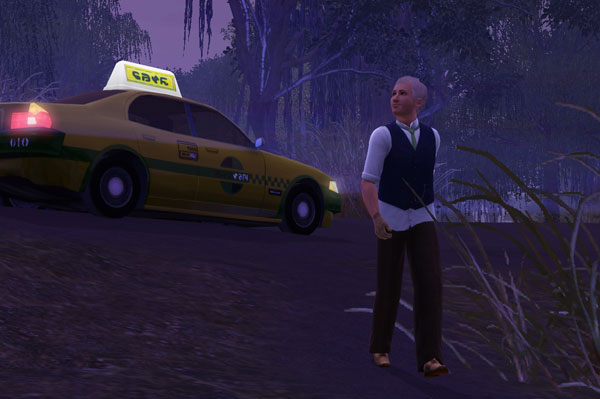 Unfortunately I didn't get a good pic of his house before I renovated it – you can see it in the distance in the snapshot below, but that's about it. I think most people who have played Twinbrook and lived in the swamps probably know it, though – it's the only house that has a decent amount of space and isn't on three levels or made up mostly of decking.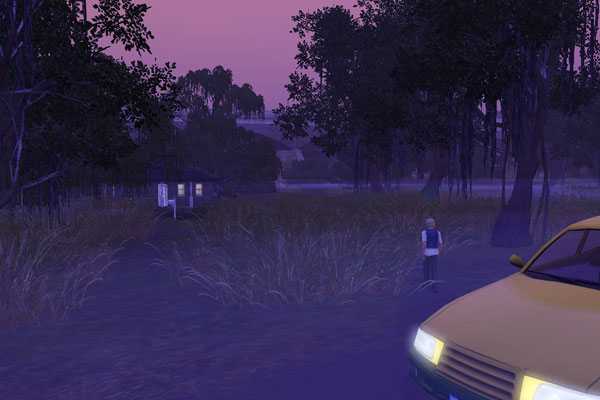 I only took one pic of the interior, too – it's funny, because I had to whittle this update down to 60 pictures from about 350, but I am obviously lacking in a few essential shots. D'oh. Anyway, here's my one picture of the inside, in the creepy, dingy – yet spacious – basement.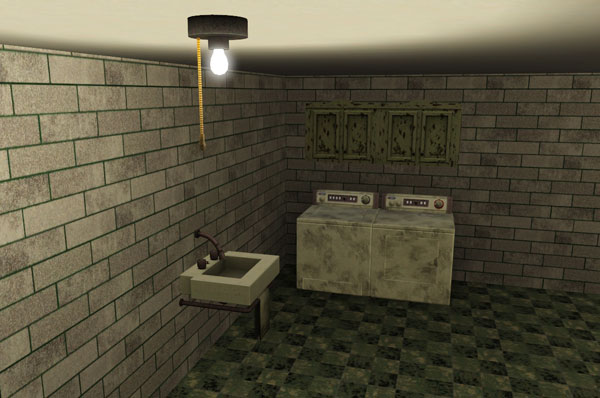 I probably didn't take many pics of the shack in its "Before" stage because I was excited to dive in and remodel. Since the Inventing skill in Ambitions evokes a crazed inventor/steampunk feel, at least to me, I decorated Gibby's house in a whimsical Victorian style with steampunkish touches here and there.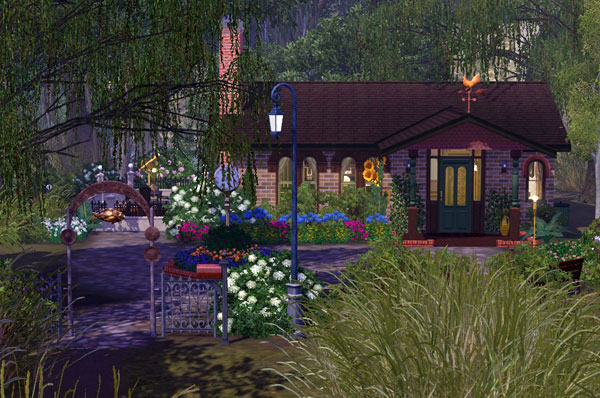 I wasn't allowed to change the footprint of the house due to the rules of the challenge, but you can bet I changed just about everything else. I also added a fireman's pole for the sheer fun factor.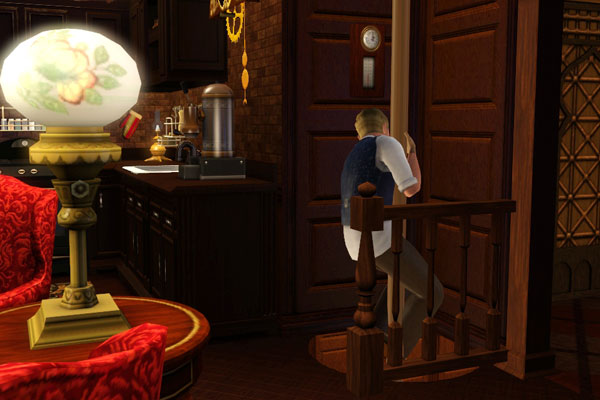 Gibby's workshop is down in the basement. I had the radio play his favorite Chinese music to keep his mood up during long hours of inventing. Even though he had maxed the skill before moving out of his parents' house, I wanted to see how many different widgets, toys, and big inventions he could create.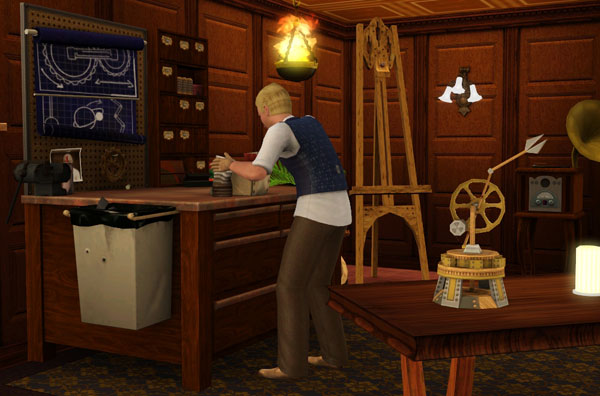 Gibby finally invented the Harvester and used it to collect plants at the Twinbrook Community Gardens. It seems to work a little bit faster than the usual "harvest" action, and doesn't seem to reduce a Sim's hygiene as quickly, but you do have to keep moving them to different areas once they've collected all of the veggies within a certain radius.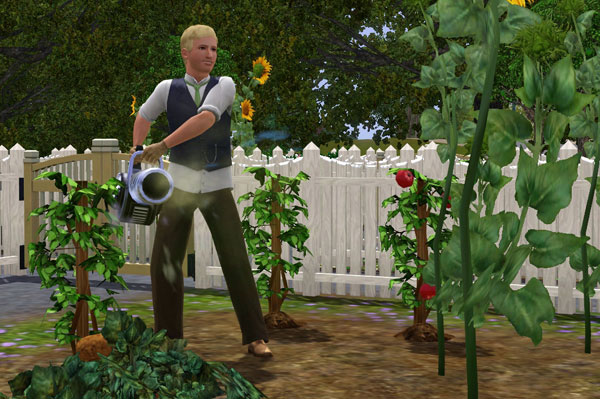 After a few hours of harvesting, Gibby headed home – but on the way out to the taxi, he literally ran into a lovely young woman named Lolly Racket.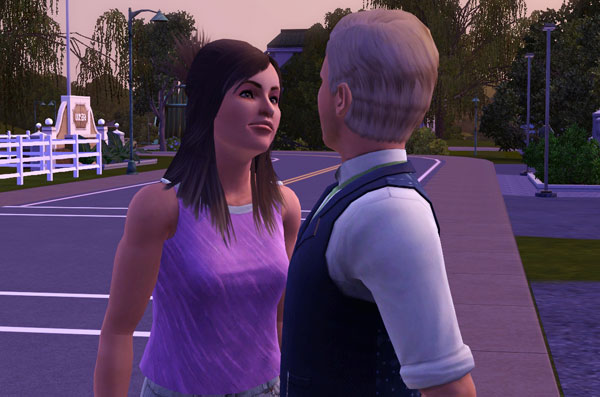 Lolly had planned on taking a walk in the garden, but she and Gibby ended up having a chat — which turned from friendly to flirty in minutes.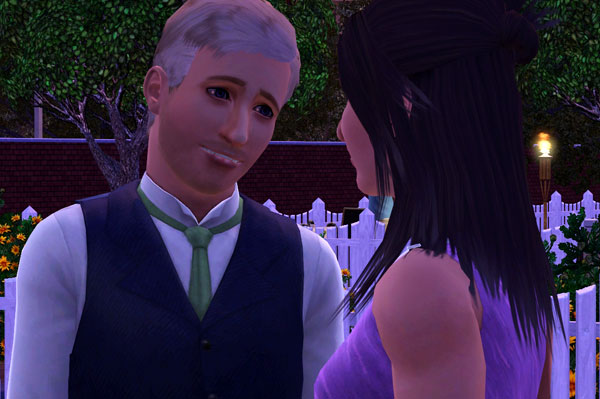 For a Twinbrookian, and for a woman who supposedly comes from an evil criminal family, Lolly is actually a sweet, pretty Sim.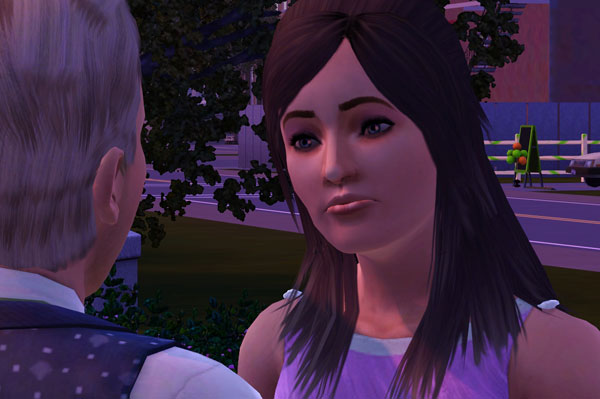 I honestly hadn't planned on getting Gibby hooked up with anyone so soon, but they hit it off so well, that I just rolled with it. Gibby was hungry, so the two of them had a little dinner at the diner (and he had obviously made a good impression on Lolly, as you can see from her thought bubble below).
(continued on Page 2)