(continued from Part II)
For the next two days, Joey spent most of his waking hours sitting in his strange new contraption, repeating the same sentences over and over. Every time he said "I am a car salesman," the machine would buzz, the lights would flash, and Joey would get shocked. Tiffy strolled by from time to time, glancing at him warily but said nothing — she was busy with work and packing for her new job at Geneva College.
When Bailey stopped by, it wasn't for long, as she was in the midst of preparations for the wedding on Saturday. She would squeeze Joey's arm, say "My, aren't we getting flabby", and drag him off into the bedroom. (I refrained from following them, being a polite ghost who doesn't care to intrude upon certain romantic relations, ahem.) After she left, Joey would spend a good hour at the weight machine, trying to become "unflabby", I assume.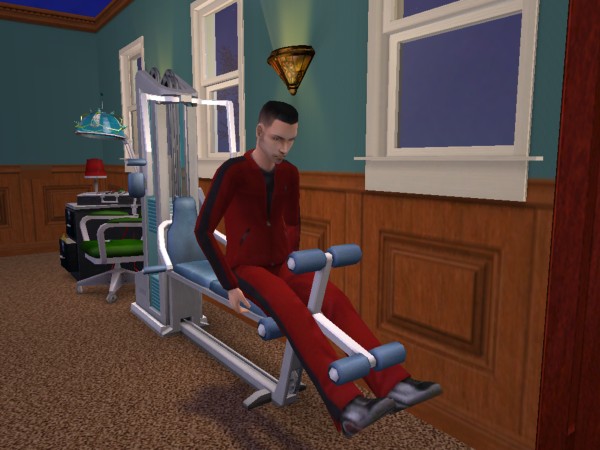 Finally the day of the wedding rolled around. Joey got up as usual, showered, trimmed his everpresent blanket of stubble, and headed straight for the shock machine. He sank into the chair as if it were the most comfortable thing in the world. At first I thought he was just having a rest, but then he turned the machine on, smiled confidently, and said, "I am a car salesman."
Well, wouldn't you know — nothing happened. No sparks flew, no lights flashed. With that same self-satisfied expression on his face, Joey stood up and headed for the kitchen.
The wedding took place later that day in a little chapel downtown. Everyone and everything looked lovely. Bailey's mother, a dark-haired and very elegant lady, attended, as did Joey and Tiffy's mother Rhonda, though her husband Alessandro was nowhere to be found. She greeted Joey and Tiffy, then excused herself and ran to the bathroom. Tiffy and Joey exchanged looks of concern, but then Tiffy shrugged and gave her brother a hug.
"Good luck," she whispered before taking her seat.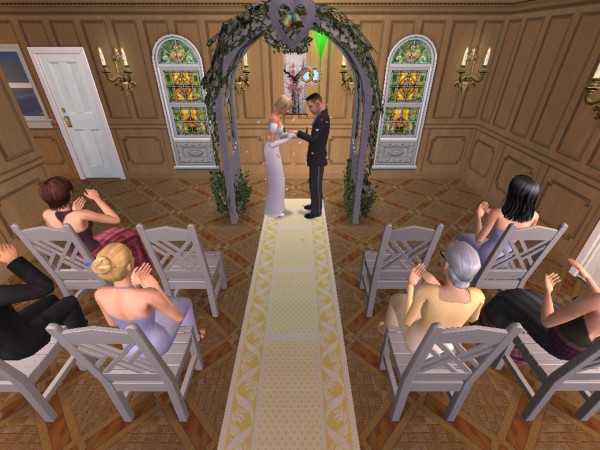 Under the flowered arch, Joey waited patiently for his bride to appear. He looked very dapper in his tux — almost respectable! And he seemed very relaxed. Finally Bailey glided down the aisle towards him, and the ceremony began.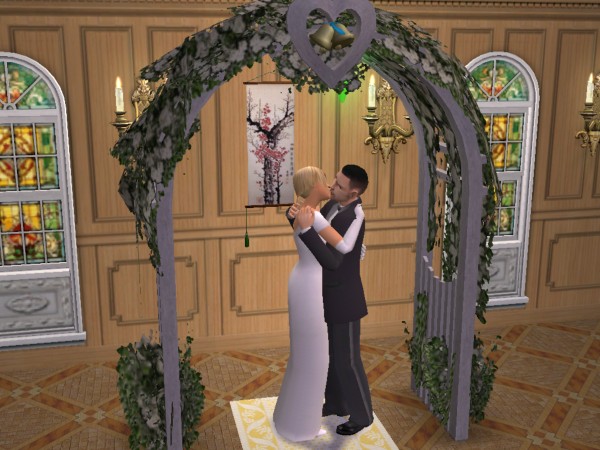 After exchanging vows, the couple shared their first kiss as husband and wife. Everyone applauded, though Tiffy smiled stiffly as she did so. Strangely enough, Bailey's mother had the same expression on her face. Clearly neither of them were completely thrilled at the union that had just taken place.
After the ceremony, everyone rushed back to the Kilman trailer for the reception. Tiffy had offered to host it, which made Joey a little apprehensive — he wasn't sure that a party in the backyard was what Bailey had in mind. But after an initial protest, she had warmed up to the idea.
Tiffy did a wonderful job of making everything look nice, and even hired a caterer to serve the food. Her friend Joely Dobbins, now Chief of Staff at Geneva Clinic where Tiffy worked, gave the first toast, wishing the happy couple a long and prosperous marriage. Rhonda joined in the toast but seemed distracted the entire evening and kept making eyes at all the male party guests.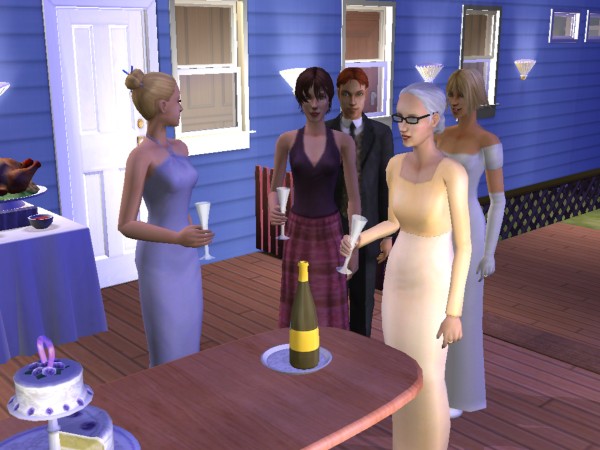 As the the reception continued into the evening, I observed Joey in high spirits, telling everyone about how successful his car dealership was. He didn't even seem bothered by Sid's tombstone in the backyard, standing witness to the web of lies he was spinning. Joey seemed especially eager to talk to Bailey's mother, who seemed to like him a bit better after hearing about all the cars he was selling. By the end of the night, they were laughing and dancing together.
As Tiffy poured herself a drink, Bailey sauntered over and gave her a quick little hug. "We're sisters now!" she said. "Pour me one of those, too, would you?"
Tiffy smiled and obliged. Bailey drank half the glass in one gulp. "Great job, Tiffy. I mean, I was expecting beer and barbecues, but this is pretty classy."
"Thanks," Tiffy said coldly.
Bailey looked around and sighed. "One last fling at the old Kilman trailer, eh?"
Tiffy raised a brow. "You guys aren't staying here?"
"Oh god, no. We need a much bigger house if we're going to start a family."
"Yeah, but…I thought you guys wanted to save money?"
"What for? Joey's loaded! His car dealership is really taking off."
"Oh yeah, I forgot. He's Mr. Salesman of the Year." Tiffy said that last bit in her most sarcastic voice.
Bailey narrowed her eyes at Tiffy. "Do you have a problem with him being so successful? At least he's not at the car wash anymore."
"Bailey, have you ever been to his car dealership?"
"No. It's on the other side of the city. Why does it matter?" She tried to act nonchalant as she took another gulp of her drink.
Tiffy sighed. "You're right. It doesn't matter." She set her glass down. "I wish you and Joey all the best, Bailey. Congratulations." With that she walked briskly into the trailer, leaving the party behind.
(to be continued)