I spent some time this past weekend working on Gnomesby's town square, so I thought I'd share a few pics. It doesn't have an official name yet, so it's just "Town Square" for now. Exciting, eh? It's also unfinished, but that's OK, because this is just my first pass — I'll go back later and tweak everything to my heart's content. (And I can already tell this lot is going to need a TON of tweaking. Oy.)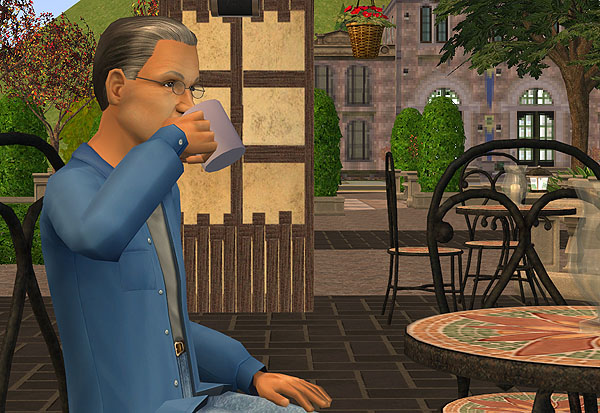 Myron Luxton enjoys a cup of hot cocoa
So far this community lot includes a rollerskating rink (which will be switched over to an ice-skating rink in winter), espresso bar, drinks bar, vending machine (which dispenses hunger-satisfying snacks, woot!), hot chocolate machines, chess tables, numerous places to sit, restrooms, and a bandstand/stage for summer concerts and plays.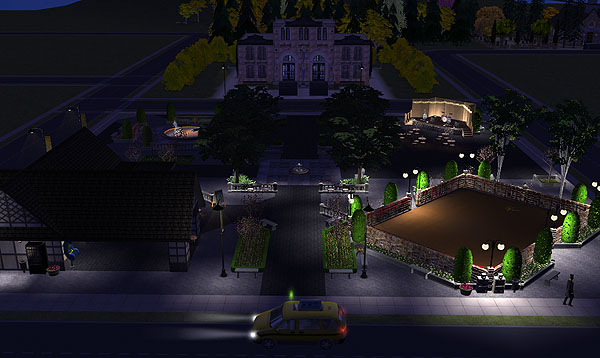 It looks a little weird now with no buildings around it (except for the Great Hall), but that will change in due time. Also, I apologize if the pics are a little dark — I fast-forwarded the game to see how the lighting would turn out and had only taken a few pictures before nightfall.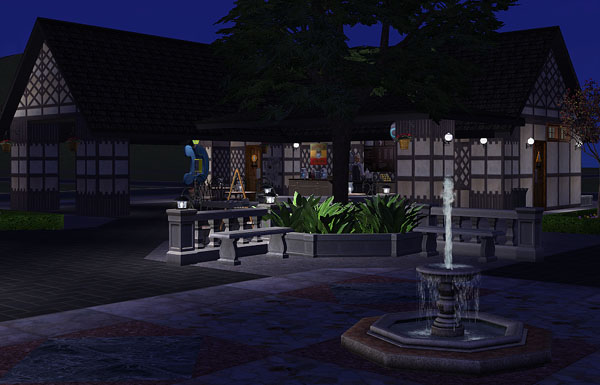 Shelter/restrooms/espresso & cocoa bar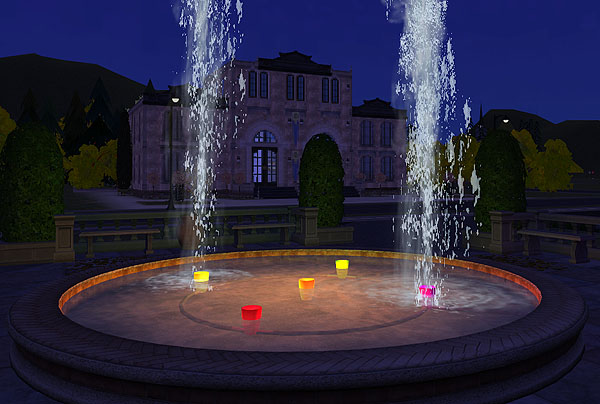 Here I was experimenting with the fountain to see if I could light up the water with different colors. Hee.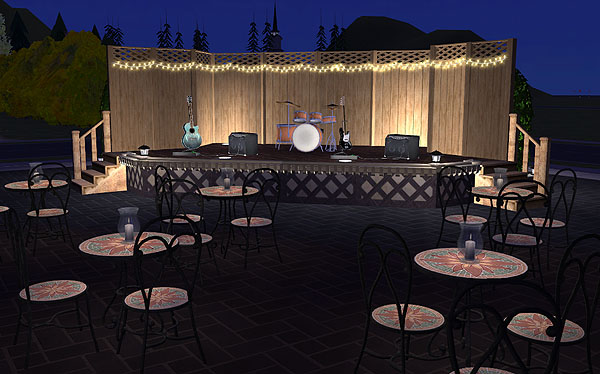 The lonely stage.
I plan on building another 5×5 park right across the street from this one — it's working name is Memorial Square, and it'll be much less busy. More for quiet strolls and contemplation than activity. On the other end of Memorial Square, facing the Great Hall, will be Gnomesby's college. Surrounding the two squares will be mostly retail and stuff like the police station and fire hall. That's the plan, anyway.