I apologize for the quietness lately. I've been working on Gnomesby, but very slowly and tentatively, because I'm not sure what I want to do with it. I still have a bazillion ideas — the problem is narrowing them down into something manageable. I want Gnomesby to be interesting and original, but I also want it to make sense. That means I can't mix Victorian dresses with '57 Chevies and gothic hairdos. The result might be mildly intriguing, sure, but it would be a little on the ridiculous side, too. This miniature world I'm creating has to have some kind of internal logic, or it'll turn into one huge mess.
So I'm in still in the process of deciding what the look and feel of my town is going to be. Of course, that doesn't stop me from downloading stuff like a mad fiend. One thing I wanted to try was using custom skintones. I've been hesitant to use them in the past for a couple of reasons: 1) I couldn't find any I liked — they were all either too shiny, too realistic, or too odd-looking (some of the darker skintones have weird orangey undertones that don't look natural to me), 2) infants and children with custom skintones can look pretty bizarre sometimes. I never wanted a bunch of freaky-looking kids running around.
But I wanted a different "look" for Gnomesby residents from the start. The Maxis default skintones are old hat, you know? (They're sooo 2004 ;)). They're also not very detailed, and they lack variety, with only 4 colors from which to choose. So I did some searching and testing. I eventually settled on skintones by Rensim (the Circonflex series). I'm not completely sold on them, as they are a bit on the shiny side, but overall, they have a good variety of shades and just the right amount of detail. Tonight I created Gnomesby's first citizens using Rensim's skins and took a few pics to see how they'd turn out.
I used the in-game camera because Snag-It wants me to purchase it again (and I can't find the key they sent me when I bought it before). I might end up just buying it again. :-p (I know, it's silly, but I miss my nice, clear images.) At any rate, here are Adrian Cliffe, his sister Zara, and their cat, Lucky.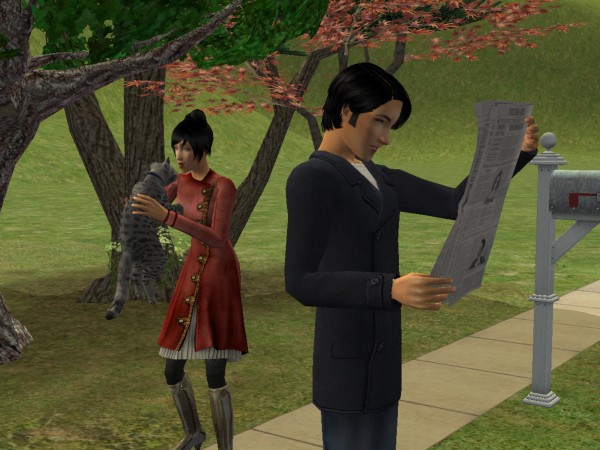 Adrian is going to be one of the professors at Gnomesby's college. He's loosely based on a character I created for a non-Sims story I wrote (who was loosely based on Jack Davenport. I love him!).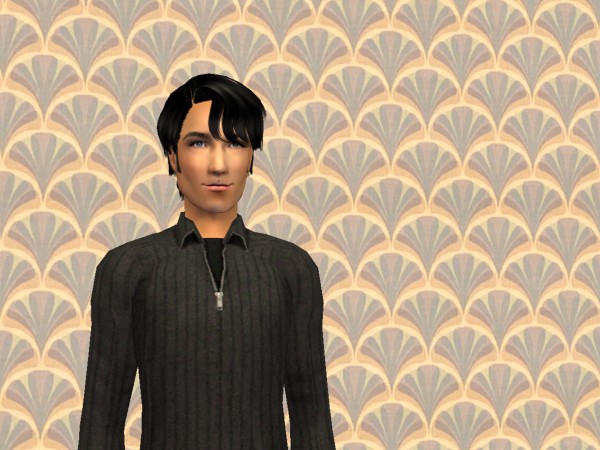 Adrian is wearing Rensim's anti-shine blusher but still has a rather glossy sheen to him. I'll have to see if anything else will tone that down.
Here is Adrian's younger sister, Zara. She's sort of a free spirit and is currently unemployed (i.e. mooching off of her brother). She'll make a good barista in the local coffeehouse or something. ;)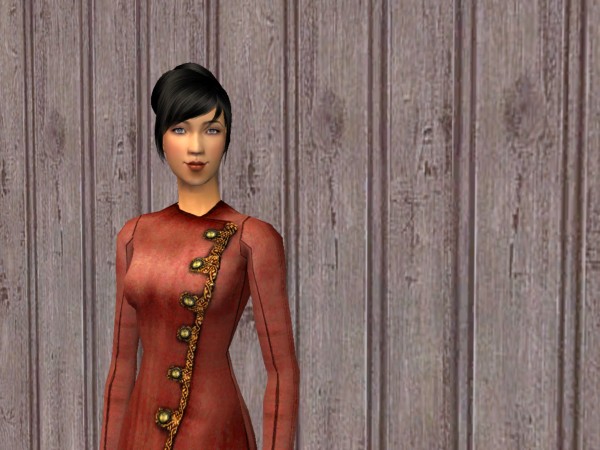 So what do you think? Too weird-looking? It's going to take awhile for me to get used to the custom skintones, but it's a nice change of pace, too.
I think I've downloaded enough stuff for the time being, so now it's time to start building and populating. That is, if I can figure out how I want Gnomesby to look…
Oh! And if any of you are wondering what happened to SimScribes, it has been shut down until I figure out what to do about the horrible spammers who have been cluttering up the forum. I'm going to try upgrading to phpBB 3 and see if that does any good.