Day 9, Tuesday, 9:15 PM
Whew, I'm all birthday-ed out. I think I have a stomachache from all the cake. I didn't feel right just having a piece of Bernie's cake, so I had a piece of Weezy's, too. I didn't want her to feel left out!
By the way, Uncle Elvis is a baking GOD. (And a raking god, too. I swear that's all he did today: bake and rake.)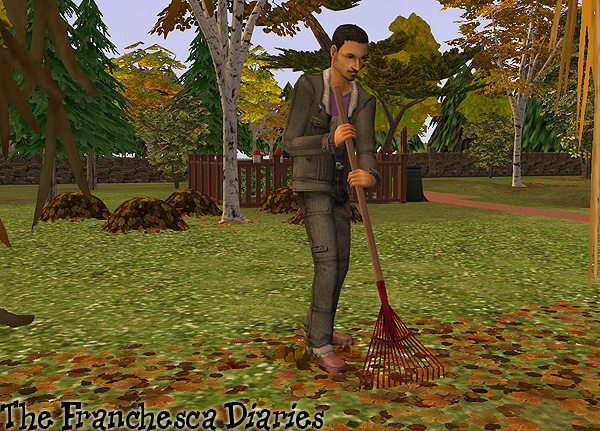 Dad helped take care of Weezy while Elvis was raking, and nothing disastrous happened except that he was a little zoned today. Also a little weird. That is, weirder than usual.
I witnessed this firsthand after school today when I found him dancing in the hallway.
And it wasn't just any kind of dancing. He was getting seriously into it. Like he thought he was the Disco King of Riverblossom Hills. But he looked more like the Wacko King.
"Dad, what are you doing?"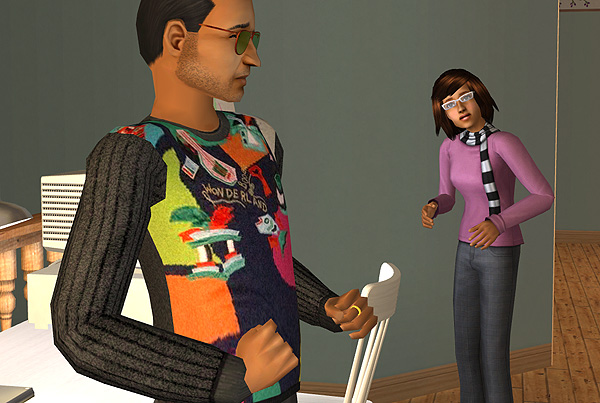 "Just oilin' up the old gears, honey. Your mom and I were invited to a big party tonight at the Roths. They're gonna have hors d'œuvres, a live DJ, the works."
Say WHAT? Since when did the Roths give a flying fig about us?
"But Dad…what about Bernie and Weezy?"
Dad kept on groovin'. "They'll understand. We can't miss this party, Fran. The future of our family depends on it."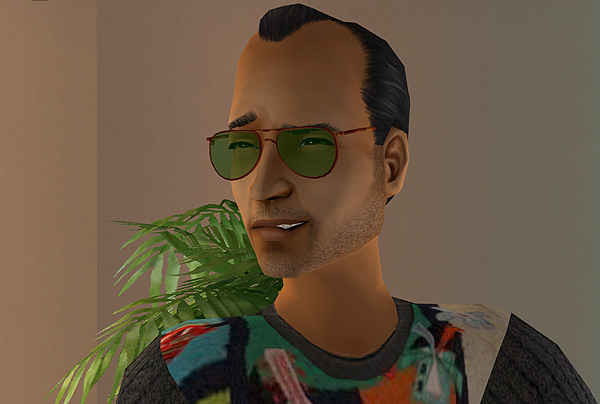 I stared at him for almost a full minute. I couldn't decide if I was shocked or not. I was leaning towards "not".
"OK, Dad. But if I were you, I'd wear a different sweater."
I'd like to think that was a real zinger, but I left before I could see his reaction.
Ugh. Anyway.
Work tonight was, well…very un-work-like. Ms. Ambassador and her lapdog (and no, I'm not talking about Pumpernickel) were busy on an errand, so Thatcher showed me around the house.
I about died when I saw the pool. Thatcher asked me AGAIN if I wanted to go swimming in my undies, since I didn't bring a suit, and I had to decline. He just laughed. I think he must have been teasing me last time, but I can't really tell. He's a strange one.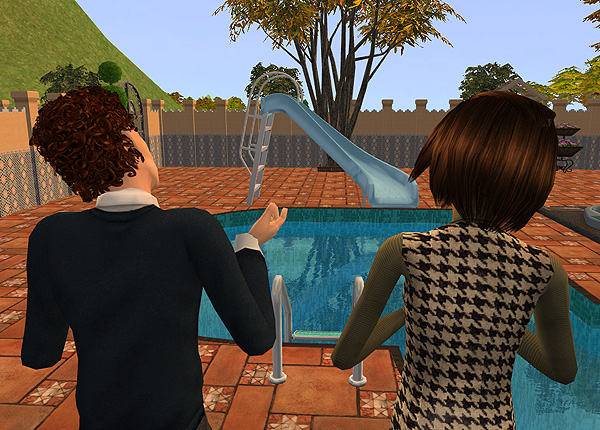 Thatcher said tomorrow is the last day we'll be able to use the pool, since it'll be wayyy too cold once winter hits (even though the water is heated). BUMMER! So I hatched a plan to walk home from school tomorrow and buy a swimsuit on the way. I pass right through downtown, so it should be no problem.
Well, except that I HATE shopping for clothes. Sigh.
Strangely enough, Pumpernickel and I are becoming fast friends. I'd take him home with me if I didn't already have a cat and a womrat to worry about.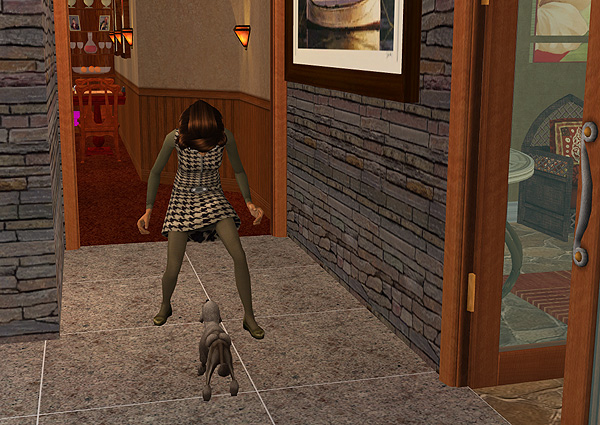 Ms. Ambassador called me into her office when she returned. She asked me how things were going, and I told her about the few measly things I had done that day.
"You seem to get along well with Pumpernickel," she observed.
I smiled and nodded, overjoyed to be doing something right.
"My son, too," she continued with a hint of concern. "He seems to be very fond of you already."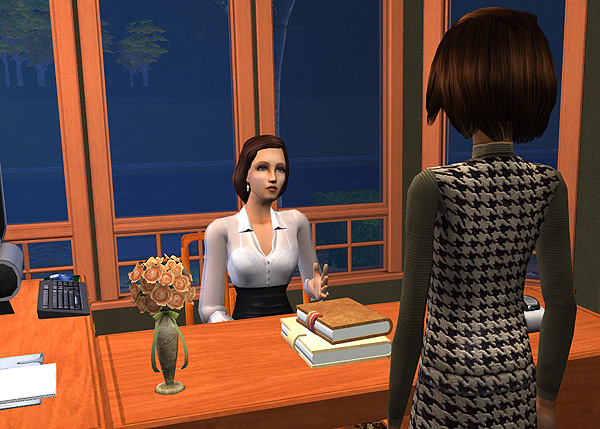 I froze. She raised a brow, examining my face like she was deciding the best method of punishment. Slap my wrist? Fire me? Banish me from the universe?
"Franchesca," she said, taking a deep pause afterwards to prolong my agony, "I think it's time…for me to give you more duties. You've proven yourself the past couple of days."
Excuse me? How exactly did I do that?? Was walking the dog a TEST or something? Good grief. And what about Thatcher? I thought I wasn't supposed to talk to him!
"I'll give you more details on Thursday. For tomorrow…" She opened a drawer and pulled out a stack of Simoleons. "Here is two days' pay plus a little bonus. Buy yourself a nice new outfit. But…" she said, inspecting my jumper with a sly smile, "keep the vintage style. It becomes you. And get yourself a swimsuit while you're at it."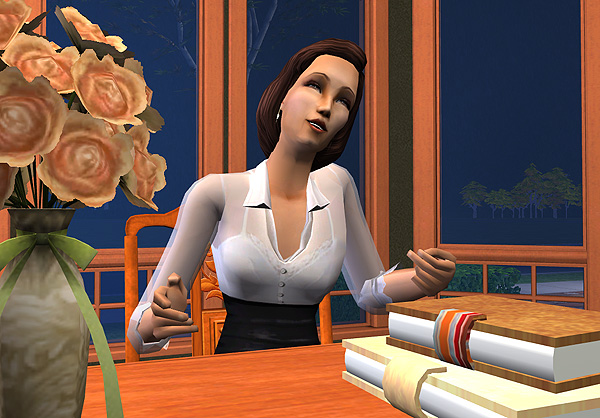 I stood there, befuddled, with a boatload of Simoleons in my hand. Keep the vintage style? What does that mean? Should my Dad buy all my clothes??
"That'll be all for today," she said, still smiling. "I'll see you tomorrow."
I wanted to ask her about a thousand questions, but I'm still horribly intimidated by her, and I know when I'm being dismissed. So I thanked her and left.
The ride home wasn't nearly long enough for me to ponder all of the implications of that brief but bizarre exchange. Her generosity, her wanting me to spend time with her son (when just yesterday he was the Forbidden One), and her mention of more "duties" had sent my head spinning.
But like I said, I didn't have much time to think about it, because the carpool dumped me off at home within minutes, and the birthday feast was already on the table.
(continued on Page 2)