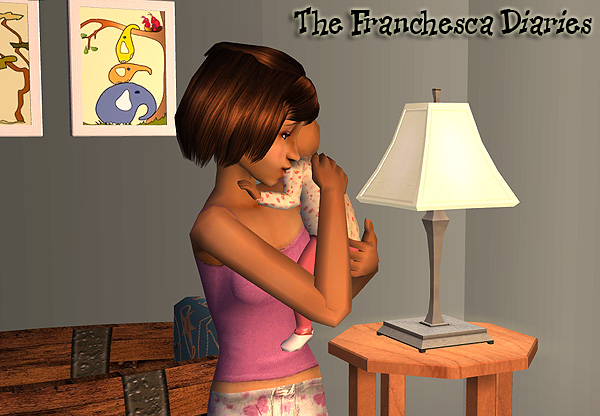 Day 8, Monday, 8:05 PM
Poor Uncle Elvis. I just saw him outside and the man is dead on his feet. He's been toiling in the garden all night because…well, I'll get to that. Let's just say he's had quite the day. I'm surprised he hasn't thrown up his hands, stuck out his thumb, and caught the next ride back to Pigeondale. That's what I'd do if I were him, mime or no mime.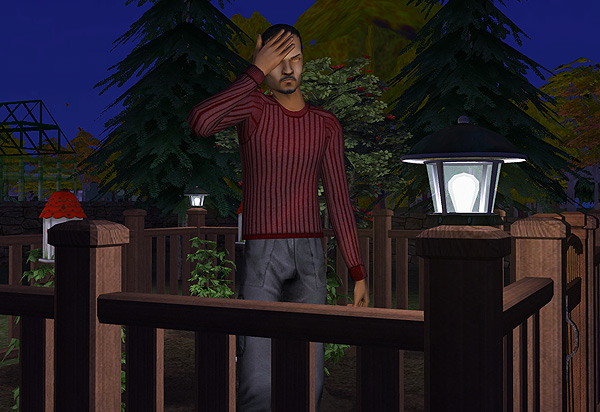 Come to think of it, my day was fairly insane, too. But that's kind of the norm by now, isn't it? You'd think out in the boonies here we'd be twiddling our thumbs, looking for things to do. But noooooo…things find us. With a vengeance.
Take this morning, for instance. I was just snoozing away, dreaming of ocean waves and drummer boys, when this awful clanging noise outside woke me up. I sat up in bed and listened for more racket, but all I could hear was Weezy crying in her room.
I tiptoed across the hall and held her for a bit, humming Llama Mama songs to her until she fell back asleep. No one else stirred out of their rooms — they hadn't heard the racket OR Weezy. Poor girl. I put her back in her barrel and went outside to investigate, hoping a burglar wouldn't jump out of the bushes at me.
What I saw out there was almost as bad as a burglar — we had been VANDALIZED!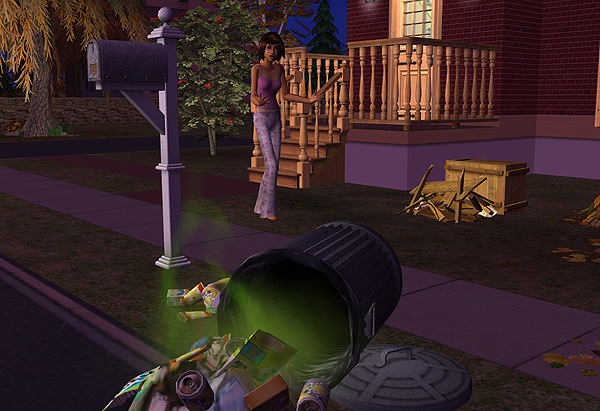 Can you believe it? They — whoever "they" are, and I have my suspicions — had knocked over the garbage can and scattered the trash all around the sidewalk. The stench was so bad I had to plug my nose. But when I saw that they had demolished Bernie's lemonade stand, too, I went NUTS. I actually ran around the yard in my pajamas hoping I might come across the vandals lurking in the shadows so I could pop 'em a good one.
But I didn't find anyone, so I relieved my anger by picking up the trash. The sun was out by the time I finished, and I hadn't even started on the lemonade stand yet.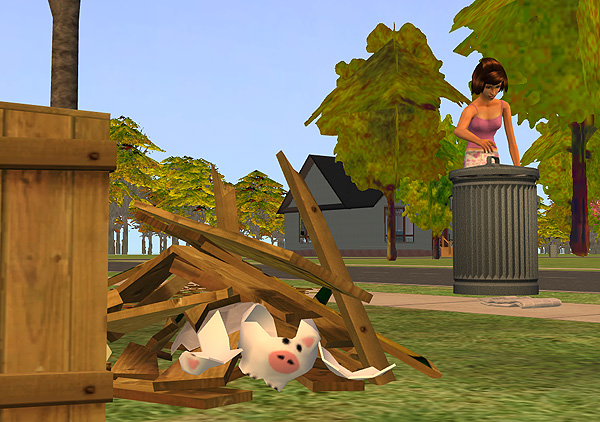 Bernie took it surprisingly well, though. That kid is so zen sometimes. It's like nothing really bothers him. He and I both think the perpetrators are those stupid bullies at school who keep pushing Bernie around. He said he's going to confront them today, which makes me a little afraid for him. Actually, he said, "I'll ask them about it at recess. But I'll make sure I get a hold of the baseball first, so they can't throw it at me. Are we having pancakes for dinner?"
I barely had time to tell the parents and Elvis what had happened — the bus was trucking down the road towards our house, and I wasn't even dressed. I had to run for it! How humiliating.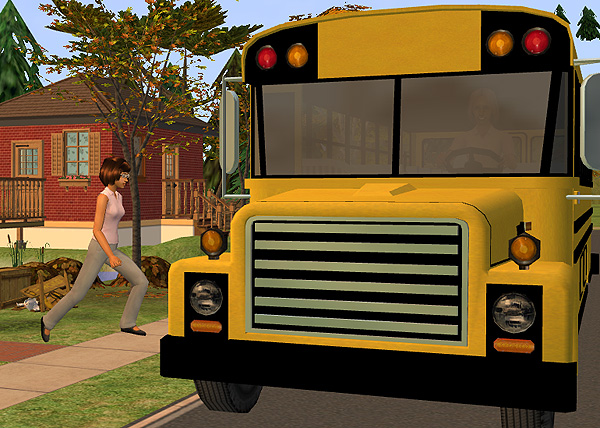 After we left for school, Mom took off to tune pianos, and Dad was left in charge of Weezy. Anyone wanna guess how THAT went? Uh…yeah.
According to Elvis, it was a disaster. Apparently my dad thinks the best way to quiet a crying child is to juggle water bottles over her head.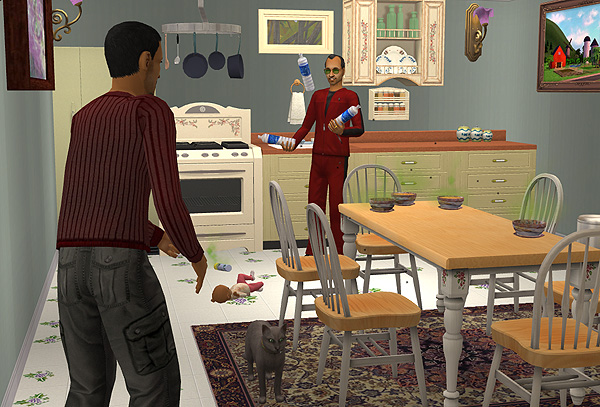 I guess my dad doesn't know how to wash dishes, either, because everything was still a mess. And you know Uncle Elvis the Neatfreak can't handle that kind of thing. He was ROYALLY miffed. In his anger he sent Dad out to weed the garden — mainly to get him out of his hair, I think — while he cleaned the kitchen and took care of Weezy.
Well, I'm sure Elvis said a few choice words (four-letter words, most likely) because Dad got upset and decided to spray the forbidden pesticide all over the tomato plants.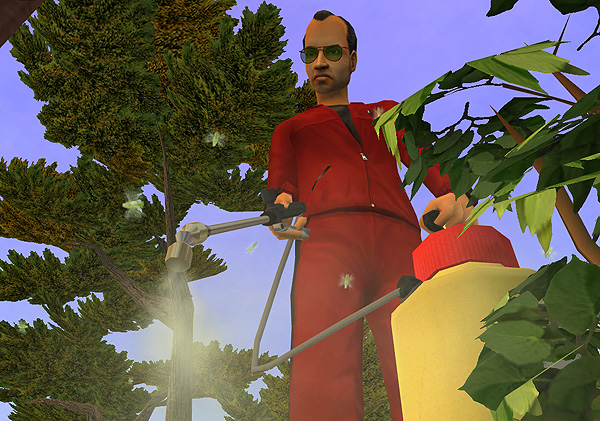 I don't know if he did it on purpose or not, but he clearly wasn't in his right mind. But then, is my dad ever in his right mind? Does he even have a mind? I really wonder sometimes.
As soon as Elvis caught a whiff of the pesticide (which didn't take too long, I'm sure, since that stuff is naaas-ty), he made Dad stop, but it was too late — one of the gardening club deputies was already storming across the yard. Elvis told Dad to go take care of Weezy while he braved the lady's wrath.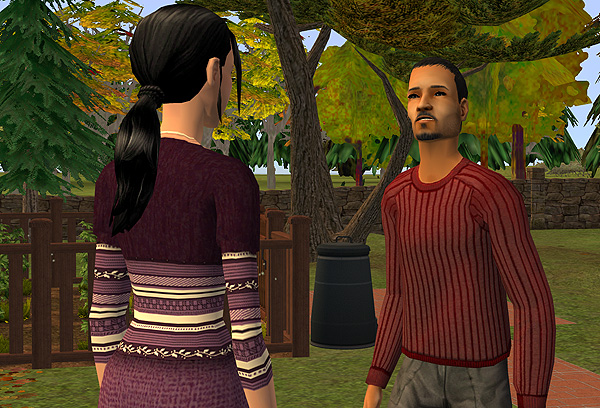 Elvis said he was sorry about a hundred times and promised it wouldn't happen again. Gardening Lady listened with stony features, then advised him to dispose of the pesticide, or he would be fined. Elvis said he would do so immediately.
Then he broke down. He won't admit it, but I bet you he had tears in his eyes. I mean, the man is way stressed out. He confided in her that he was worried about his plants — he told her how they were swarming with bugs and full of weeds, and he couldn't keep up with them. They were dying.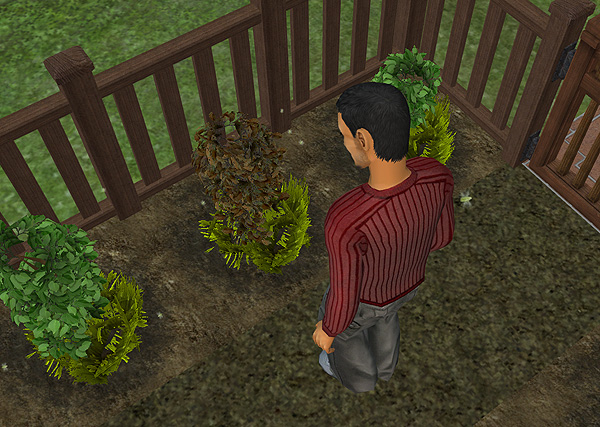 The lady felt sorry for him then and promised to send more ladybug houses over. Aww. Then she asked him if he'd been talking to his plants, and he said, "Erm…not really."
She offered him another lesson (pardon me while I laugh heartily), but he was concerned about leaving Weezy in Dad's care while he mucked about in the garden, so he took down her name and number and said he'd give her a call.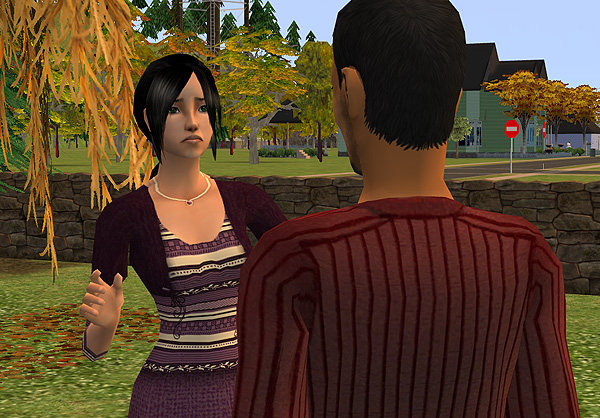 (By the way, her name is Isola, and just between you and me, I think Uncle E has a bit of a crush…)
Since the gardening thing didn't work, Elvis sent Dad off to buy groceries and diapers and all that good stuff. He told him exactly what to buy and how much money to spend, just in case Dad got any ideas about buying telescopes or whatnot. In the meantime, Elvis put Weezy down for a nap and did some housecleaning.
(continued on Page 2)