Tonight I created the King family; they weren't originally on Annabel Island, but have moved there since the hurricane (taking advantage of the cheap land prices), and started up a farm complete with orchard and enormous garden. They have more land than the Whidbees do, but they don't have any chickens, and they grow apples instead of lemons and oranges. However, they do have a pair of dogs which they plan to breed so they can sell the puppies to other inhabitants of the island. Here's a view of their property, which they call Kingstone Farm.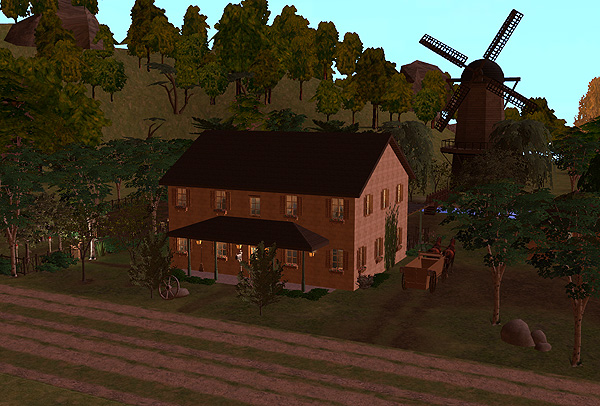 The lovely country road is part of a terrain mod by Stev84. It adds a nice touch of realism to the 'hood. I'm also using a mod which makes the garbage cans invisible, but I might get rid of it — it occurred to me that if someone knocks over the garbage can, I'll be clueless. (At least until the cockroaches invade. Yuck.) So I'll probably just get rid of the invisible garbage can and use move_objects on to place the cans out of view (otherwise they'll be in the middle of the road! Not good).
Here's another view of the house:
Looks like someone left their homework out in the road. Tsk. That'd be a new one — "I'm not finished with my assignment because…it was trampled by horses!"
I'm experimenting with Paladin's Employee Gardening controller, so I built a little employee shed containing a communal shower and the public toilet. Hired help assigned to a controller will then use the toilet and shower if they need to, which means they can garden for longer without getting all stinky and upset. I'm still learning how to use the controller (and a bunch of other Paladin hacks), but once I get it all sussed out maybe I'll do a little demo. It's pretty slick so far.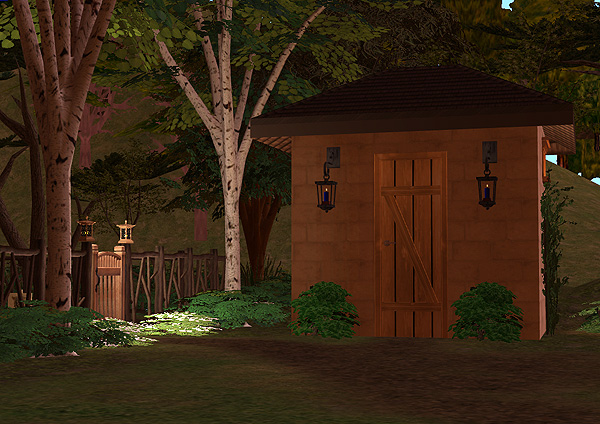 This is just a view of the porch off of the kitchen (I got a little snapshot-happy):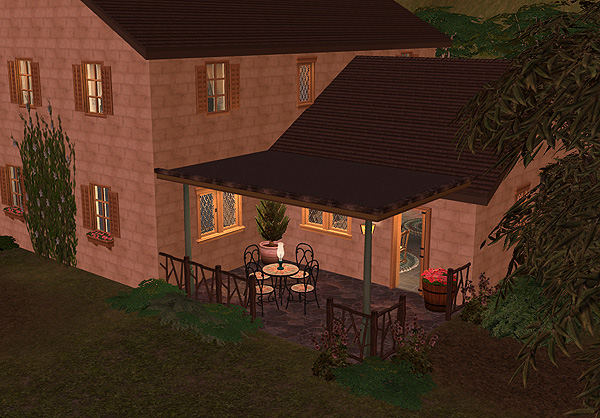 Let me know if the pics are too dark — I really like how things look in that "sunset" light, but it can be hard to make out sometimes. I lightened them a little in hopes of making them easier to see without losing the twilight tinge.
Some pics of Annabel Island in neighborhood view: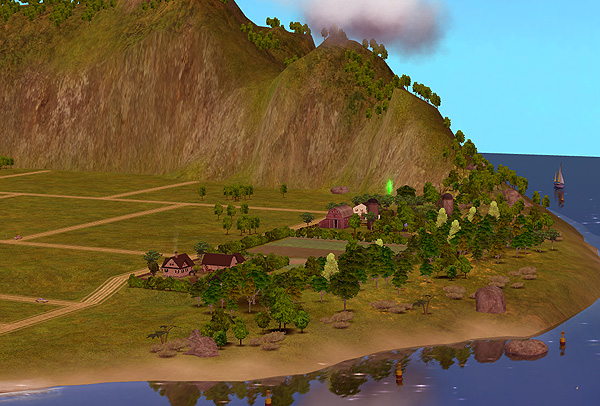 You can see the country roads better here. Unfortunately you can also see modern automobiles. D'oh!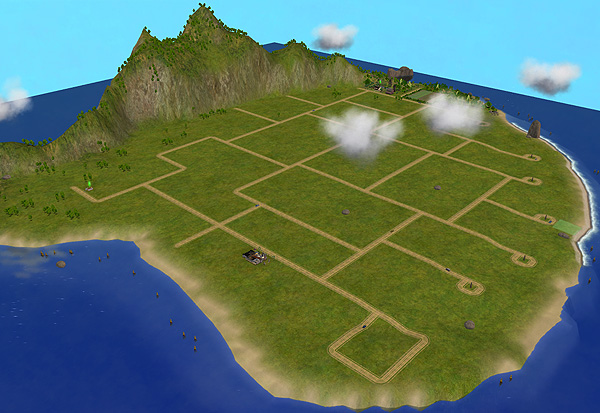 Yep, that's a lot of space to fill up. But most of it will end up being trees; Annabel Island is pretty sparsely populated. I figure I'll have 20-25 lots at the most by the time I finish (and that includes parks and businesses).
Next I want to finish the Dunnavant Mansion and start on the De Groff house. And I'm hoping to post a Fran update somewhere in there, too. In the meantime, here's a sneak peek of the Dunnavant dining room (I'm building their home in odd bits and pieces since I'm not sure how I want the exterior to look yet):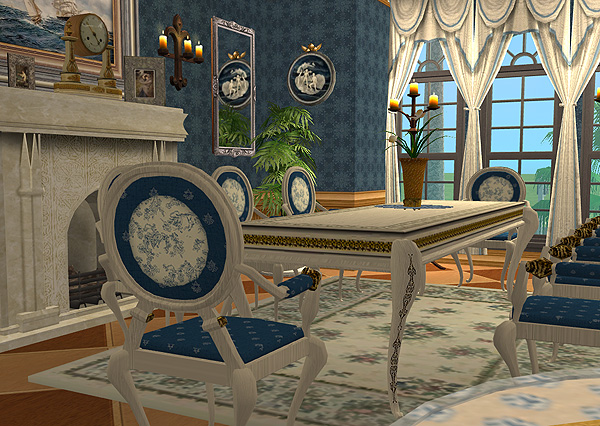 As always, thank you to all of the amazing custom content creators, without whom Annabel Island would not be possible.
If you want to know where I found anything you see in the above pics, feel free to ask, and I'll track it down.
UPDATE: By request I've added links to the CC in the above pics. Let me know if I've missed anything!
Kingstone Farm:
Exterior wall – Deathkat @ Simthing for Everyone
Rustic fence, front exterior lights (Green House Sconce) – Jendea @ SimsShoppe (used to be a subscription site, but is now completely free — yay!)
Broom – Taroo @ Tarox
Wagonwheel – Mummysim @ SimsDivine
Rowan and oak trees – callum91 & Numenor @ MTS2
Foliage/shrubbery/flowers – Khakidoo @ MTS2, Macarossi @ MTS2, Pimp My Sims
Clumps of grass – Lethe_s @ MTS2
Rocks, climbing plants – Nengi65 (drat, she seems to have retired, but you can find some of her stuff at the Sims 2 Graveyard)
Horse and wagon – hexameter @ MTS2
Hanging lamp outside employee shed – Steffor @ Avalon
Glass candle (on porch table) – Grand Trianon Collection @ MTS2
Potted Cypress by xrax @ MTS2
Dunnavant Dining Room:
Dining room set & wallpaper – Mummysim @ SimsDivine
Wallplate – Avenida Sims
Picture frames on fireplace – buggybooz @ MTS2
Crochet doily by Megahue 2 @ MTS2
Curtain recolor – Aussie Topenders
Rug – Echo
Rug recolor – VR Zone 1
Painting recolor – SimSpore @ MTS2
Vase recolor – Mermaid Cove
Clock on mantle – still tracking this one down…
Happy Simming!