(Hey guys, this is just a little teaser for the other story I mentioned — hope you enjoy! Also, I apologize for the pics being dark — they looked fine on my computer at home, but much darker where I am now, so they might be hard to see for some of you. If it's really bad, let me know and I will lighten them up.)
Good morning, dear readers! You may not remember me, as I haven't been allowed to divulge my tragic tales to you in quite some time, but my name is Maude Berthiaume, and I'm Mt. Geneva's ghostly historian. You might also be inclined to call me a "spy" or a "gossip", and, unsavory as those terms may be, they're not far off the mark. When one is incorporeal as well as incurably curious, one has precious little else to do with one's time. Sad, but true! Observing the inhabitants of Mt. Geneva is one of the few pleasures my spectral existence affords.
One of the other pleasures is telling you my stories, but I must take issue with my typist making light of my current situation by calling it a "teaser". Teaser, indeed! My world was quite shaken up the other night, and it is with utmost seriousness that I now impart this tale to you.
With all of my drifting and floating around Mt. Geneva, it can sometimes be days, perhaps weeks, before I make my way back to Berthiaume Manor to check on the place and make sure no one has disturbed my "resting grounds". I used to revisit it more often, but I've scared away intruders so many times that it has gained quite the reputation for being haunted by a most terrifying ghost, and so it has lain dusty and dormant for many years. That is, until now.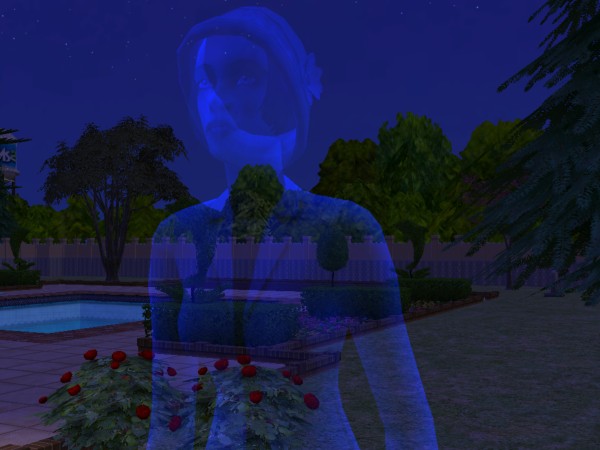 I was just returning from a particularly long visit to the Dobbins family (part of which they spent on a trip to Veronaville — of course I had to go along!) and about to take my usual survey of the grounds, when I was struck senseless by how much things had altered in my absence. Someone had coaxed the once-shaggy topiaries back to their original shapes and planted lovely new flowers around them. Clean, chlorinated water glistened at me from the old swimming pool, which used to be coated with mud and decaying leaves.
I panicked instantly. Who had been here? Had someone taken my house while I was off gallivanting with the Dobbinses? Oh dear, I had stayed away too long! How foolish of me! In a flurry of horror and anxiety, I rushed inside to see what I could discover.
What I saw when I passed through the door confirmed my fears — someone was indeed living in Berthiaume Manor! There was new furniture everywhere, plants in the corners, pictures on the walls. Everything was clean and modern and garishly painted. They had ruined my house!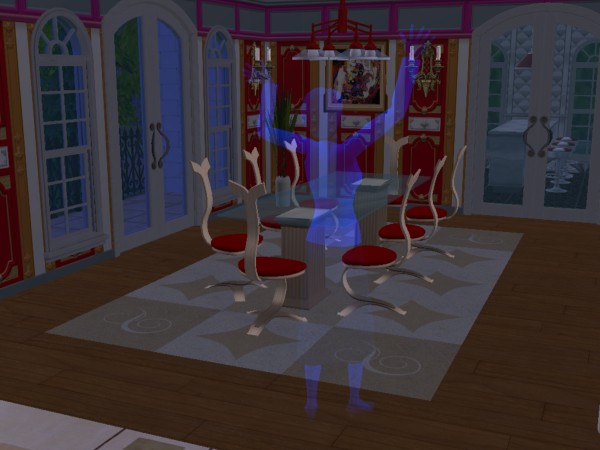 Whoever "they" were, it's a good thing they weren't at home at that moment, because I fell into the most terrible rage of my life (or death), and you know how we ghosts can be when we're angry!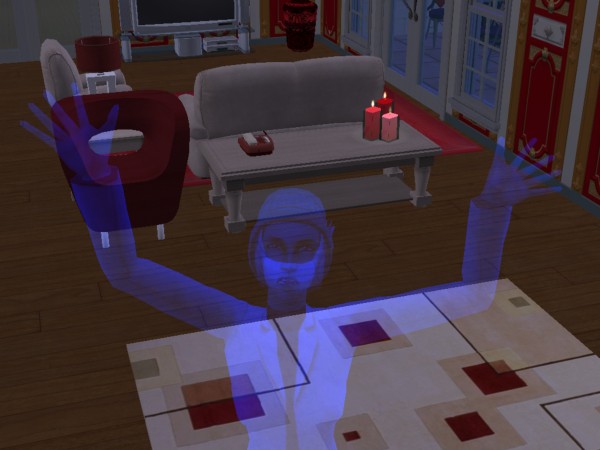 Like a gust of wind I swept through the rest of the house, noting the same tasteless decor and hideous colors throughout. Most of the upstairs had been transformed into two large bedrooms, each containing five single beds. Ten little beds in all! My heart melted slightly at the thought of ten children running around Berthiaume Manor, their laughter bouncing off the walls and making the house a joyful place. It had never been very joyful in all my living years, and the idea that it might finally see some happiness made me regret having been so enraged just a few moments earlier.
In a somewhat calmer mood, I descended the staircase, but the sound of a key clicking in the lock of the front door below sent me flying back upwards. I wanted to get a good look at the new inhabitants before I frightened the living daylights out of them.
As the door swung open, I expected to see a married couple, very modern but horribly dressed, with a parade of children trailing behind them, but all I saw was a single man in a jogging suit carrying a basket of groceries. After locking the door behind him, he flipped a switch, which ignited the pseudo-candlelight sconces lining the walls. After glancing absently about the room, he headed for the kitchen. A bit disappointed but still wildly curious, I swooped down the stairs and followed him.
In the polished chrome monstrosity that was the remodeled kitchen, I watched him put away the groceries while he hummed some tuneless melody.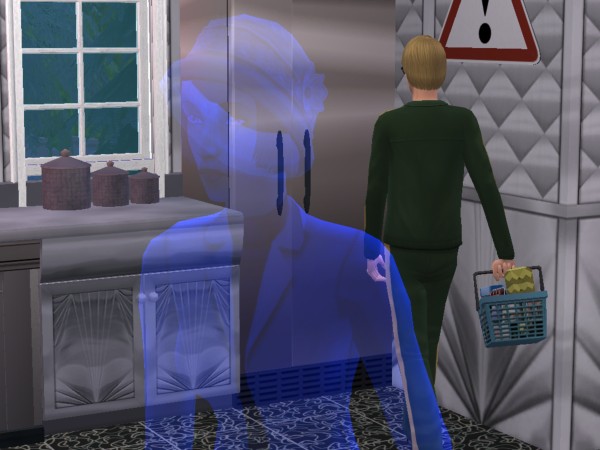 The refrigerator was nearly empy but for the new items he placed within it, and I realized that if ten children were moving in, it wasn't going to be anytime soon. The man in the jogging suit looked for all the world like a hopeless bachelor. So why the ten single beds? I was befuddled, and my confusion kept me from trying to drive the intruder out right then and there. I had more investigating to do.
I continued my tour of the house, moving to the downstairs. Much to my surprise, the ballroom, the scene of perhaps my finest moments in this house, looked much the same as it always had, except that instead of containing just a few chairs and ornaments, it also housed a beautiful grand piano, an electronic keyboard, and some stereo equipment. Perhaps the man in the jogging suit was a musician? That must be it, I decided. And he had bought the house in order to have some solitude and inspiration for his next suite of songs.
But then I saw something that struck me as very odd. Along the wall was a set of portraits featuring five women, all of whom looked to be in their early 20s. I examined them closely — none of the girls looked familiar in any way.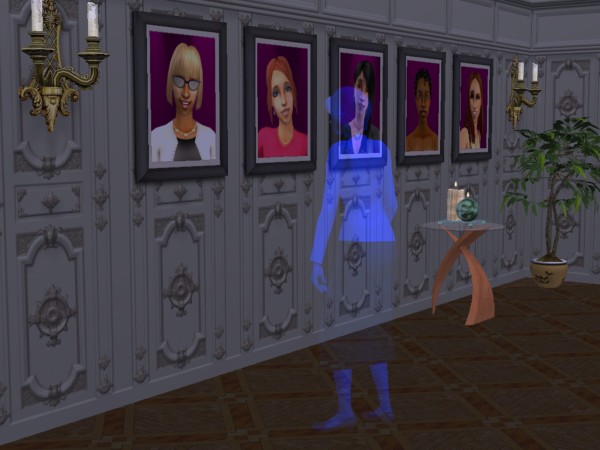 Drifting to the other side of the room I found similar portraits of five young men. Again, none of them were familiar to me, nor did any of them resemble the man in the jogging suit.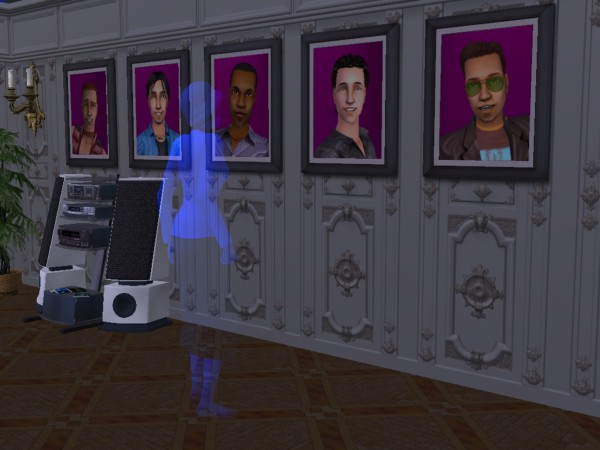 Could these ten young people be the future occupants of the two bedrooms upstairs? Who on earth are they? It was so strange to see their faces smiling at me from the walls of the ballroom. A little of my anger crept back in, as I began to feel once again that their intrusion was just that — an intrusion onto MY property, and a total disregard for my feelings on the matter, though at this point, of course, they don't know I exist. Well, they will.