Ruby: Heya, folks. I'm Ruby Shanley again, and this is my cousin Ginger —
Ginger: Hi there.
Ruby: And we're here to tell you what happened after we escaped the shackles of Sim State University.
Ginger: Wait — we escaped the shackles of Sim State? Are you sure about that?
Ruby: Well, maybe that's not the best way to phrase it…Anyway! We left Sim State and returned home to Niadon, which had been completely rebuilt, yet again. Our moms weren't home to greet us, but my dad was there. He's always there.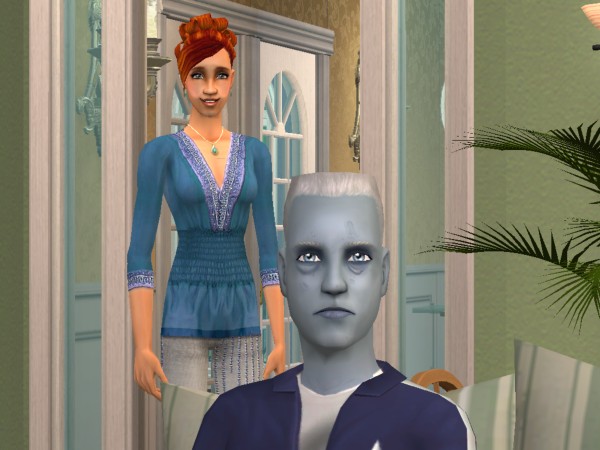 Ginger: Yeah, and he wasn't very happy to see me.
Ruby: What did he say to you again?
Ginger: Something to the effect of, "Oh, YOU moved back in, too? I thought Ruby was going to be the Legacy heir!" Only he said it in an angry zombie voice.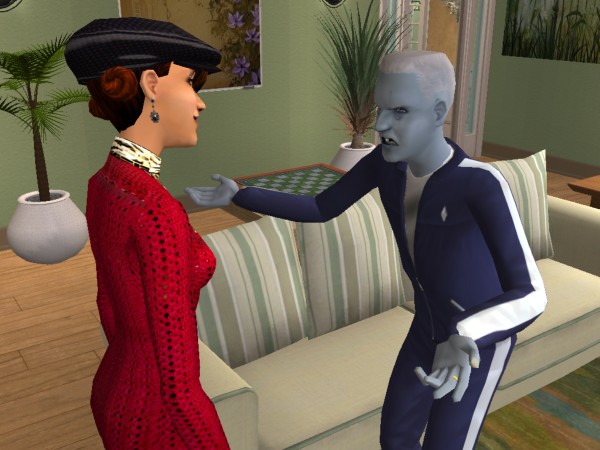 Ruby: I'm sorry about that, Gin. My dad was never the nicest guy on the planet, and being brought back from the dead made it even worse.
Ginger: It's OK, Rube. I'm used to his insults by now. Although I got really upset when he made fun of The Hat.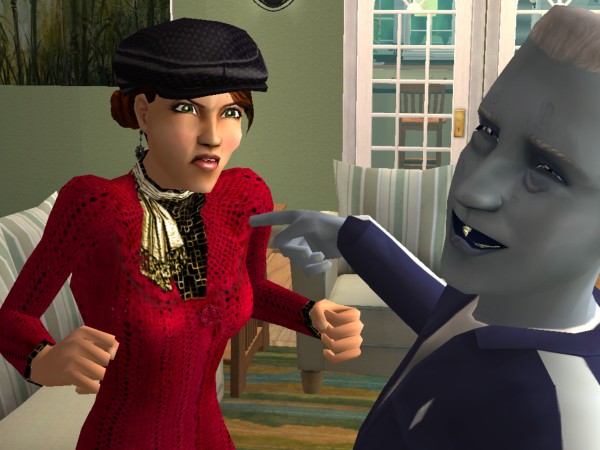 Ruby: He made fun of The Hat? Oooh, bad move, Dad.
Ginger: Yeah, that's what started our little rivalry. Whenever he was on the computer upstairs writing his novels —
Ruby: — which is pretty much all the time —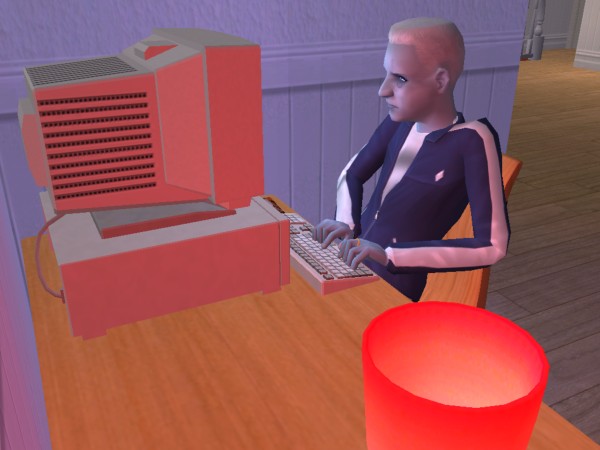 Ginger: — I would go downstairs to the music room, right below where he was sitting, and play piano.
Ruby: And sing!
Ginger: And sing. As loudly as possible.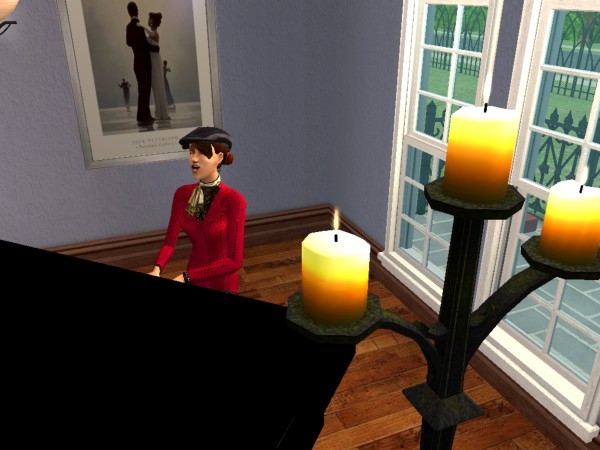 Ruby: You sounded pretty good.
Ginger: Thanks. But I think it annoyed your dad.
Ruby: Yeah, he was threatening to kick you out of the house! I had to intervene.
Ginger: Yep. You dragged me downtown before your dad could give me the boot. We had so much fun downtown, we started going there all the time. It's like…we were in search of something.
Ruby: I was looking for someone who was "Legacy material".
Ginger: And I was looking for…well, I don't know what I was looking for. But we found Spencer.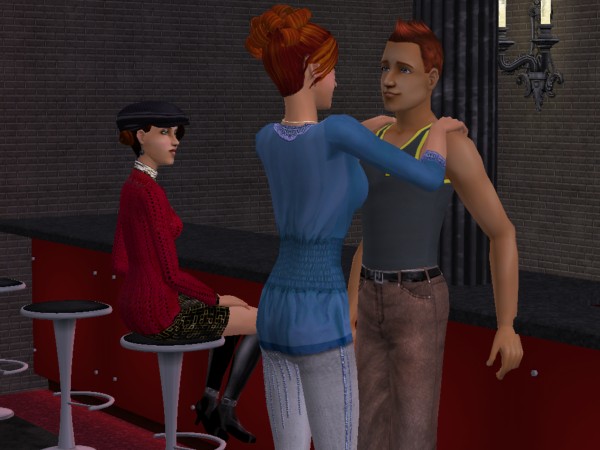 Ruby: Yeah, I can't believe I was actually looking for someone else, when Spencer was right in front of me.
Ginger: Literally and figuratively.
Ruby: Yep. And it was like I had never left Sim State. We picked right up again.
Ginger: Yeah, while you guys got all lovey-dovey, I was feeling lonely, so I went outside and talked to whats-her-face…the gypsy matchmaker lady.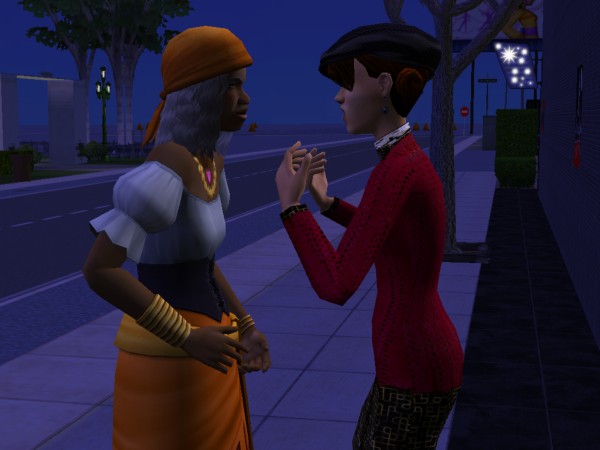 Ruby: Imelda.
Ginger: Imelda. I gave her some money and asked her to fix me up with someone. Someone really cool. So she sends me…her BROTHER.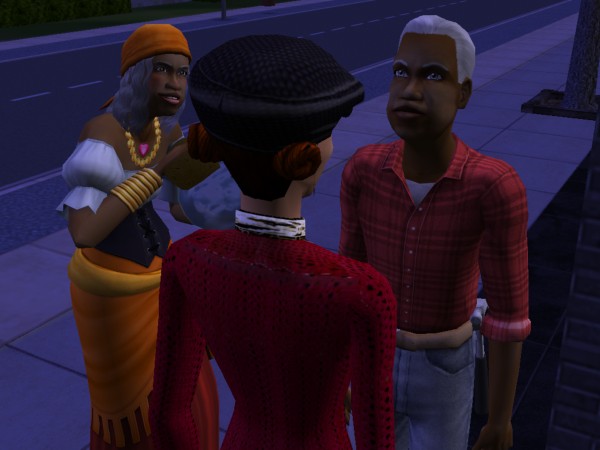 Ruby: Oh, no!
Ginger: Oh, yes. Lee Lewis.
Ruby: Isn't he the guy who fixes our dishwasher and leaky shower faucets and stuff?
Ginger: Yes. And he's a nice guy and everything, but I was expecting someone a little younger, you know? I feel really shallow saying that, but it's true. I'm not into the grey-haired guys like our moms were.
Ruby: Me neither. We're more into the redheads.
Ginger: Yeah. Imagine that!
Ruby: So what happened with Lee?
Ginger: Oh! I told him this wasn't going to work out, and he got really stern with me and said I shouldn't have asked his sister to fix me with up someone if I wasn't serious about it. He scolded me like he was my dad or something!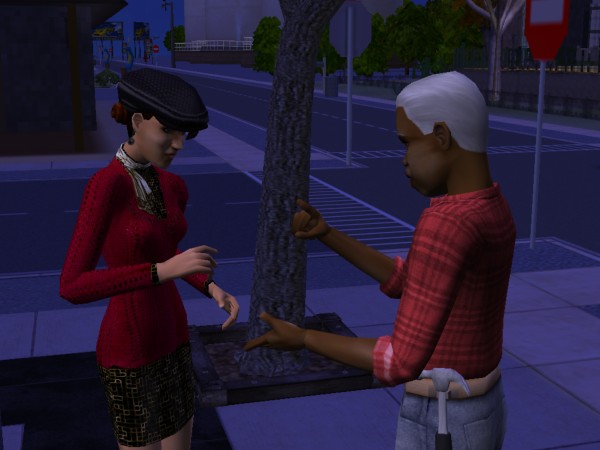 Ruby: Sheesh.
Ginger: Yeah, so much for my first post-college date. You had much better luck that night!
Ruby: (dreamily) Yeah…Spencer came home with me, and I gave him a tour of Niadon.
Ginger: Did you show him everything? The Mausoleum? The…Enclosure?
Ruby: Of course. If he was going to be part of this family, he had to know what he was getting into. I gave him ample time to run screaming.
Ginger: But he stuck around.
Ruby: He did. And that's when I knew I couldn't pick a better man to spend my life with. So I asked him to become a Shanley.
(continued on Page 2)