Cecily's dinner with the Dunnavants went splendidly, despite the lack of servants and a less-than-spectacular feast. Dr. Dunnavant praised the behavior of Madeline and Morgan, who helped the nanny serve dinner, and Mrs. Dunnavant complimented Cecily on the beauty and elegance of her home. Cecily wanted sincerely to impress the Dunnavants, as they not only owned Annabel Island and spent a great deal of their fortune keeping it beautiful, but were respected and admired by both her husband and her father.
A few days later Cecily found a housekeeper, Miss Flora Smith, who had excellent references as a maid and cook and would have been a great help to them the night of the Dunnavant dinner, had she arrived but three days earlier.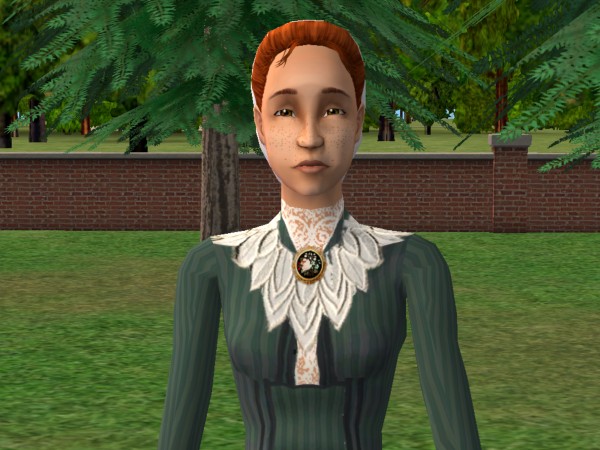 Flora could only accept Cecily's offer of employment if Cecily also hired her nephew, Tom. As Tom seemed like a polite, well-behaved young man, Cecily hired him as their stable groom and groundskeeper, but made it clear to Flora that, as his guardian, Flora was entirely responsible for him and the quality of his work.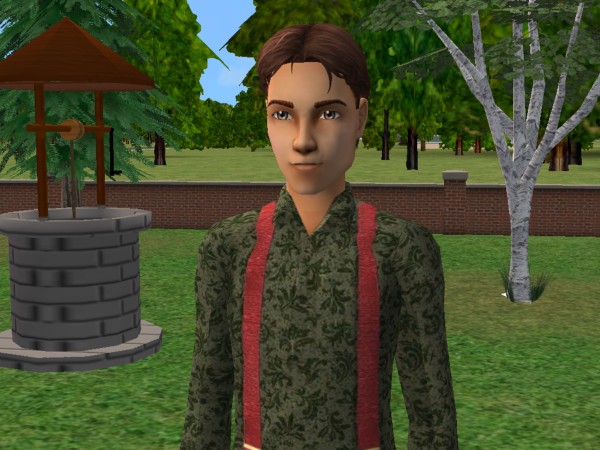 For this reason Flora was particularly critical of Tom and felt compelled to lecture him at every opportunity, even when the nanny, Nellie, was present.
"If you want to go back to Gatewood, Tom, you're going about it the right way," Flora said to her nephew one morning over breakfast. "The stables are an utter mess, and the hedges along the back side of the house have almost completely lost their shape. What have you been doing with yourself this past week, hmm? Lying under the trees and dreaming of boat races?"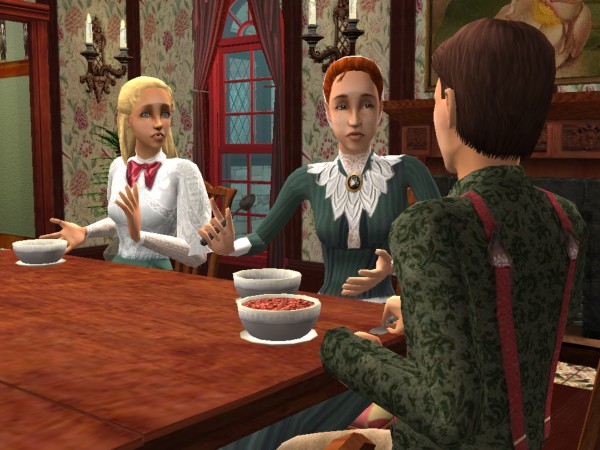 Tom glanced up but said nothing, and after a moment, went back to his breakfast. Nellie blinked at Flora, shocked to hear someone speak to their own relation in such a tone. Every word dripped with cold contempt.
"Unless you want to go crawling back to the Pendeltons and beg to sleep in that wretched attic again, you'd better start doing what you're told…what you're being paid to do. You're never going to race sailboats, or horses, or carriages, and the sooner you realize that and accept your proper place in the world, the better off you'll be."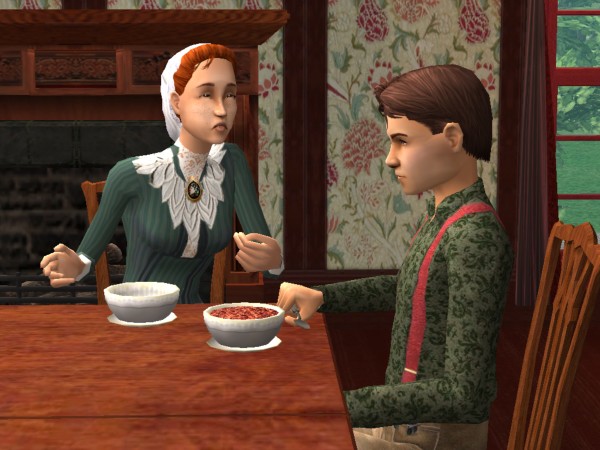 Flora suddenly turned to Nellie. "Isn't that right?"
"Um…I…um…" Nellie sputtered, feeling sorry for the boy but not wanting to get on Flora's bad side. In lieu of a proper answer, she stood up quickly and pointed at Flora's bowl.
"Are you finished with that? I'll take it." Without waiting for a reply, Nellie whisked the empty dishes off to the kitchen.
After glaring at the back of Nellie's head for a good second, Flora turned back to Tom. "Now listen — I have a great deal of work to do today, and I can't be looking over your shoulder every moment. Unless you want to skip supper tonight, you'll do as you're told and clean out that stable. But trim the hedges first — they're horrid."
Still not saying a word, Tom did as he was told and went out to trim the hedge. Nellie saw him pass by the kitchen window to fetch the hedgeclippers and, noticing his melancholy expression, felt a strong urge to comfort him. Just as she was planning to slip quietly out the back door, however, Flora entered the kitchen. Nellie quickly hatched another escape in her head and made her way towards the hall.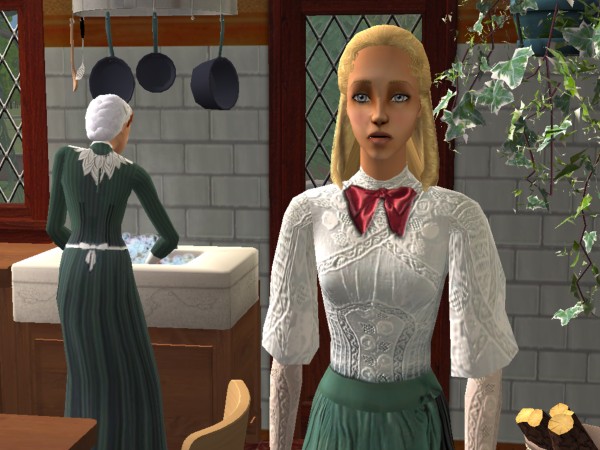 "I think I'll fetch the newspaper," she called over her shoulder.
"I'll go with you," said Flora, wiping her hands on her apron. "I could use a bit of fresh air before the family wakes up."
Nellie held back a sigh of frustration and smiled politely. "As you please."
Outside, they could hear the snip-snip of Tom's clippers from behind the house, the shriek of gulls overhead, and the splash of the sea against the rocky shoreline. Nellie stood for a moment, simply enjoying it, while Flora inspected the oleander bushes.
"Dreadful! I don't know what that boy is about. I'm sure he's the most neglectful groundskeeper I ever saw. I'm ashamed to call him a relation!"
Nellie couldn't stand it any longer. "But he seems like such a nice, decent boy. He spent all yesterday chopping wood, and made quite a store of it for us!"
Flora shrugged. "It took him all day because he's slow. And he neglected his other chores. If you ask me, I think there's something terribly wrong with him. Ever since his parents died, he's been a little…off-balance."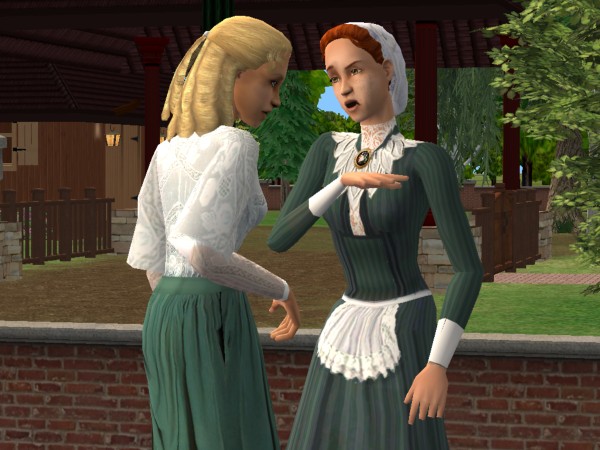 Nellie leaned forward. "His parents died? But…surely that's reason enough for anyone to lose their balance."
"Like our present employer?" said Flora, smirking. "Though I suppose he's had many years to overcome his tragic history, and no doubt everyone thinks him perfectly balanced now. We shall see, eh?"
"Mr. De Groff?" Nellie gasped. "What do you mean? What tragic history?"
Flora looked surprised. "You don't know? Well, I'll have to fill you in, my dear. But not just now…they'll be waking soon, and I have to get breakfast on the table. Find me later, when the Loves are here for tea, and then we'll have a little chat. Until then, not a word of it to anyone. I don't want them thinking I'm a gossip."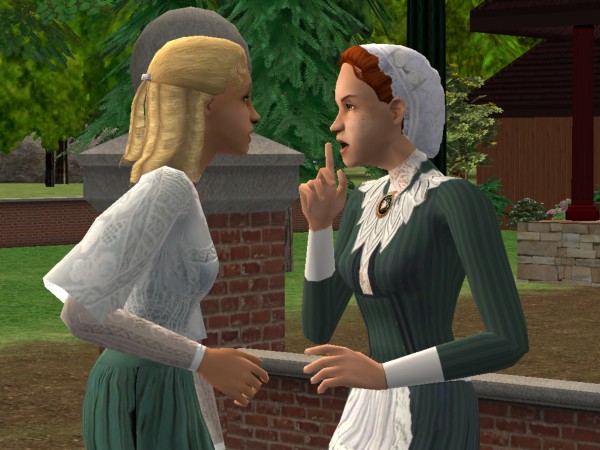 Flora went back into the house. Nellie sighed, still quite confused, and picked up the newspaper. She hesistated a moment, then she struck out past the carriage porch towards the backyard, where she found Tom dutifully trimming the hedge.
He didn't glance up as she approached, but stared very intently at the hedge while he jabbed it with the clippers, as if it were some puzzle he was trying to figure out. Nellie wanted to say something comforting, but couldn't think of anything that didn't sound rude or ridiculous.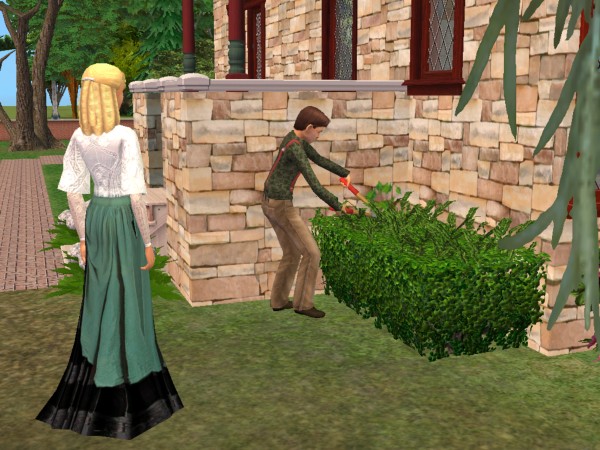 With a quiet sigh, Nellie went back into the house through the kitchen door.
"Took the long way 'round, did you?" Flora asked, her back to Nellie as she prepared the family's breakfast. She paused to let the implication sink in, then said sternly, "I think the children are up."
Nellie reddened as though she'd just been scolded. Was she on Flora's bad side already? "I'll put the paper on the table," she said, leaving the room as quickly as she could.
(continued on Page 2)