Mia Shanley stood over the slumbering form of her little granddaughter Ruby and let out a sigh. She knew she should be zooming through the skies, seeking out injustice wherever it festered in SimNation, but how could she leave Ruby's side? The infant was so fragile, so helpless. And there were bad guys out there, seriously messed-up dudes, just waiting for an opportunity to take Mia down, to strike her where it hurt the most. She had to protect her most valuable asset.
Feeling restless, Mia wandered over to the windows and took up her sponge.

"I might as well get some cleaning done while I'm here. Great scott, look at all of these fingerprints!"
As she scrubbed the vast windows of the nursery, Mia decided that being a superhero wasn't all it was cracked up to be. Sure, she got to fly, and beat the tar out of bad guys, and wear an awesome supersuit, but all of SimNation knew who she was – including the bad guys. She had never thought to conceal her identity by using a fancy nickname or donning a mask as other (smarter) superheroes had done. Nope, she was just Mia Shanley, Captain Hero, going to work like everyone else. Well, except for the flying bit.
But things were getting dangerous out there – people knew her family, they knew where she lived. Maybe it was time to come up with one of those fancy nicknames. But what would it be? GeezerGirl? The Grandma? The Bad-Guy-Beater-Upper?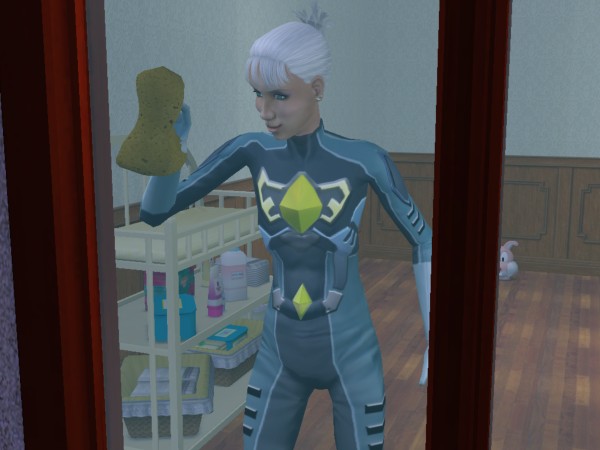 "Hey, I know! I can be SPONGEWOMAN! Stand back, foul fiend, or I'll ABSORB you!"
Mia chuckled to herself and rubbed extra hard at a stubborn fingerprint that simply refused to disappear. Suddenly it hit her – these fingerprints weren't on the inside of the window – they were on the outside! Someone had been trying to get into Ruby's room – someone with really greasy fingers! Mia dropped her sponge and whirled around, but just as she did so, she felt something large and fluffy go THWAP against her head, sending her flying across the room.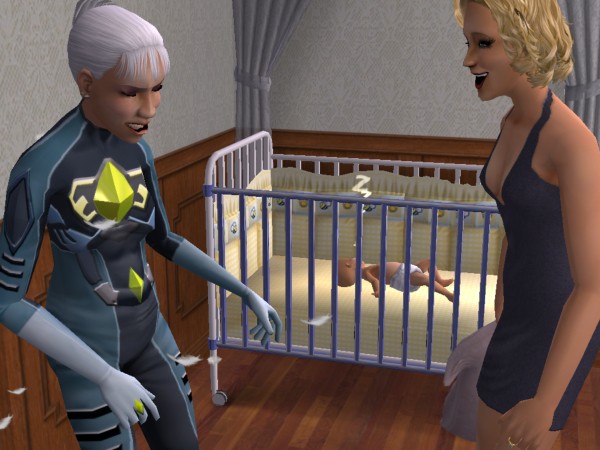 "Ow."
Shaking out of it, Mia opened her eyes and glared at her daughter Sierra. "You're lucky I can't shoot laser beams out of my eyeballs, or you'd be dead right now!" she whispered, so as not to wake the baby.
Sierra opened her eyes wide. "Geez, Mom, I was just having a little fun.You used to love pillow fights."
"I do, but you don't just sneak up on people like that!" Mia grumbled. "It reminds me of that pesky Juan!" She plucked a feather out of her belt and threw it to the ground. "Now keep an eye on Ruby. I have to talk to your father."
She found Marcel in the music room practicing on his new bass, completely lost in his cool, funky groove.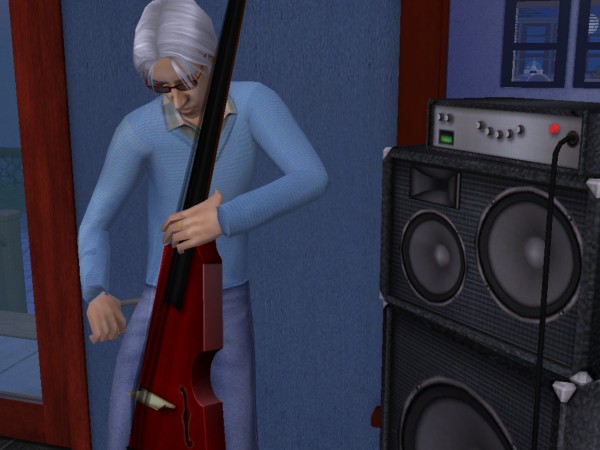 "Bompa bom bow bow bow ba-bow bow"
"Marcel!" Mia shouted, but he didn't seem to hear or see her. Frustrated, she strode to the other side of the house, where she found Juan and Professor Thomas Day, Sierra's new beau.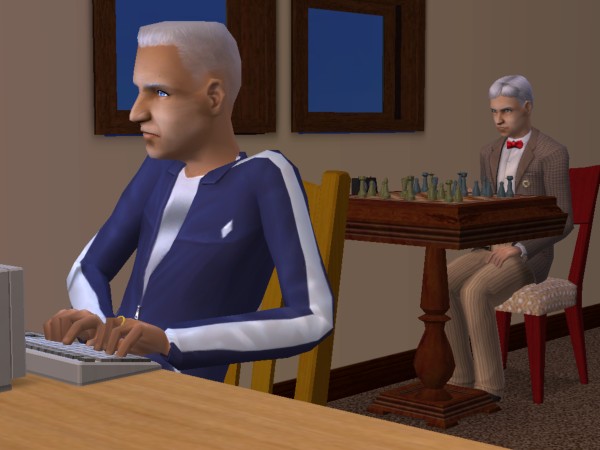 "Hey Tom, how do you spell 'ventrilofart'?"
Juan glanced up as Mia entered the room. "Hey, Granny. Pull up a chair! I'm about to buy two-dozen doohickeys."
"You know, Mia," Thomas said quietly. "If I were you I'd cut off his internet privileges. He's up to no good."
"Oh, hush, you old egghead," said Juan over his shoulder. "You wouldn't know fun if it bit you in the bow-tie."
"I'm here on serious business," said Mia, crossing her arms. "Do either of you happen to know why there are several dirty, smudgy fingerprints on the outside of Ruby's window?"
Juan thought a minute, then laughed. "Oh yeah. That was me. I was outside doing my morning calisthenics and thought I'd check on the little tyke. She was sitting up in her bed, just a playin' away, so I made funny faces to get her attention."
Mia stared. "You made funny faces all over the glass?"
"Yeah. And I did that thing where you fog it up with your breath and then make little footprints with the side of your hand—"
Mia sighed heavily and left the room. Why had Delaney insisted on marrying such a ridiculous lout?
Well, she mused, at least no one's trying to get into Ruby's room. Still, the very idea that someone could – and possibly would, considering Mia's occupation – nagged at her for days, until she came to a decision:
The Shanleys were moving to another house.
(continued on Page 2)