Well, the new Island Paradise Expansion was released last Tuesday, and I've been having a great time exploring the new features in the pack — mainly the BOATS! I gotta say, being able to take my Sims out boating on the open water is one of those things I never knew I wanted in my game, but now that I have it, I love it! There's so much variety in types of boats – rowboats, sailboats, aqua sleds, speedboats, pedalboats, and of course the houseboats. The first time I heard about the houseboats, I imagined good old Uncle Elvis owning one and taking it out to sea for fishing trips. So naturally, Uncle E., along with his son Lucas, was my first Sim in Whimsett Cove sail the seas.
First I wanted to try building a port (mainly as a place for his houseboat to dock), so following SimGuruSemedi's tutorial, I built one along Timberline Beach (where Uncle Elvis and the Theater Trio live).
It's a pretty simple pier, with a gangway for a houseboat and then some other boats (rowboats, sailboats, and a pedalboat).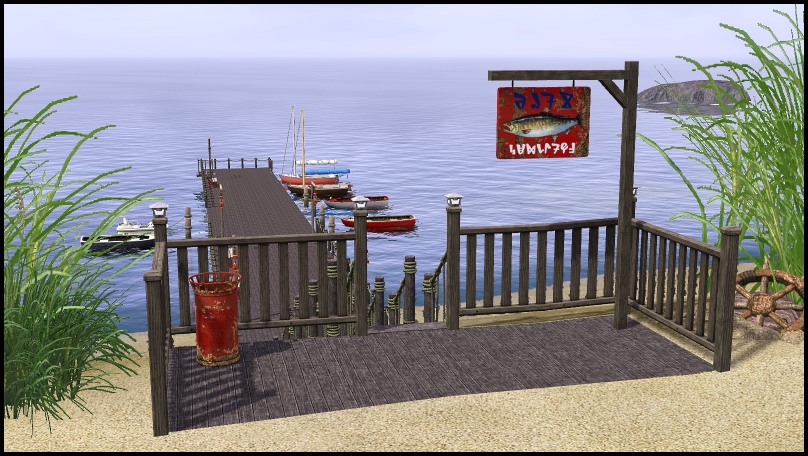 Since there are some tall dunes on this beach, I built a stairway going down to the pier, but the Sims don't use it — they just run down the hill and right to the water. So I guess it's just for looks!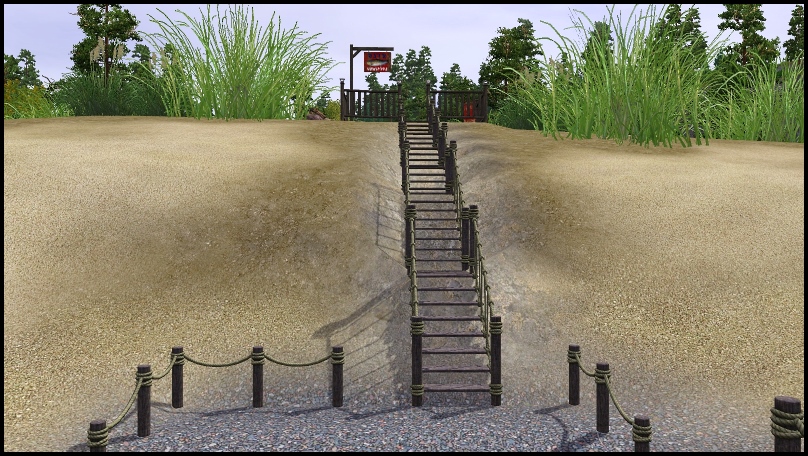 More pics of the pier: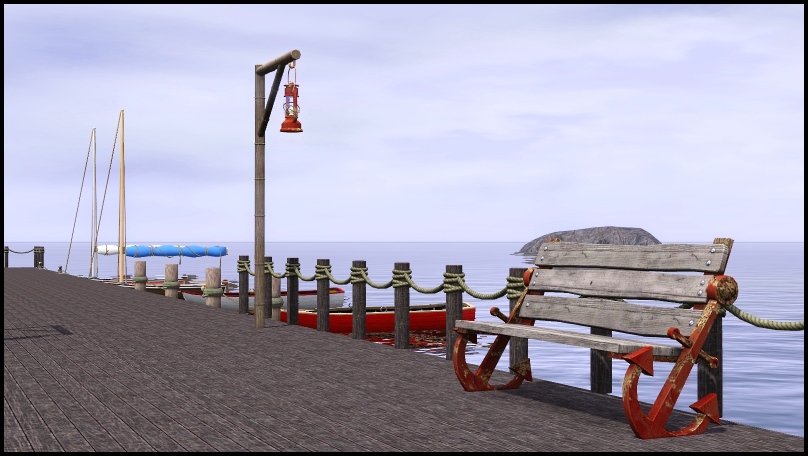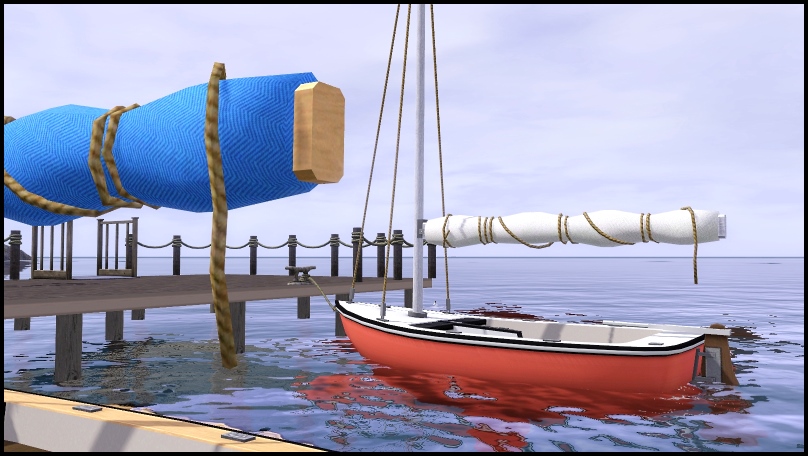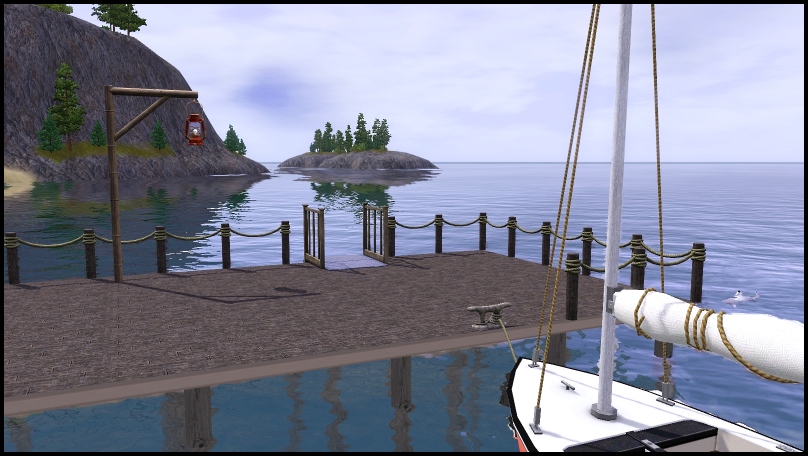 I couldn't figure out how to have Uncle Elvis purchase a boat from the pier (although I found out later that you have to click on the mooring post, not the boat itself), so I ended up placing a boat trailer in his front yard and buying a rowboat that way. I clicked on the ocean and directed Elvis and Lucas to a spot near Manketta Island. They ran down to the water, hopped into the rowboat, and off they went!
Hooray, the first real boat in Whimsett Cove!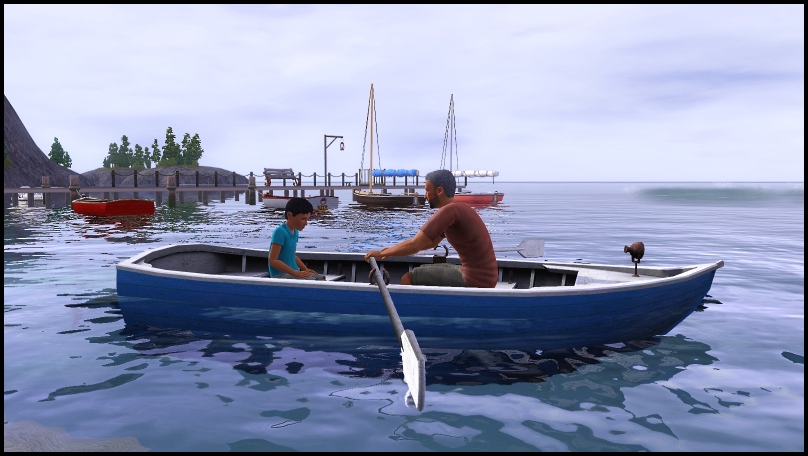 And of course, I took way too many pics of this grand event.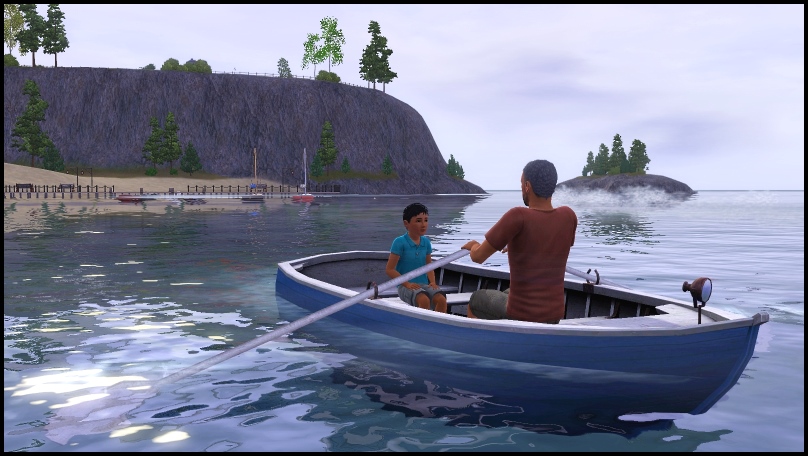 Poor Lucas got seasick. I can relate.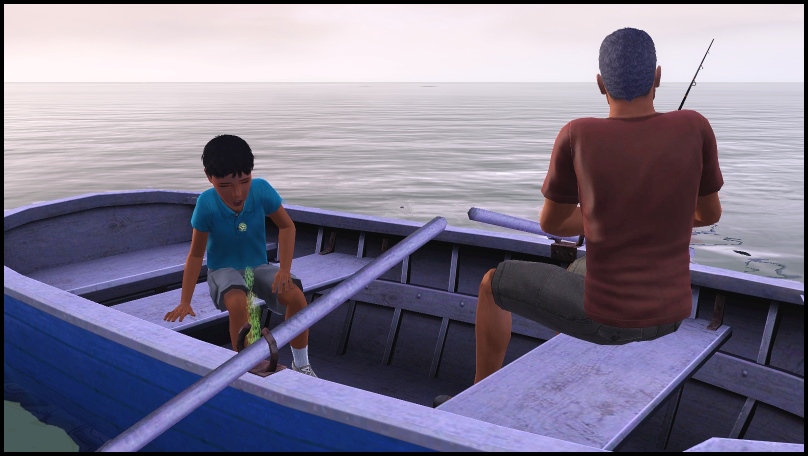 But he recovered well enough to be able to fish!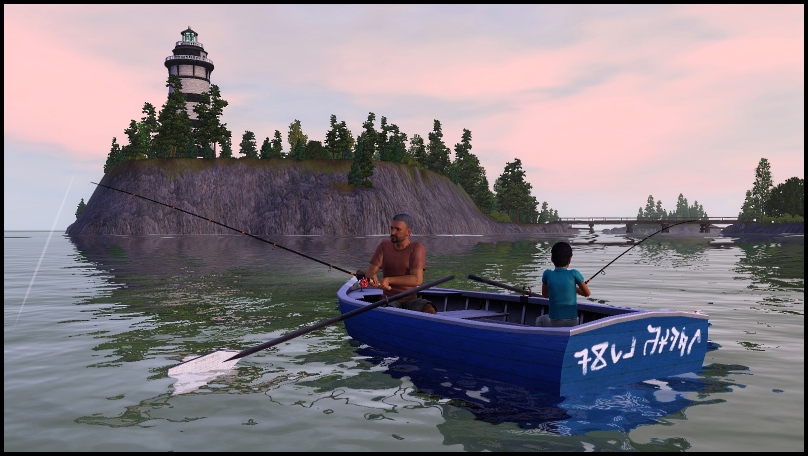 Once they've taken the boat out a bit more, I'll have to reward them both with the "Strong Stomach" lifetime reward!
As much as I enjoyed the rowboat, I really wanted to build Uncle E. a houseboat, so that was my next project! He used up almost all of his savings, but it was worth it.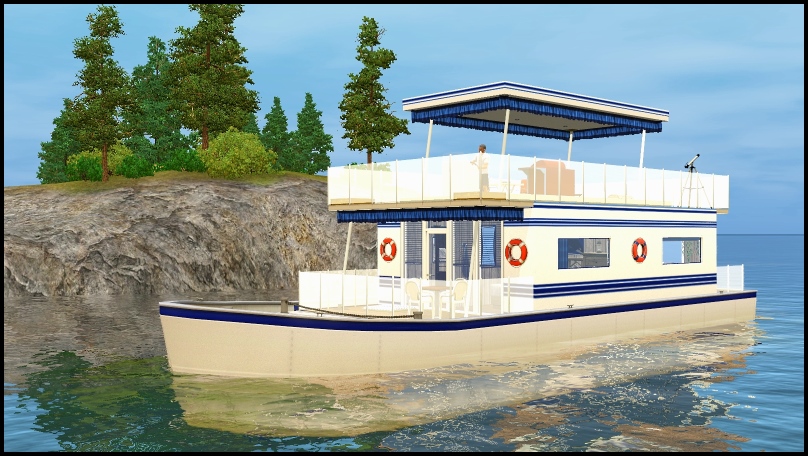 Elvis brought Lucas and their dog Betsy on board for a few days to sail around Matkooskee (I've decided that Whimsett Cove is the town and Matkooskee is the island) and do some relaxing/fishing.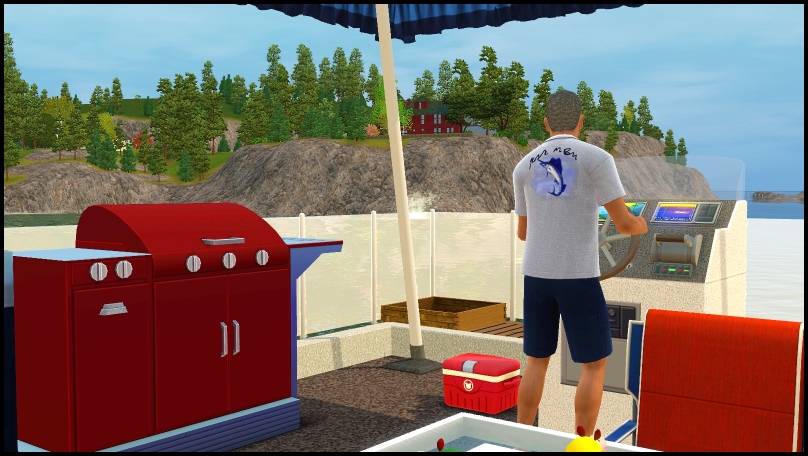 (I had no idea what to do with the top of the houseboat, so it became a random collection of stuff that didn't fit in downstairs — giant grill, garden planters, a game of Cochon Qui Rit so they'd have something fun to do together, etc. I want to work on a better layout!)
Elvis caught some outstanding fish off the edge of the boat. He's lovin' life!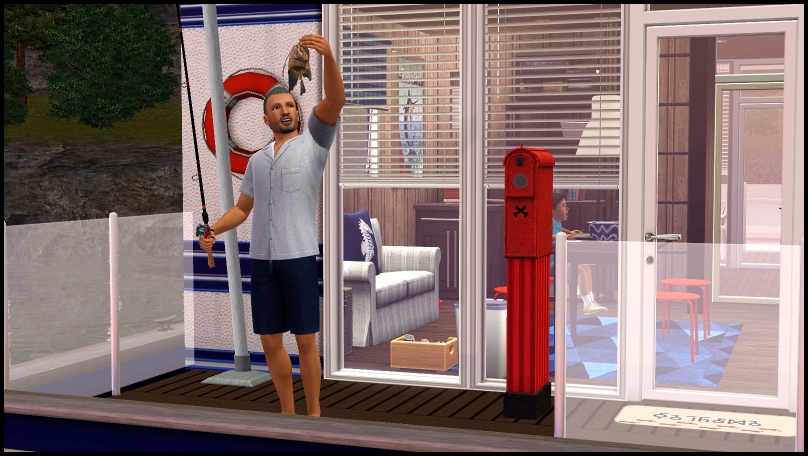 Not so much for Betsy. Sure, she was happy they brought her along…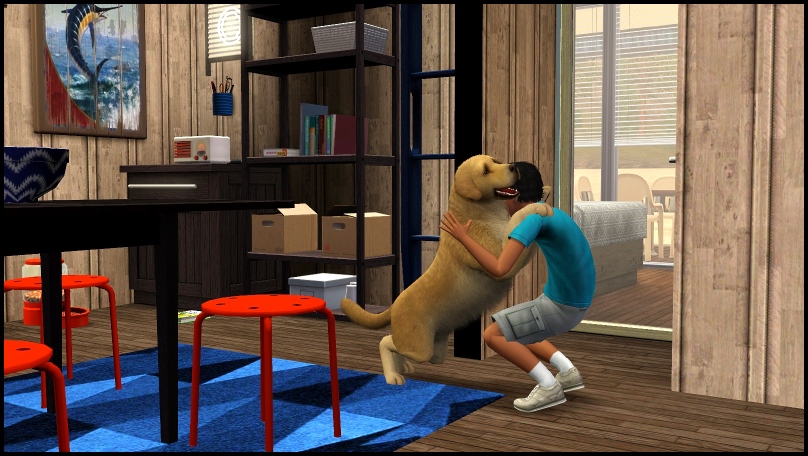 …but there wasn't much room to run around, and definitely no decent place to relieve herself! :facepalm: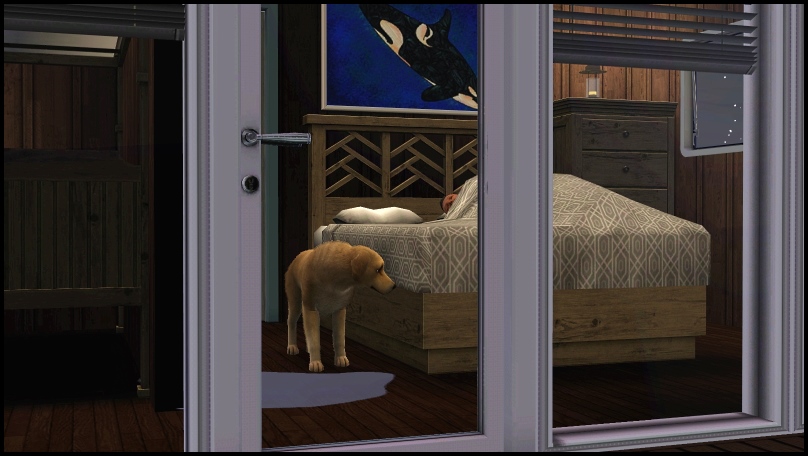 They spent the first evening in a little bay on the western side of the island. There was a beautiful sunrise the next morning.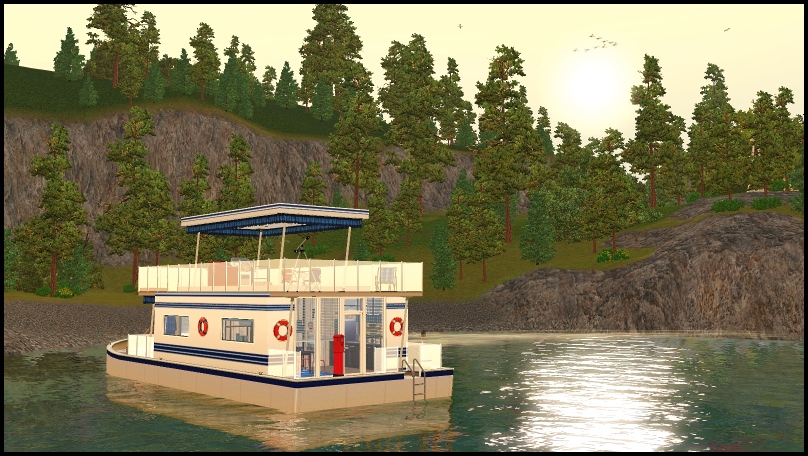 Lucas has the summer off from school, so even though it was a Monday, he got to stay on the houseboat and have fun. I love that Sims can jump off the back of the boat to swim and snorkel.
It's hard to take decent pics of the snorkeling — I might need to download a different camera mod that will let me go underwater a bit. Not that there's much to see! (Unless you scuba-dive, that is, and there are no scuba-diving lots in Whimsett Cove…yet.)
That evening they sailed to their next stop — the lighthouse on the southern side of the island, which they don't see very often since they live on the opposite side. I didn't realize how huge that thing is until I saw their boat next to it!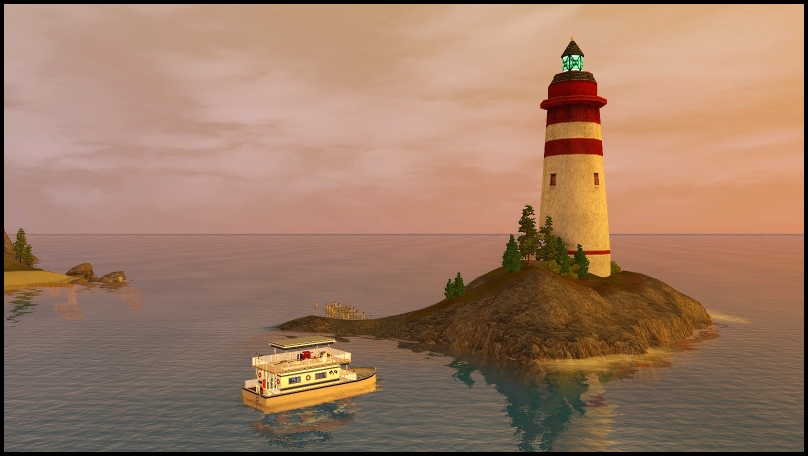 They relaxed that evening by playing a rousing game of Cochon Qui Rit.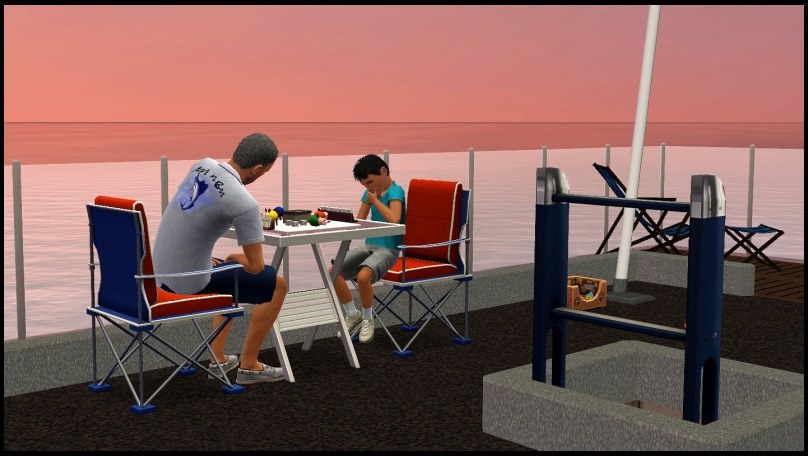 I'm testing out a few of Burnt Waffles' lighting mods to see which one I like best, if any (they're all beautiful but I'm hoping to find one that feels coastal New England-y). This one is Moonrise Kingdom 4.0 with Aurora Skies water and no chance of aurora. I just thought the water and sky looked so pretty here.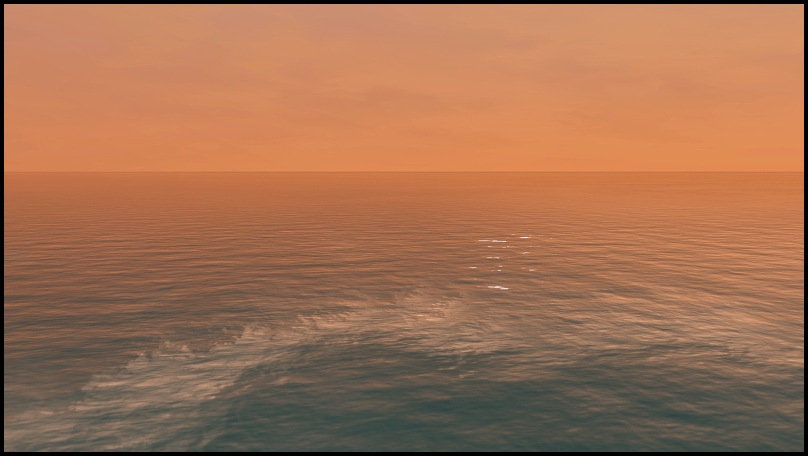 I also put her Enhanced Star Field mod in, and I really like it. Billions upon billions of stars!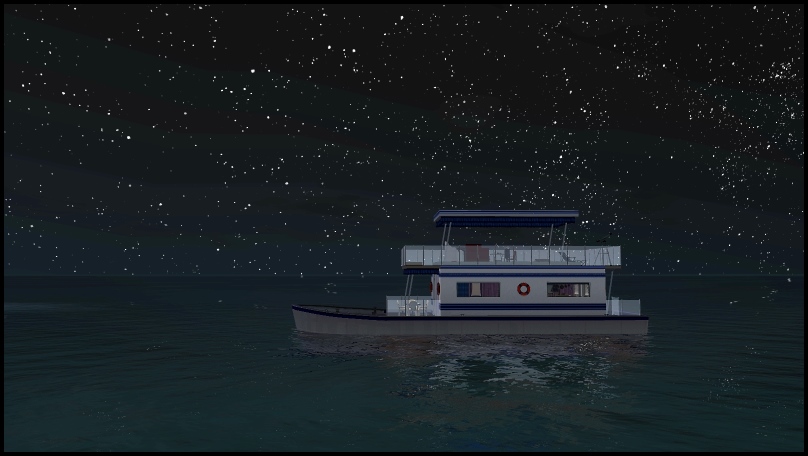 That's it for now! Happy Simming!