Huzzah! I think I finally have a decent terrain.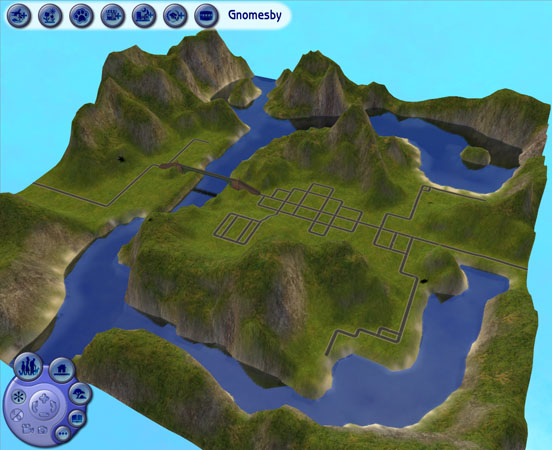 I may still have a little tweaking to do (such as smoothing some of the pointy peaks), but I'm happy with how it turned out. I wanted hills and valleys, a bridge, rivers and beach lots, room for farmland, and some "out in the boonies" roads for the campground and some secluded cabins, and I managed to fit all of it in. Woot!
And thanks to Jade, my neighborhood deco is showing up from within lot view! She recommended I create a userStartup.cheat file and add "boolProp dontMergeNHFlora false" to it. That worked beautifully. More info on what the blazes a userStartup.cheat file is and what you can do with it here and here.
I am really happy about the bridge; I've never gotten one to show up in a terrain before. It looks a little funny in lot view (the road just goes up and disappears into nowhere), but I like its appearance in neighborhood view. I added some deco just for fun, but I'm sure I'll be rerarranging it and/or adding more as I go on.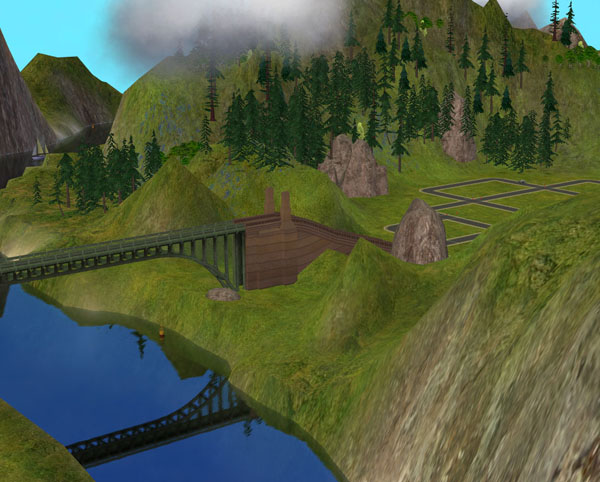 Now I just need to figure out the graphics glitches. They're minor, but they bug me to no end. What can I say? I'm picky as heck. :-) The first one is weird shadows showing up in neighborhood view. You can see them in my first shot up above. See how some spots on the terrain are like dark little blobs? I have no idea what is causing that.
Secondly, I have what I call the "green square" problem. They show up on textures and skintones, mainly. (They also appear on certain textures in my Lord of the Rings Online game, so it's not just The Sims 2.) Here's an example: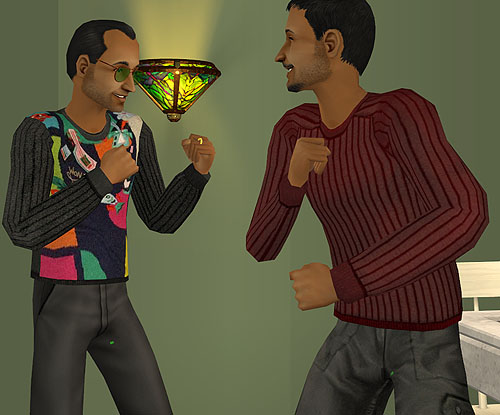 See how Maury's and Elvis's pants have green squares on them, right around the, erm, private area? Heh. Anyway, it's not a gamebreaking glitch by any means, but having random green squares show up in my pictures is going to drive me batty. :-p
I've tried the new Nvidia driver, but that didn't help. I'm going to keep researching and hope for a solution. Until then, you guys can play "hunt the green square" with my pics!