(Continued from Part I)
Even a good day's sleep couldn't restore Joey's spirits. He wandered around in a state of constant agitation, turning the TV on and off again, opening and closing the refrigerator without taking any food, and standing up to look out the window. All he could think about was what Tiffy said on the deck the night before, and the sight of his father's ghost only hours afterwards. It was like his father was trying to tell him something…
But these were only surface thoughts that I could read — I couldn't penetrate more deeply into his troubled mind, and I wasn't sure I wanted to! Eventually he called a cab and left the house for a time, and I chose to remain where I was, thinking Tiffy might come home soon. I wanted to see how she was holding up after seeing Sid's ghost. Well, I have to say, I was somewhat surprised when she arrived home — she was in the most cheerful mood imaginable! Almost immediately she changed into her sweats and started working out in front of the TV.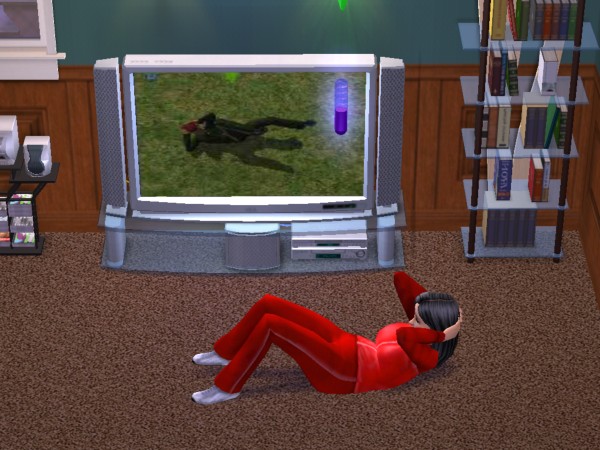 Apparently she wanted to lose a few pounds so she could fit into the dress she had bought for Joey's upcoming wedding.
"Must…stop…eating…mac and cheese…" she grunted between sit-ups.
As she rolled over to do leg-lifts, the front door flew open, and in walked Joey with his arms full of strange electronic equipment. Tiffy tossed him a "hi", then did a double take.
"What on earth is all that?"
Joey shrugged, nearly dropping what looked like a red police car light. "I don't know."
"Come on, don't play dumb," Tiffy said. "Fess up."
"It's just some junk I picked up at the pawn shop. No big deal."
Tiffy eyed him suspiciously. "What are you going to do with it?"
"Play around with it, I guess. Look, I'm trying to learn some new skills, all right? You said you wanted me to get a different job."
Joey headed down the hallway to his bedroom, electrical cords of all colors trailing behind him. Tiffy winced as the door slammed shut.
With a sigh, she went back to her leg lifts. After finishing up her workout, she stood and stretched, noting that her bulging tummy seemed to have diminished.
"Yes!" she said. "Maybe now I can fit into that stupid dress."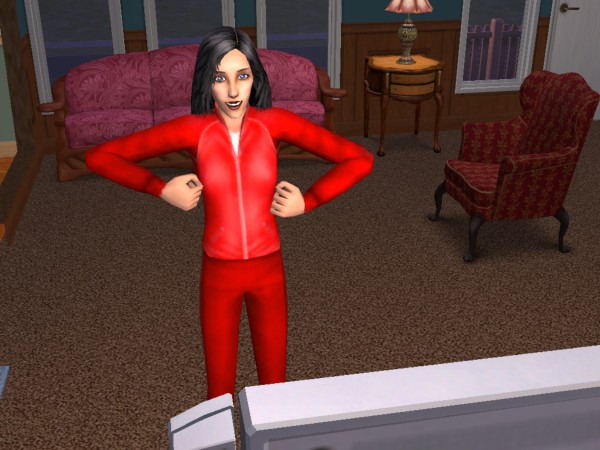 While Tiffy headed off to the shower, I floated into Joey's room to see what he was up to. He was sitting in a tangle of cords, trying to hook the police light up to some strange box with an array of knobs and lights on it. Even after observing for a good long while, I couldn't make heads or tails of it, so I drifted back out to the kitchen, where Tiffy was now preparing dinner.
She had become quite the cook and seemed to enjoy cooking for two instead of just herself. I found myself idly wondering why she hadn't met a nice boy and settled down yet, then slapped myself when I remembered how I felt when my mother used to say, "Maude, sweetheart, why aren't you married yet? You're not getting any younger, you know!" Good lord, how I hated that.
When dinner was ready, Tiffy called Joey into the kitchen. With an awkwardness in his movements, he sat down to his plate of pork chops and vegetables. It looked mouth-wateringly good, and I found myself wishing I could manifest and inhale the entire plateful, but I kept to myself in a corner of the kitchen and just listened to their conversation.
"How is it going with the…stuff?" Tiffy asked after chewing a mouthful of potato.
"Good."
"Well, that's good."
I yawned.
"I have some news for you, by the way," Tiffy said then, which perked me up. I had no idea what she was about to say. She was keeping her thoughts very close.
Joey looked at her expectantly.
"I've gotten a job at the new college," she said with a hesitant smile. "They need a housemother in the girls' dorm, and I would get to take classes for free. They might even let me teach some freshman classes, due to my experience in the medical field. What do you think?"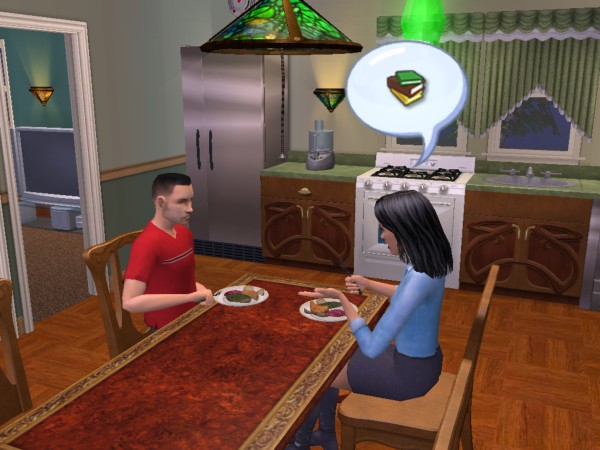 Joey said nothing at first, then forced out a smile. "That's great, sis. Really. Wow. I mean, I know you've always wanted to go to college. Huh. Wow. Great news."
Tiffy watched him carefully. "That means I'll be moving out of course, but you can stay here if you like. Bailey can move in with you."
Joey shifted in his chair. "I don't know. I don't think we can afford this place on our own. Bailey doesn't have a job."
"Well, maybe she'll have to get one. Or maybe she can ask her parents for money." Tiffy started slicing up her pork chop.
"You don't like Bailey very much, do you?"
Now it was Tiffy's turn to shrug. "It doesn't matter how I feel about her, as long as she makes you happy."
Joey's jaw clenched, but he didn't say anything else. They ate the rest of their dinner in silence.
After cleaning up the dishes, Tiffy went out onto the deck to gaze through her telescope while Joey dragged all of his weird equipment into the hallway and set it up against the wall. He pushed a desk chair and file cabinet out as well and started hooking everything together. Within an hour, he had the strangest contraption I've ever seen. It reminded me of those chairs you sit in at the beauty parlor, the ones that dry your curls. But Joey didn't have any hair to make curls…
He sat in the chair, placed the dome thing over his head, flipped some switches, and started talking in slow, measured tones.
"My name is Joey Kilman," he said. "My sister's name is Tiffy. We live in a trailer house at 14 Montreaux Road. My mom's name is Rhonda. My dad's name was Sid. I'm getting married on Saturday. I'm a car salesman — YEEOOOWWW!"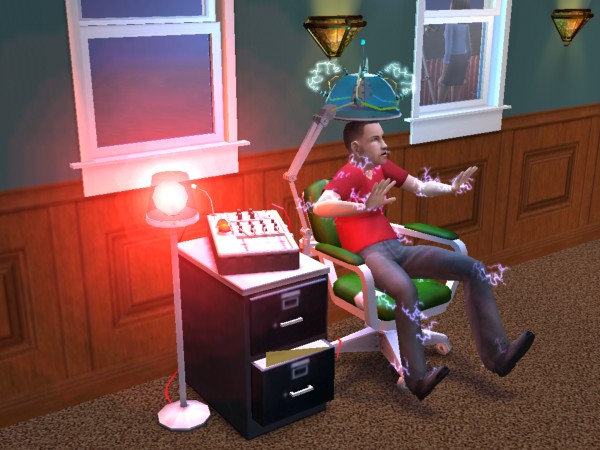 The police light flashed as an electric shock sizzled its way across Joey's body. What on earth, I wondered as he recovered from the zapping. Has he built a device for torturing himself? Or is he just really inept with electronics?
Tiffy rushed into the hallway. "Are you all right? What's going on?"
Joey shook his head and stood up slowly from the chair. "Well, I guess it works," he said.
(to be continued…)