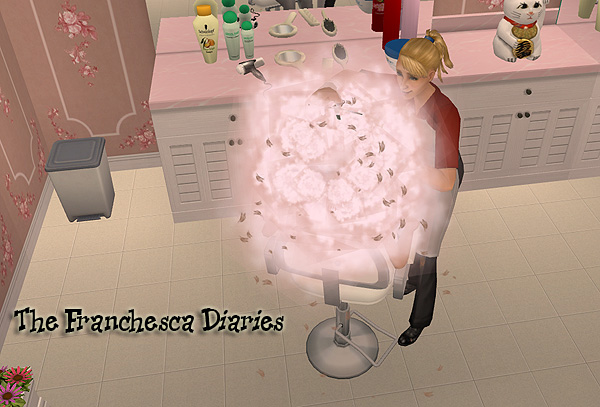 Day 7, Sunday, 6:40 PM
Uncle Elvis is making catfish for dinner again. This is not good. I just got a weird haircut, and the absolute last thing I need right now is another attack of the killer pimples. I look dorky enough without them, thank you very much. On the other hand, the catfish does smell tasty…
Rico and I just got into a fight outside. I'm trying to calm myself down by writing about my day, even though I'd rather sock him a good one. Not that I'm a violent person. In fact, I'm very anti-violence. But my brother makes me want to punch things sometimes. "Things" in this case being "his face". Grrr!
Take a deep breath, Fran. Count to 10.
There, I'm better now. Let's talk about my day, shall we? I'm sure you're all dying to hear all about it. (Sorry, the recent encounter with my brother has brought out my sarcasm in full force. Maybe I'd better count to 10 again…)
The day started with some weirdness at breakfast. First off, when I entered the kitchen, Dad was feeding the baby. Yep, you read that right. Dad. The guy who didn't even show up for his daughter's birth last night. But there he was, holding her and feeding her as if it were the most natural thing in the world.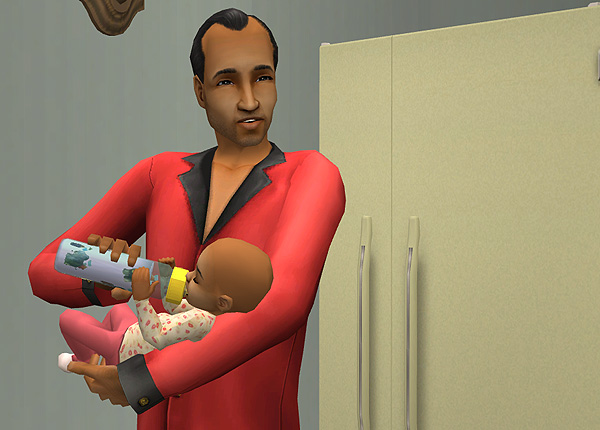 "Sandy," my Dad was saying, "tell them the good news." He put down the baby's bottle and wandered back towards the table with a big smile on his face.
I sat down as all eyes focused on Mom. She beamed back at us, and it struck me how pretty she looked this morning. I wondered what Dad had said to make her forgive him so quickly. He probably just offered to give her a back massage.
"I have a new job," she announced. "Starting tomorrow. I'll be tuning pianos."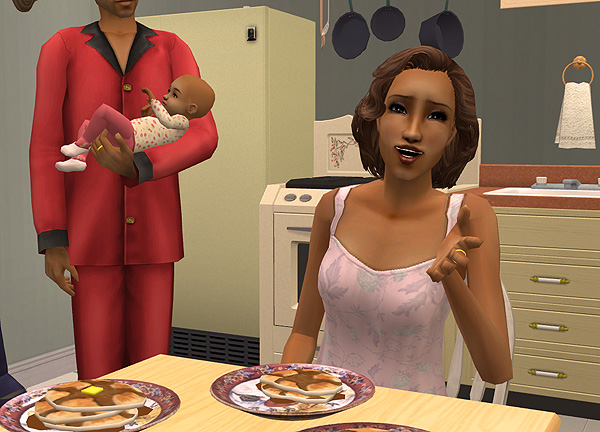 We all made little murmuring noises of approval, except for Elvis. He looked worried. With my mom's next words, I realized why.
"While I'm working," she said, "your dad is going to stay home and take care of the baby."
In a slight panic, I looked at dad. He was still grinning.
It didn't make sense at all. I mean, I love my Dad, but I think we can all agree that he's loony tunes. Who would put the welfare of a newborn baby in his hands? He bought a telescope when he was supposed to buy a crib, for crying out loud. What's he going to do next? Sell the baby to buy a pick-up truck?
"But Mom –" I piped up.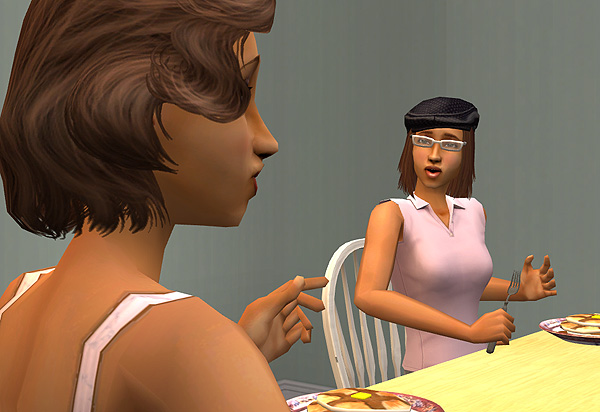 She just talked right over me, as cheerful as ever. He must have given her a really good back massage.
"This means we'll have some money again," she said, her eyes twinkling. I could almost see visions of a new kitchen dancing above her head.
Rico cheered. "Yes! Does that mean I don't have to work at the nursing home?"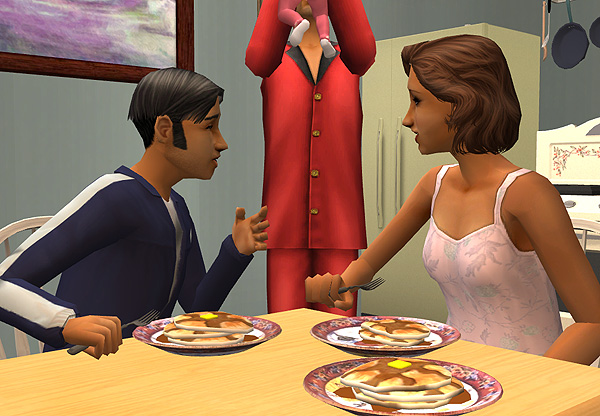 "No," Mom said firmly. "I won't be making THAT much money." Rico's face fell. (Ha. Take that, Rico!) "You'll all still need to chip in however you can. But things won't be as tight around here, thank goodness."
Even though I was still nervous about the whole Dad-babysitting-Weezy thing, this gave me an idea. If we were going to have more money shortly, maybe Mom would let me get a haircut and buy some new clothes for my job. I had to look professional for that ambassador lady, right?
A little later on I proposed the idea to Mom. I was playing with cute little Weezy, and she was watching to make sure I didn't drop her or anything.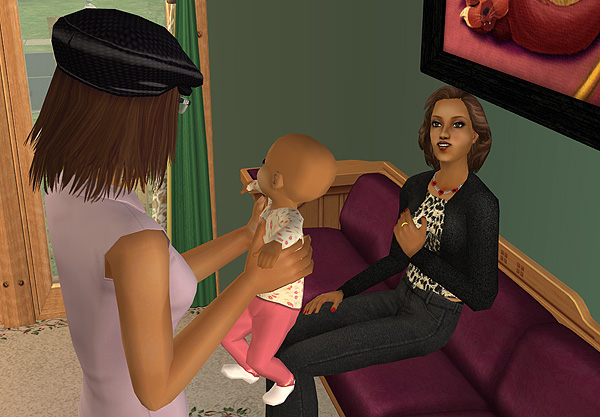 "Well," she said, "if you help your brothers rake the leaves, I'll give you…50 Simoleons."
I almost dropped Weezy.
"Really?"
"Really."
"But I gotta rake leaves with Rico?"
"Yes."
"How much is he getting?"
"Zip. Zero."
I mulled it over for about two seconds. "OK! I'll do it. Wow. Fifty bucks. Thanks, Mom!"
What can I say? It sounded like a lot of money at the time.
(continued on Page 2)