After a day of fun on Easter Beach and a good night's rest, they continued sailing around the island. It took the better part of a day to reach the eastern side of the island, where they passed the Village Point Lighthouse and sailed into the town of Whimsett Cove.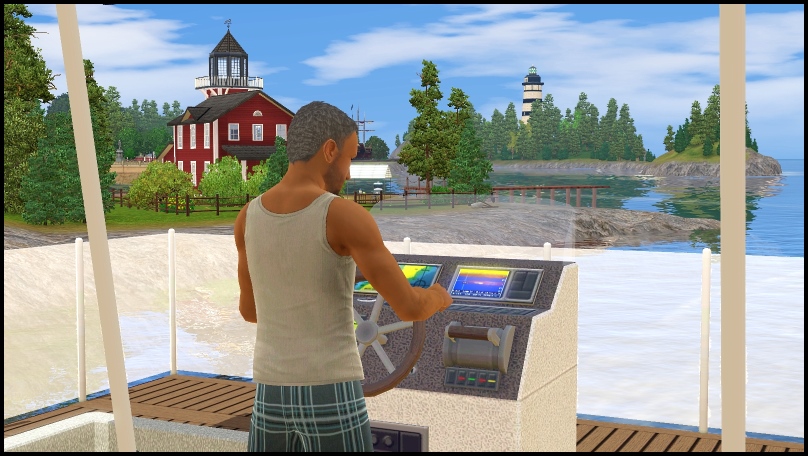 Apparently Elvis was feeling lazy that morning and decided not to change out of his PJs. Well, at least not until he left the boat…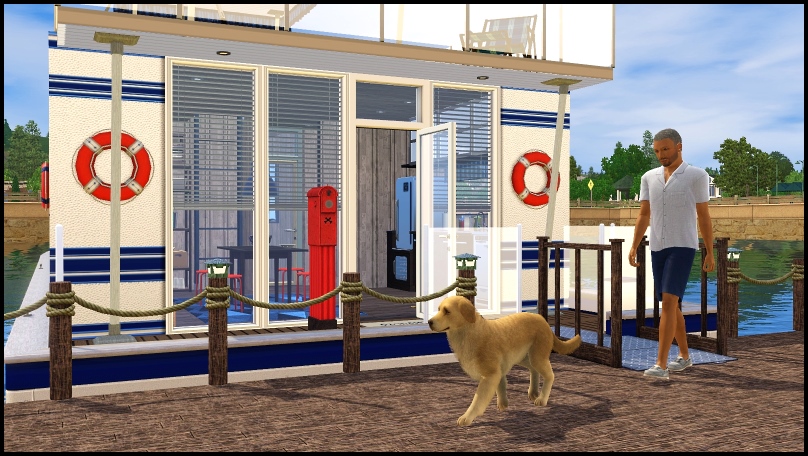 He paused to look at the lighthouse a moment and made a note to visit there tomorrow, since he volunteers there (when he's not on vacation!) and Lucas always enjoys the place.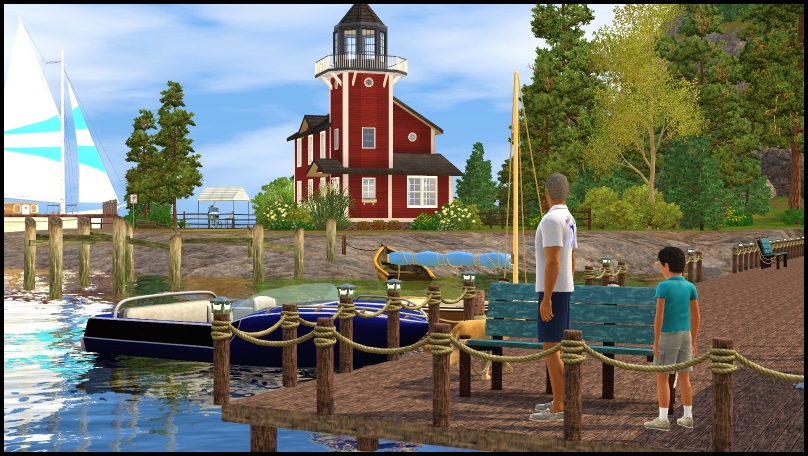 I had to build a quick pier so they'd have a place to park their houseboat. I'm calling it "Mermaid Pier" for now, to go along with the sign. I love that rope fence that came with Barnacle Bay, but it doesn't match up properly with stair railings so I don't use it around the stairways. But that means my Sims can just walk right up the hill and not use the stairs, just like at my other pier. Ah well!
I plan to build some better piers with smoother entryways (or whatever you call that part where the pier meets land!) after I take Matkooskee into CAW…which I'm putting off because it's scary, and I'm having too much fun exploring IP. ;-P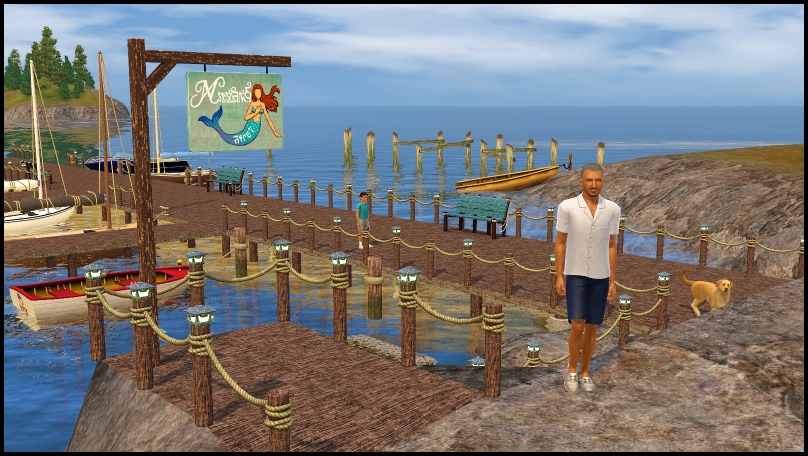 The trio walked up to Pearlie's Market so Elvis could sell some of the fish he caught on the trip (which he pulled out of his back pocket, of course). Elvis asked Lucas to stay outside with Betsy and entertain her.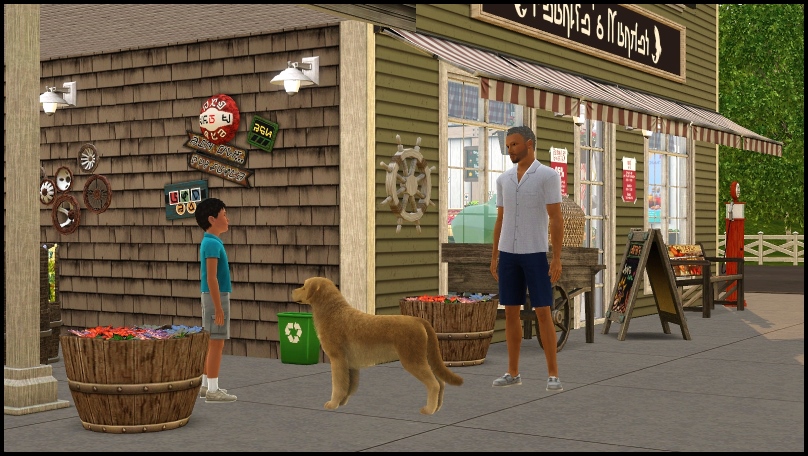 They played a fun little game of tug-o-war. Betsy was elated, as always, to be back on land and not in that crowded houseboat where she has to walk backwards all of the time.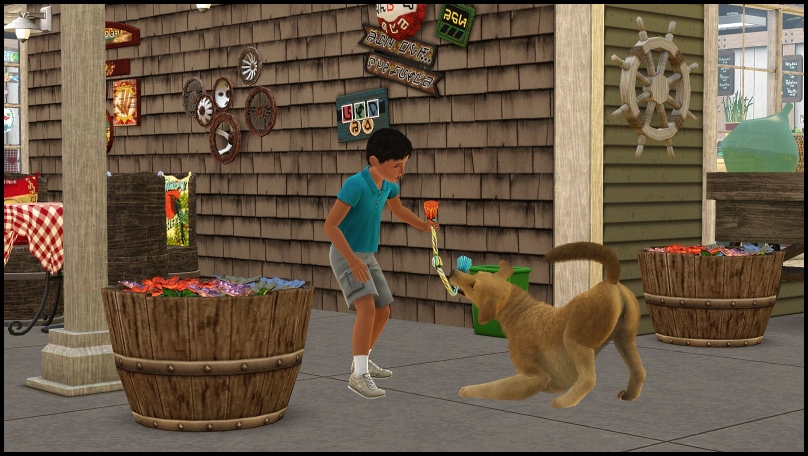 Elvis made sure to bring her a treat for being such a good dog.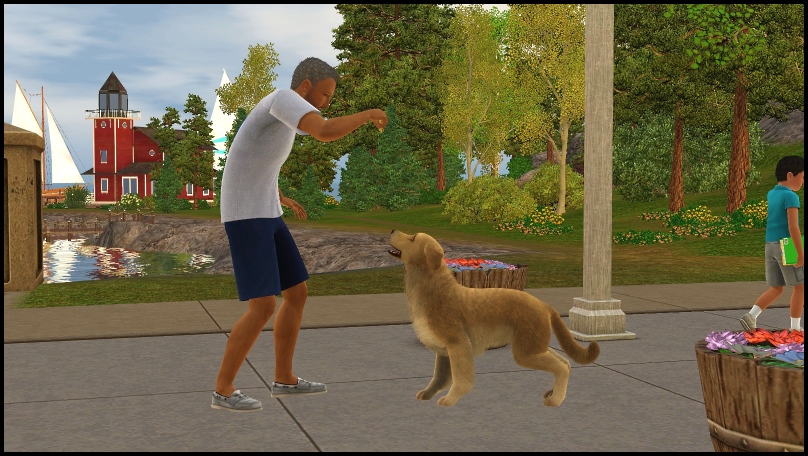 He then bought a cup of organic coffee from the bakery/deli at the back of the store, as well as a brownie for Lucas (since kids can't purchase items from the University Life barista bar, grumble grumble). The store clerk looked like she might be a little buzzed on caffeine herself.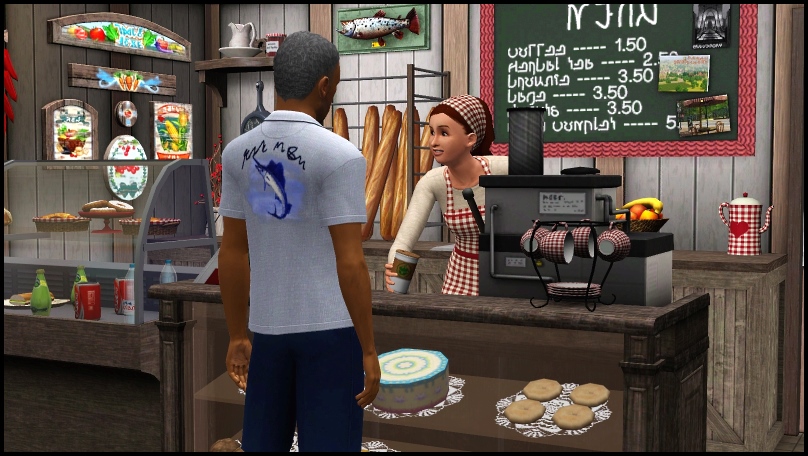 They sat outside and enjoyed their food and drink as the sun started to set. The place was hoppin'! Elvis tried to enjoy his coffee and ignore that "you're-being-watched" feeling.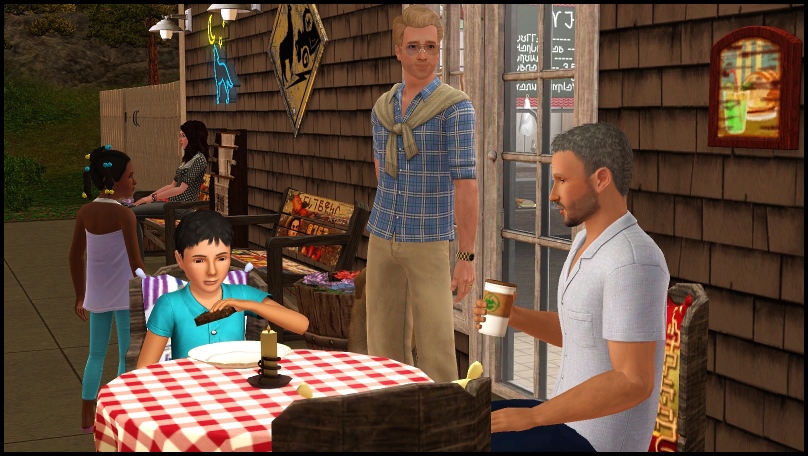 Despite the crowd, they were able to enjoy the view of the moon rising over the sea.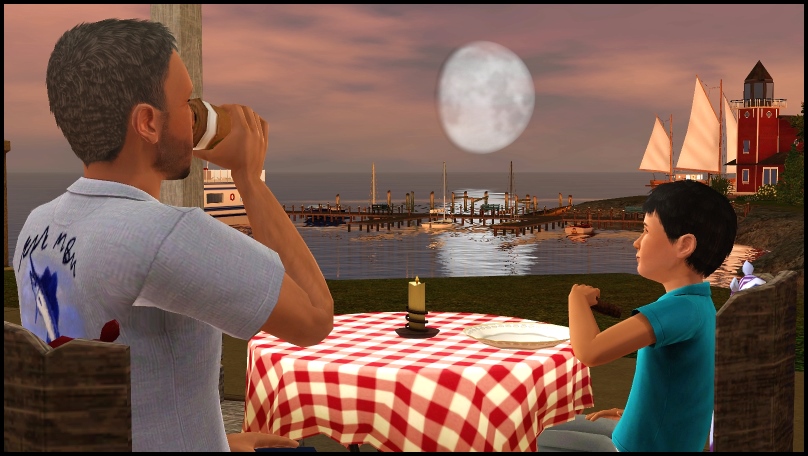 (I was worried that building a pier right there would mess up the nice view of the lighthouse, but I think it turned out OK!)
Continued on page 3…