The houseboat trip around the island of Matkooskee continues! For this session of gameplay, I tried another of Burnt Waffles' lighting mods — Fresh Cut Day 2.5 with St. Clair water. I think this one might be a keeper. I wasn't sure about the auroras — there's only a 25% chance of them, but that's more often than I wanted them (they're beautiful but just don't fit in with my coastal New England-y theme), so I asked Burnt Waffles if she would mind making a version with no auroras, and she very kindly obliged! So now I'm using the Fresh Cut Day 2.5 with St. Clair water and NO chance of auroras. *happy dance*
But I'm getting ahead of myself! Back to the auroras days and the Mortinez boys (and Betsy) on their little trip…
Last we left them, they had just visited the lighthouse on the southern side of the island and spent their second night on the houseboat. As the sun rose the next day, Lucas got his first skill point in fishing!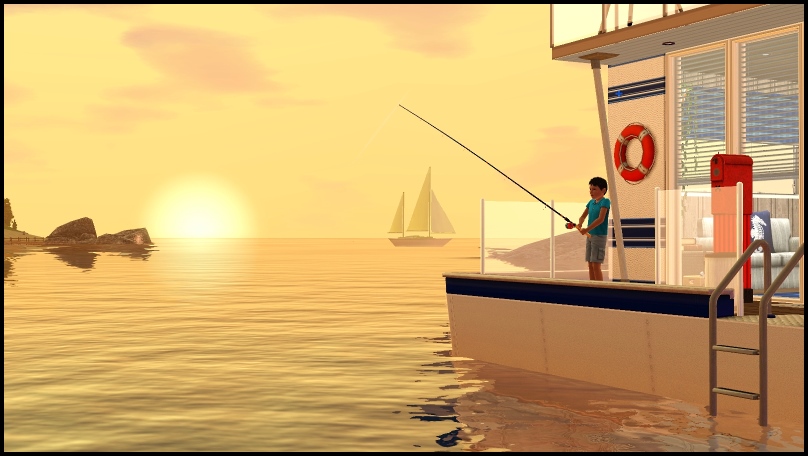 Shortly thereafter, he got his first point again. Wait, what? I checked his Skills, and he had NO points in fishing, even though I had received notification that he had gotten the first point…twice. Hrmm! Curious! Just one of the weird glitches I've been experiencing since the patch and IP. I have minimal mods in — even with Twallan's I have it pared down to just MC, SP, Decensor, Register, Overwatch, and Error Trap, so I'm not sure what's going on.
Since Elvis is pretty handy with a screwdriver, I had him upgrade his boat to have a foghorn. It made a nice foghorn noise. That was about it. :-D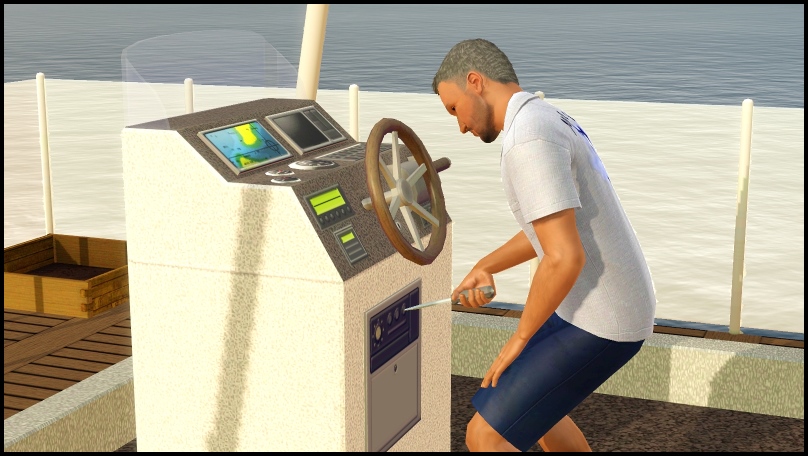 At the time I thought you couldn't have more than one upgrade on the boat helm, so I didn't bother with the speed upgrade, which was unfortunate, because maaaan, these houseboats are SLOW! Good grief. It took them something like five Sim hours to go what would probably be half a mile in the real world.
But that's OK…this was a leisurely trip. And it allowed me to play with areas of Matkooskee that I hadn't played with much.
Their next stop was Easter Beach, one of the few lots of Johnnywr's that I left intact. I noticed that if I directed Elvis and Lucas to go ashore, they pulled Elvis's rowboat out of his backpack, but if I included Betsy the dog, as I did when they came back to the boat, they all went by water taxi. D'oh! So I guess that means no pets in the rowboats! Also, it's hilarious how water taxis will pop up to take your Sims about 50 feet away. Bleh!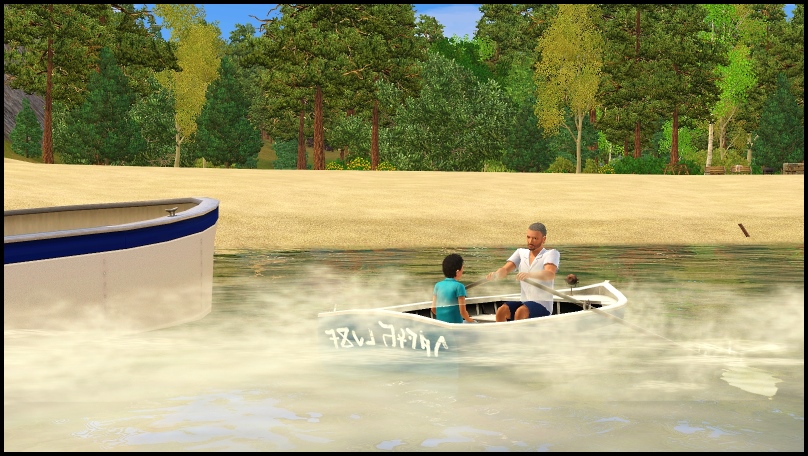 Betsy was so happy to be able to run around! She and Lucas played fetch.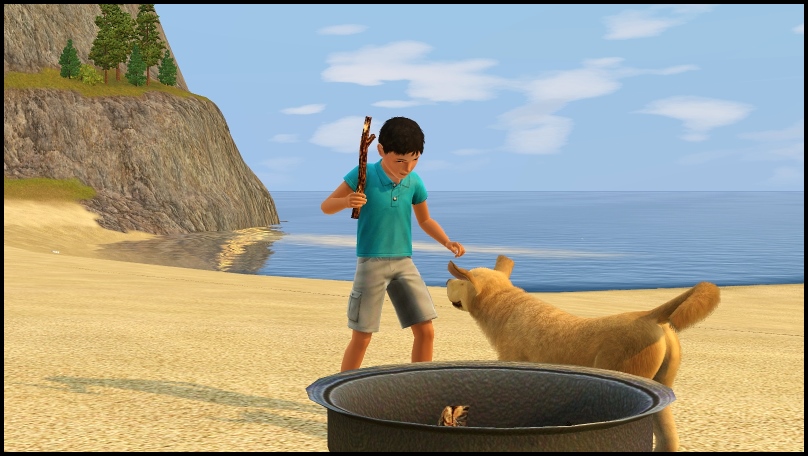 I love how Sims will fake the dog out sometimes. Lucas, you meanie.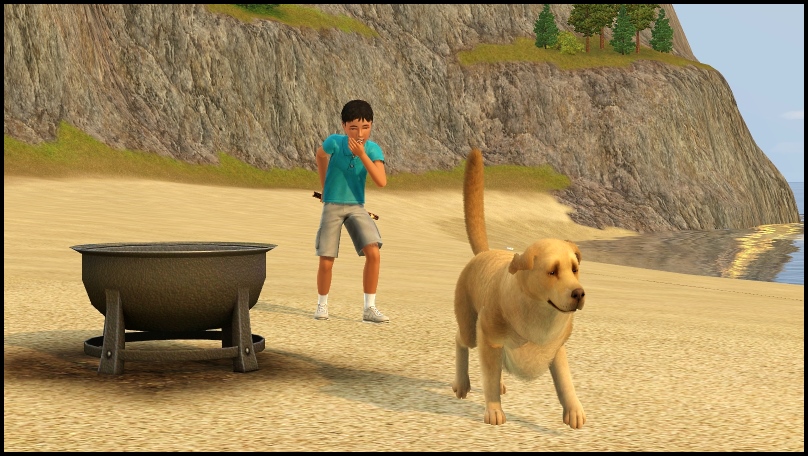 How could you be so cruel to this sweet face?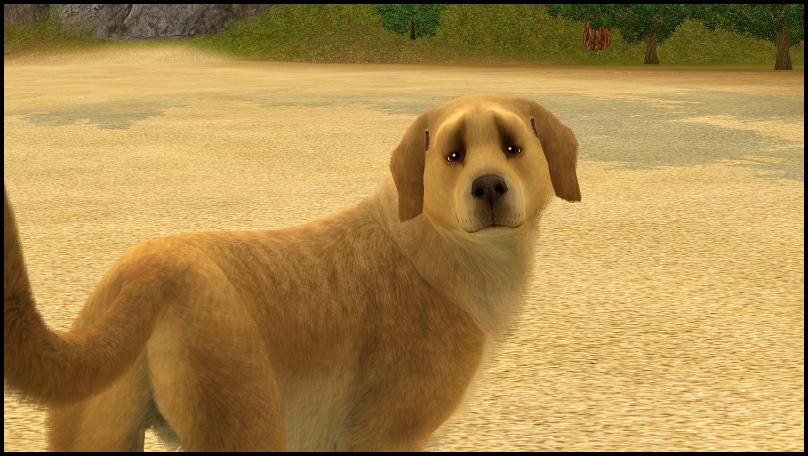 Elvis grilled some hamburgers for dinner and then started sunbathing autonomously, but he was practically in the trees, so I made him move a bit closer to the shore and sunbathe again. Silly Sims, trying to tan in the shade! (Although that's what I do — if I don't stay in the shade and lather on the sunscreen, I burn up like a vampire. Heh.)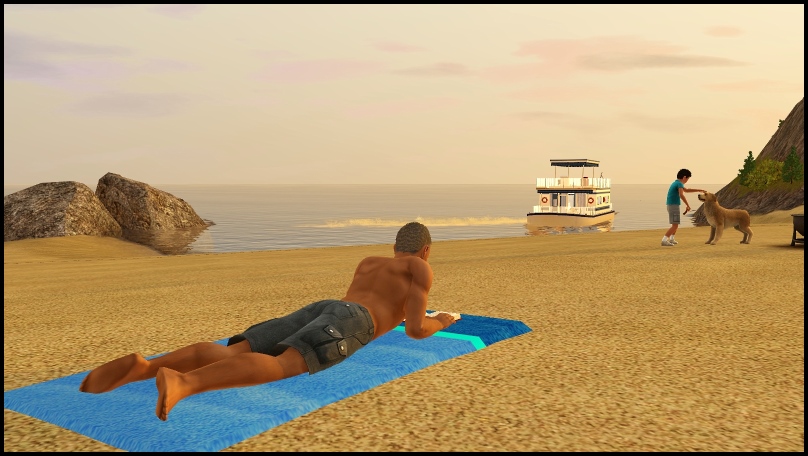 Hmm, Elvis looks like he might be reading about the dangers of sunbathing…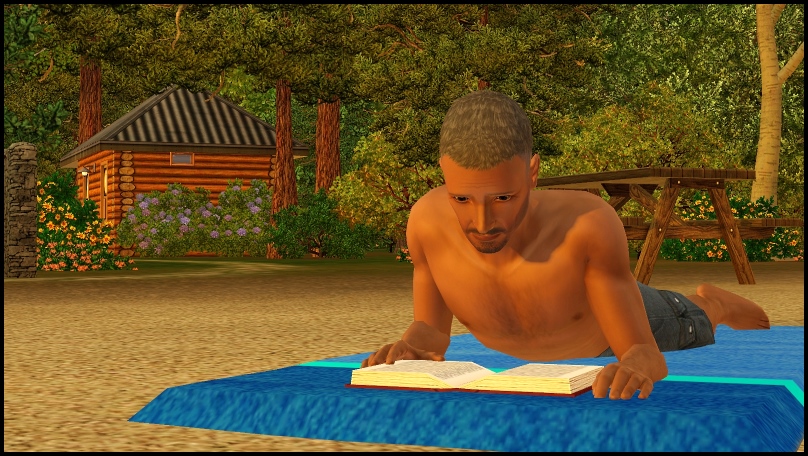 (He got a nice tan, though.)
I directed Lucas to play in the ocean, but his fun meter was already full from playing fetch with Betsy, so it didn't last long enough for me to get a good picture!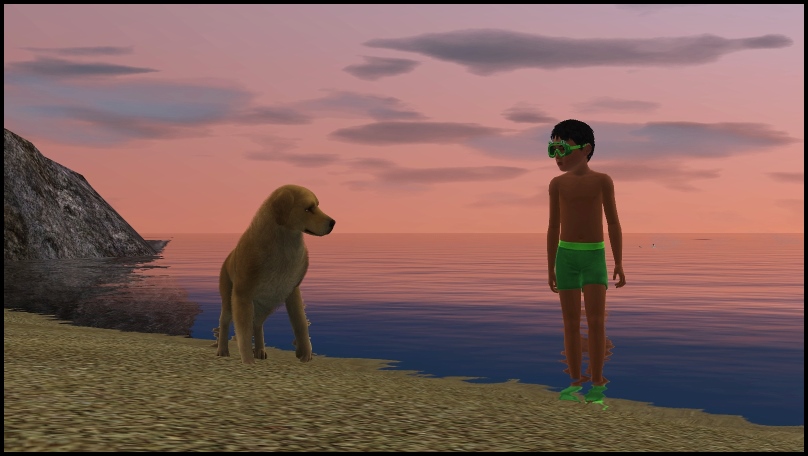 Back on the boat for a good night's sleep…Betsy looks at the aurora and wonders what the fram is happening.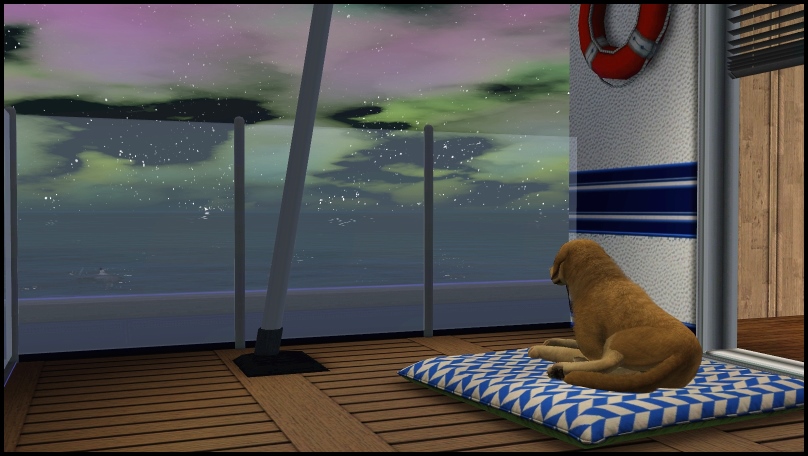 Continued on page 2…