Well, my layout is still a bit hosed up, but I'm sick of fighting with it. When I upgraded to the new version of WordPress this afternoon, I had no idea it would end up spending my whole evening messing with my templates. And I'm not even finished! Anyway, I figured this was good enough for now — at least I can post. I can't believe it's 10:00 PM already — where did the time go? I wanted to play tonight! OK, enough of my whining…on with the update!
Last we left the Shanleys, the 8th gen twins had grown into children, and Cleo the alien baby was still a toddler. Within a few days, she had grown up, too. No one seems to notice that she's an alien, but despite her high Outgoingness (9), she ends up spending a lot of time by herself. I don't think the twins actively ignore her, but since very few interactions involve three Sims at a time, she ends up being left out sometimes.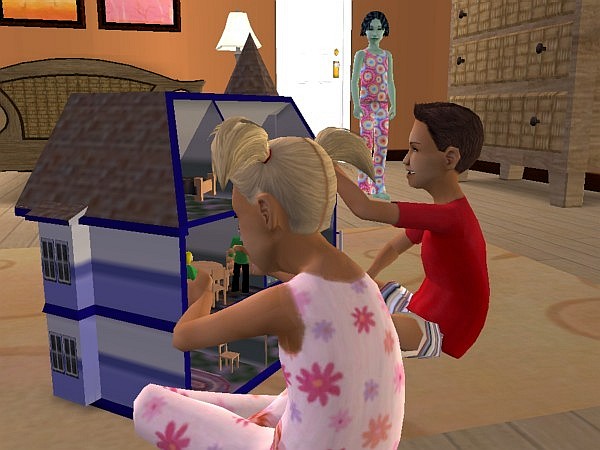 "Do you guys have any alien dolls?"
I'm not sure if I mentioned this before, but I managed to get all three kids into private school without the headmaster glitching out on me. Huzzah! Here's Cleo on her first day of school.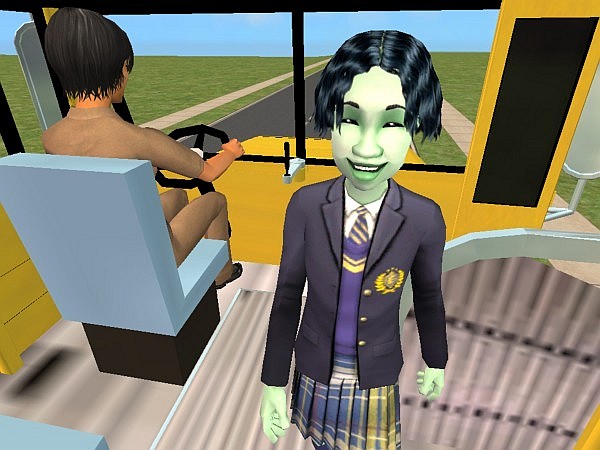 "Hey guys! Anyone have any good alien abduction stories?"
As Pao was nearing the end of his life, he wanted to make as many friends as he could, so I had him strike up a conversation with the new mailman, Berjes GilsCarbo. He looks just like a darker-skinned, darker-haired Robi! He is so going to be in my next Legacy family…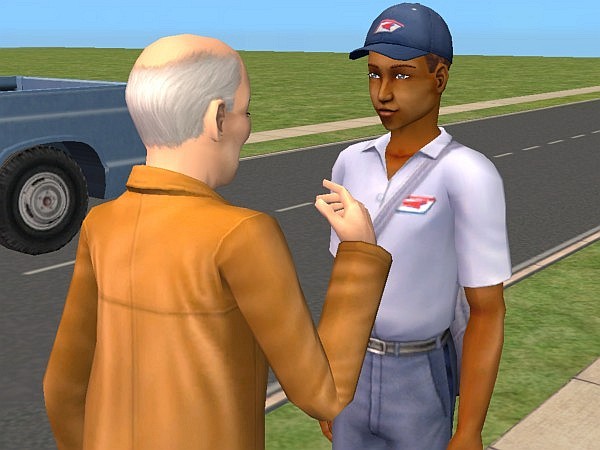 "So you're telling me that Goopy is your third cousin, twice removed?"
In the meantime Cort, my 7G spare heir and a Knowledge Sim, wanted to flirt and smooch, so I had him woo Christy Stratton. He had way more luck with her than Liam did four generations ago. Part of me wishes I could get them married (doesn't "Cort and Christy" have a nice ring to it?), but I have no room in the house and I refuse to start yet another satellite house that I can't even play. So I guess they'll just remain lovebirds. Alas and alack!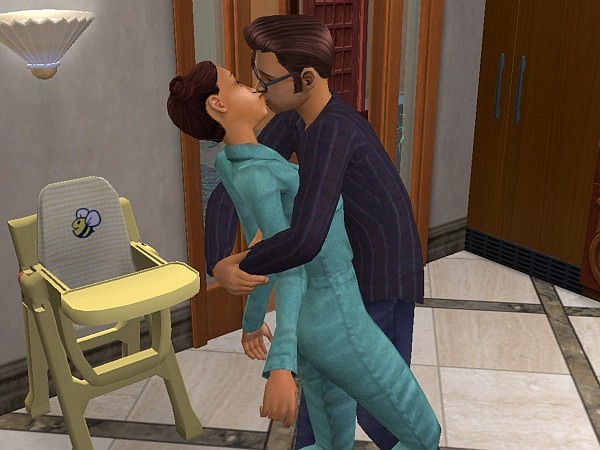 "Cort! *smooch* my arms! *smooch*"
After a rather speedy childhood, it was time for the twins to grow into teens. Lennan went first and ended up being rather cute — at least he is in THIS picture.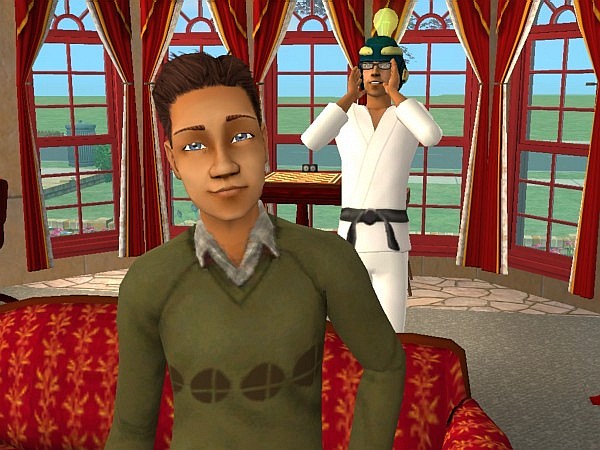 Not so much in this next picture. His brows are quite Mr. Spockian. And he looks a little zoned. Maybe he's concentrating really hard?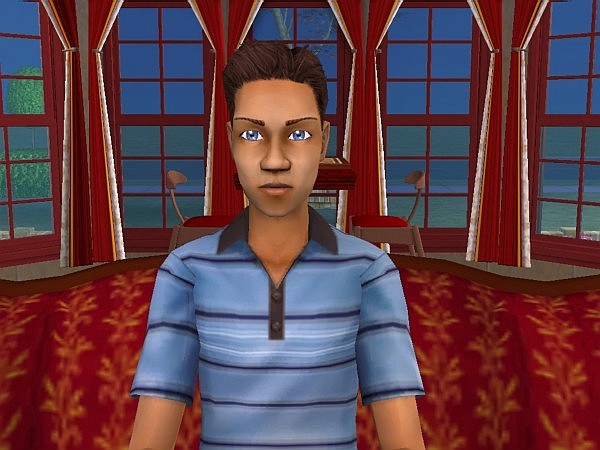 "Let's see…147 plus 658 equals…805…take away 77…divide that by 5.82…"
Scottie was next. I had them both grow up in the study without a cake. My poor Sims don't even get real birthdays anymore! They don't seem to care much, though.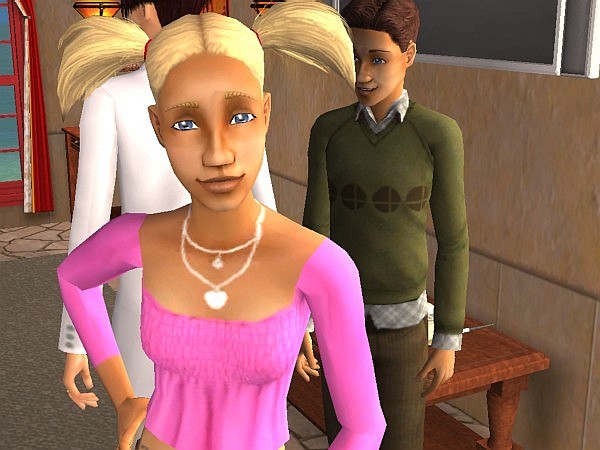 "Happy Birthday to meeee…"
As for their aspirations, I rolled Popularity for Scottie and Romance for Lennan. D'oh! I thought about making Scottie the heir since it can be tough to get Romance Sims married without inviting aspiration failure, but ended up choosing Lennan anyway (mostly because when I had Cort call the police, a policewoman showed up).
Scottie wanted her First Kiss, though, and she had already befriended Alon the paperboy, so I had her invite him over one night. They had a sweet first kiss and ended up falling in love.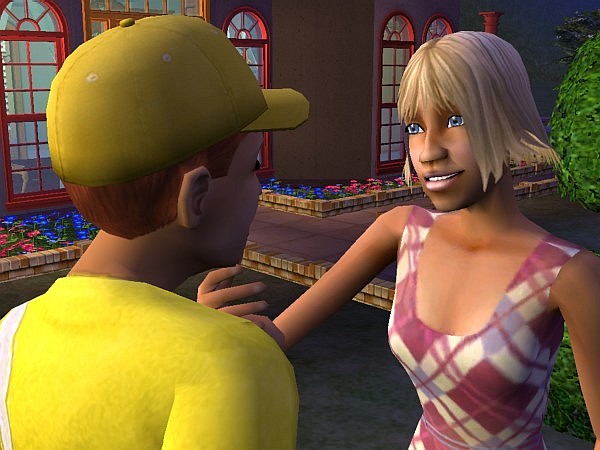 "Look into my eyes…you're getting very sleepy…you will buy me pizza…"
Unfortunately, Gary doesn't like the paperboy too much. Come to think of it, Gary doesn't like ANYONE too much. He's just not a very nice Sim.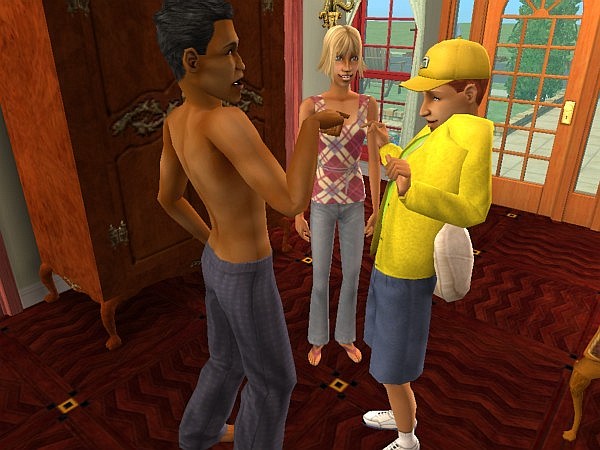 "And if I EVER catch you kissing my daughter like that again, I'll…I'll…I'll cancel my newspaper subscription!"
(Continued on Page 2)