I've been playing my Legacy Challenge family every chance I get, but those chances have been relatively slim lately, and my weekend is filling up with non-Sims-related activity. However, I still think I can finish the challenge before March 1st — if I don't update my blog as often. Don't boo yet! I still have a big update planned for either tonight or tomorrow. But since it takes me 3-4 hours to post an update (yeah, I'm slow), I won't be posting as much until I'm done with the challenge. You know, posting every few days instead of every other day or whatever. Hope that makes sense.
As I've mentioned before, I hate to rush things with my Legacy family, but here's what I'm thinking of doing once I finish the challenge: as with most of my Legacy generations, I'll have an heir and a spare in 10th gen. The heir will move onto a completely new lot and continue the Shanley legacy. It won't be an official Legacy Challenge house since they'll be starting out wealthy, but they'll have to work to gain the career rewards back, and I'll still be going for platinum tombstones and impossible wants. They're also going to marry NPCs and townies — for me, that's one of the most fun aspects of the Legacy Challenge, so I'd like to continue that tradition for the Shanleys.
The Shanley spare will go to college with some of the townie teens (and maybe some CAS-created ones). This way I'll be able to play both a Legacy-style family and explore the possibilities of the new expansion pack at the same time. The spare heir won't be bound by the rules of the "Shanley Legacy", so he/she will be free to marry whomever they want. Or not get married at all.
As Pinstar, the creator of the Legacy Challenge, is still working on details for a couple of University-related challenges, I'll wait and see what he comes up with before I start a brand new Legacy family. He posted on the Yahoo! Group that he's working on a Legacy Challenge with modified rules for the EP (cool) and something called The Greek Challenge which involves building a fraternity/sorority house from the ground up (which doesn't appeal to me just yet; maybe it will after I play the EP a bit). Pinstar got to visit Maxis headquarters and play University for a couple of hours, which is totally cool. I have no doubt he'll come up with some fun twists on the Legacy Challenge.
So, the bottom line is — I am rushing through my family now, but I want to take my time with them once the EP comes out. And who knows, I might start a whole new Legacy family at some point. As for my current Legacy family satellite houses (Uncle Liam's, Shanley Cottage, and Autumn House), I have some ideas as to what I'll do with them, but I'll save that post for another day.
In lieu of a real update today, I have a picture of the three 8G kids sitting in the study: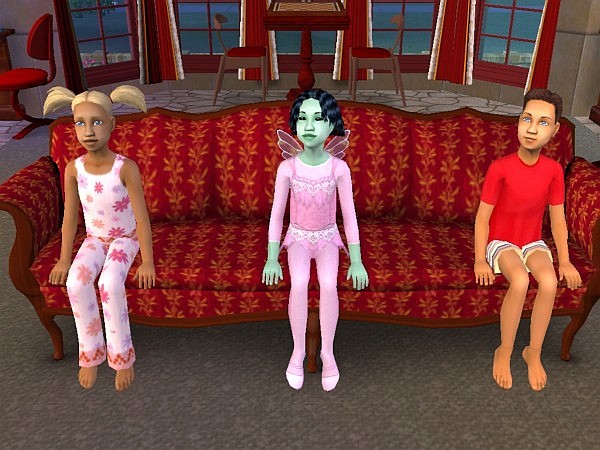 From left to right, we have Scottie, Cleo, and Lennan. Cleo isn't bad looking for an alien, but her black eyes kind of freak me out. They have no life in them or something. She's still way cool, though. Anyway, check back tonight or tomorrow for a full-fledged update! Until then, Happy Simming!