Hey, peeps. I seem to be on a roll with Annabel Island; my brain is brimming with ideas for it, and I'm making good progress building the lots. So poor Fran is just going to have to wait a little bit longer (although I did pop in to visit her the other day; she says "hi!"). Also, I don't have the Dunnavant Mansion done yet — I'm having too much fun building stuff for the working class. I hope you'll forgive me — I gotta ride the wave while I can.
In the meantime, here are some more preview pics. Everything is still in the experimental phase, so there are no official tours just yet, but you can at least see what I'm working on.
First off is what will eventually be the Annabel Island Public Library and Historical Society (to be known hereafter as simply "The Library"). The first floor will be full of books (including some for purchase) and tables for quiet reading and research.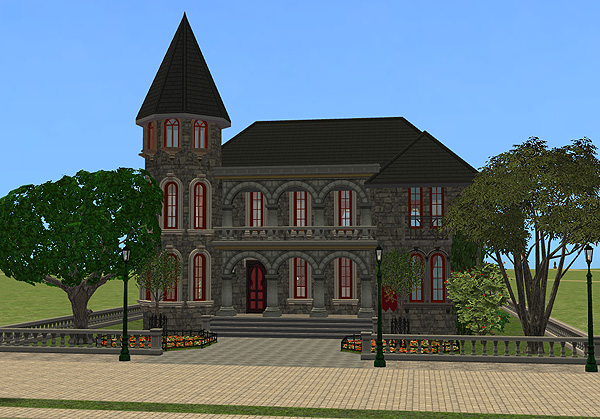 On the second floor will be maps, pictures, and documents pertaining to the history of the island. Some local art may find its way up there as well. The actual "society" will meet downstairs in the library during off-hours and will probably consist of a citizen from each class.
The librarian will be Hope Krenzer — you may remember her as the maid from Dunnavant Mansion awhile back. As this is a community lot, she doesn't live on-site, but will stay in the local boarding house and report here for work each day. As to why she left the Dunnavants, I'll leave that for another time…
More pics after the jump:
Next up is the Merrifield Vineyard and Winery. It used to be abandoned and in horrible condition, but local dairy farmer George Merrifield purchased it from Dr. Dunnavant (who owns the island) and refurbished it with the help of his two sons. One of those sons, Miles, now lives here with his younger sister, Imogene. Together they tend to the grapes and make wine to sell to local businesses (such as the hotel and the saloon).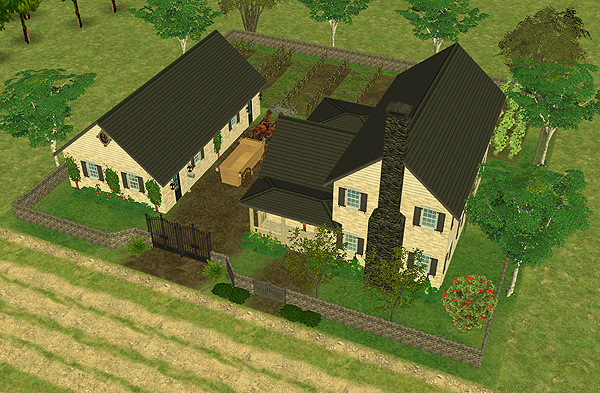 Here's Miles Merrifield with his signature bottle of red wine. Oddly enough, Miles doesn't care much for wine. He's more interested in the scientific process behind it (he is a Knowledge Sim, after all). But he knows enough about how it should taste that he can test each batch for quality. It helps that his sister Imogene is something of a wine connoisseur (she's the barmaid at the local saloon).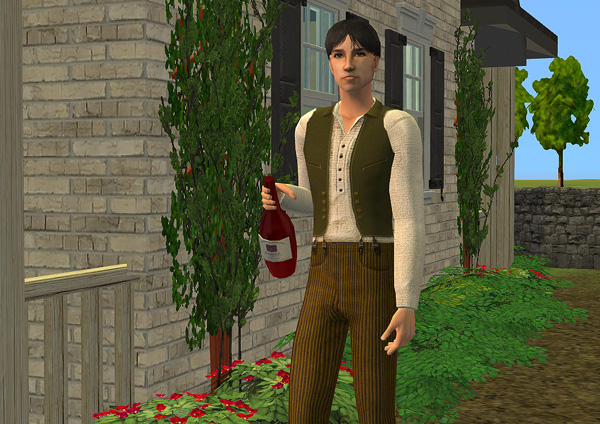 And here we have Whidbee Mills, which is quite undeveloped at the moment because I wanted to cheat as little as possible on this lot (although I went kind of overboard in the backyard). This property is owned and operated by newlyweds Zale and Elena Whidbee (you might remember them, too — Elena's last name used to be Portela). And durnit, I left grid lines in the pic below, but you get the idea.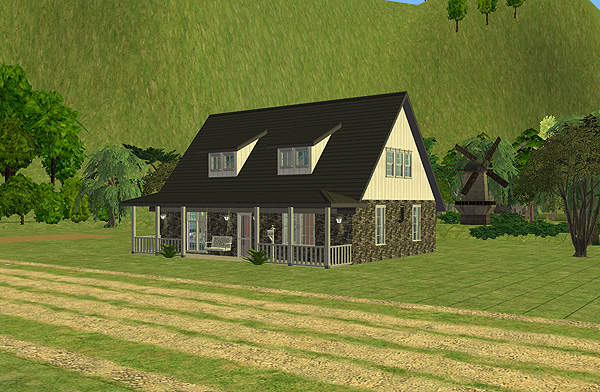 Whidbee Mills has two mills — one powered by wind and one by water. Both grind wheat into flour (kind of — the watermill is only decorative, but the windmill does actually make flour!), which Elena uses to bake breads and other delectable treats. They sell the baked goods and flour to Elena's father, who runs the local grocery.
Here are the actual mills of Whidbee Mills: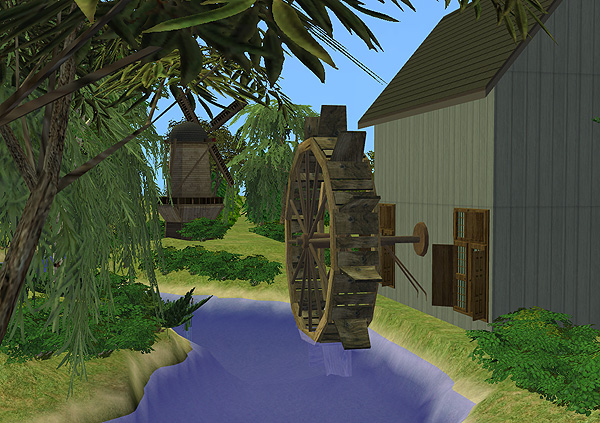 I had a lot of fun building and playing this lot. I'm still working out the logistics of just how much money the couple should receive for each bag of flour/loaf of bread, as I don't want them to get too rich too quickly. But it was neat to have Zale interact with the windmill to get the sacks of flour, then have Elena bake a loaf of bread from them. Yay for the Sims Mod Board! They have such awesome stuff. At any rate, I'll do a proper tour of this lot once I've tested it a little more.
Custom Content:
The Library:
Windows – Macarossi @ MTS2
Exterior wall – Deathkat @ Simthing for Everyone
Oak tree – callum91 & Numenor @ MTS2
Merrifield Vineyard:
Harvestable grapes – Echo @ MTS2
Grape plant (deco), flowers – Kate @ Parsimonious
Winemaking set – Katy&Hope @ Sims Mod Board
Horse and wagon – hexameter @ MTS2
Hanging lamp – Steffor @ Avalon
Shrubbery – Khakidoo @ MTS2, Pimp My Sims
Miles's hair – fanseelamb @ MTS2
Miles's outfit – All About Style
Whidbee Mills:
Water mill deco object – MsBarrows @ MTS2
Windmill – Katy_76 @ Sims Mod Board
Porch swing – cokenasmile @ MTS2
Windows – MaryLou @ MTS2, simnuts101 @ MTS2, dgandy @ Sims Fashion Barn
Plants – Khakidoo @ MTS2, Kate @ Parsimonious
Happy Simming!